The Class A, District 3 title hangs in the balance of the clash between No. 2 St. Ansgar and Newman Catholic on Friday at Newman Catholic. Fans should be in for a treat as the two teams have a combined record of 9-1.
St. Ansgar holds one of the top rushing attacks in the state, spearheaded by a three-headed monster of rushers in the backfield. The Saints lead Class A with 1,509 total rushing yards and are third with 20 rushing touchdowns.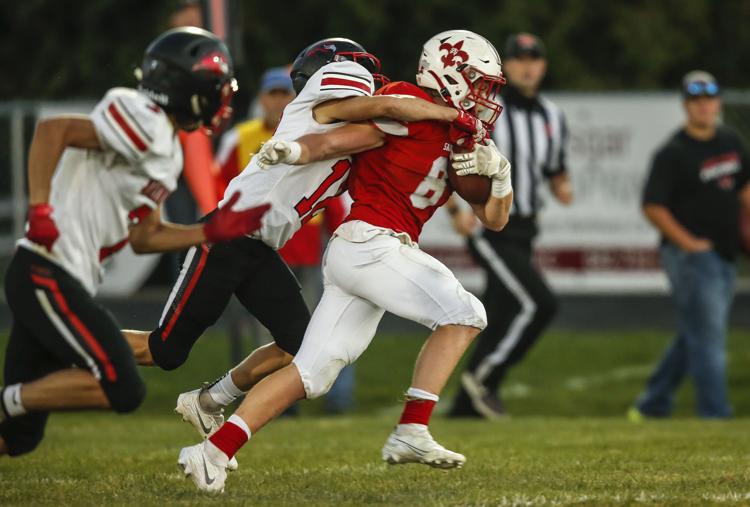 Senior Ryan Cole has the second-most all-purpose yards in Class A with 1,248 yards. His 792 rushing yards is also good for fourth-best in the state. Senior Carter Salz is another option the Saints have to hand the ball off to. He's posted seven rushing touchdowns on 59 carries for 265 yards. Rounding out the backfield is junior Lorne Isler, who has rushed for 358 yards and two touchdowns on 65 carries.
"Our style of football isn't maybe as aesthetically pleasing as some of the spread stuff, but we like getting after it up front," head coach Drew Clevenger said earlier in the season. "We like to play that way here and our kids certainly take pride in that."
While the offense gets much of the credit, St. Ansgar's defense has quietly had a solid season. The Saints are giving up an average of 7.8 points per game and have posted two shutouts. They'll have their hands full when they see a similar style of offense on Friday against the Knights.
Newman Catholic comes into the matchup with St. Ansgar sitting at 4-1. The only loss on the season was on the road against a talented West Fork squad, when the Knights were without sophomore starting quarterback Max Burt and a couple offensive lineman.
The Knights' 20 total touchdowns sit near the top of Class A. Although Newman Catholic has a run-heavy offense, Burt leads the team at quarterback with 622 passing yards and seven touchdowns. He also has rushed for 170 yards and four touchdowns. Burt's 31 total tackles leads the defense as well.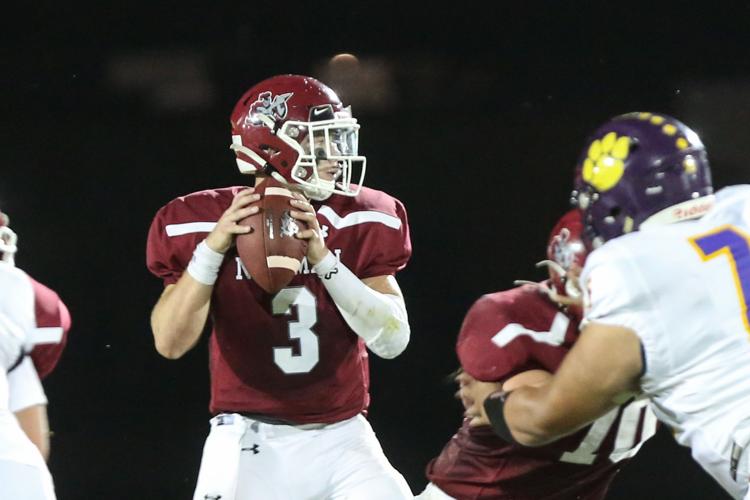 Burt's top target is junior Nash Holmgaard, whose five receiving touchdowns are fourth in Class A. Sophomore Doug Taylor also has 13 catches for 247 yards and two touchdowns.
Head coach Rich McCardle has a lot of respect for St. Ansgar.
"Going up against St. Ansgar is a little bit different animal, because year in and year out, Coach Clevenger has one of the best teams in the state," McCardle said last week. "I don't know how many times they've been in the top four, and that is just year after year after year."
McCardle says that stopping them on offense will be a tough challenge on defense. If his offense can put up points, the Knights will have a good chance to make it a tough out for the Saints.
Expect a solid matchup on Friday night. Keep an eye on the line of scrimmage, where St. Ansgar holds a bit of a size advantage. The Knights will have to mix up pressures and hold their own at the line of scrimmage in order to earn the upset win.
For St. Ansgar, the Saints will rely on their big guys up front to impose their will. All three running backs will need to get involved to keep the Knights off-balance defensively. On defense, the Saints will have to contain Max Burt and stop the run in order to win.
Score prediction: St. Ansgar 35, Newman Catholic 20.