For Spencer Mooberry and Averee Abben, it was only right that they take their next step together. 
On Thursday afternoon, the pair of Osage seniors each signed their National Letter of Intent to wrestle at the college level, with Mooberry signing on to wrestle at Division I North Dakota State, and Abben taking his talents to Division II Upper Iowa University. 
For the two longtime friends and teammates, it meant a lot to announce their commitments together. 
"It's extremely special," Abben said. "He is the one who got me into wrestling, I never started wrestling until sixth grade. We became lifelong friends through the sport, and next door neighbors."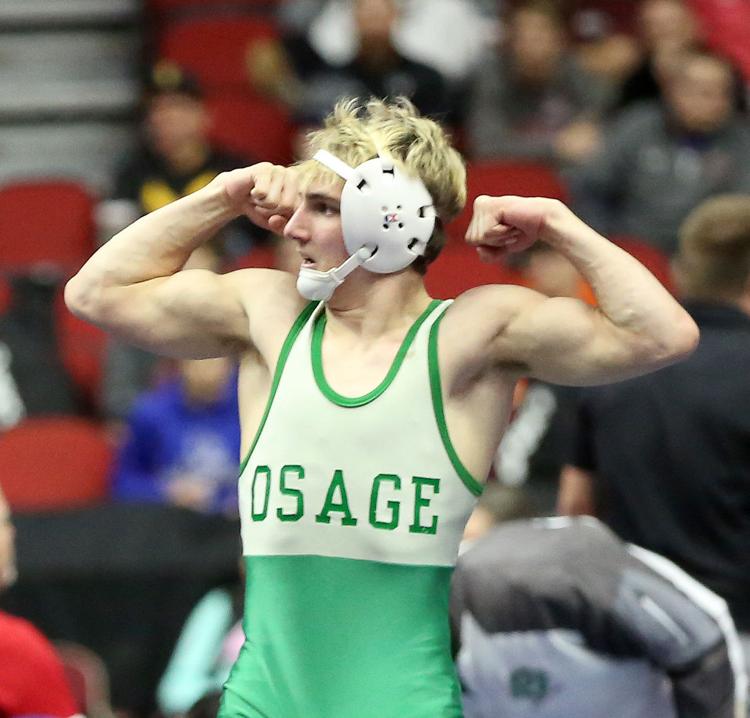 Both qualified for the state wrestling tournament last season, as Osage saw six of its wrestlers make it to Wells Fargo Arena. Abben finished fifth in the state in the 132 pound weight class, while Mooberry finished runner-up at 170 pounds, as the team clinched its first team wrestling state title since 1981. 
After his appearance in the state finals, Mooberry said that several more Division I colleges came calling, but he was leaning toward North Dakota State from early in the recruiting process. He is confident in the Bison coaching staff, loves the big city (Fargo) atmosphere of the school, and is excited to wrestle in the Big 12. 
"There is a lot of room to grow," Mooberry said. "You get a lot more time to work and work out. You get individual lessons, and you get to learn from some of the best wrestlers on the planet. That coaching staff down there is crazy good, and you can absorb some more knowledge. It's going to be a great opportunity to see where I can get to. A bigger town will be kind of cool, too. I won't have to go to Mason City to go out to eat."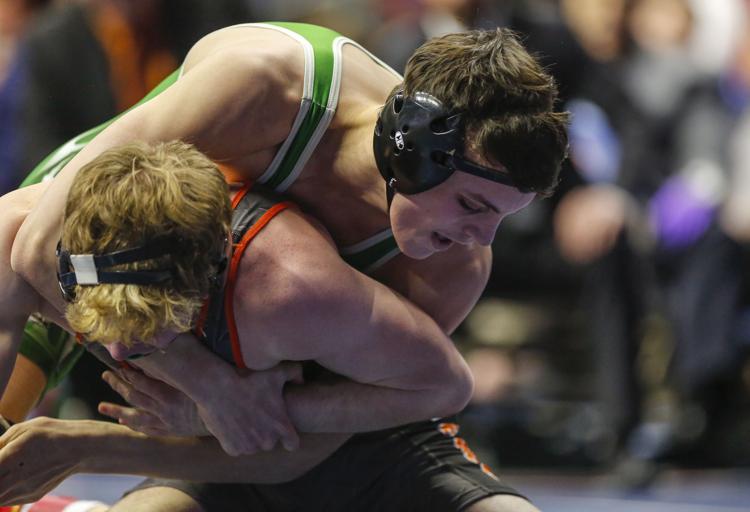 While Mooberry is a fan of the big city, Abben went a different route with Upper Iowa, located in the small town of Fayette. Abben will be wrestling for Peacocks' head coach Heath Grimm, an Osage alum. He will also be competing alongside a few of his wrestling friends in former teammate Zach Williams and Clear Lake alum Eric Faught. 
"I feel extremely well about it," Abben said. "There are a lot of great practice partners over there in the room, and I love the environment. It's a small-town college, and there are lots of outdoor things to do."
But before Abben and Mooberry go on to college, they have one last year together as Green Devils teammates, and they are excited to defend their Class 2A title, if COVID-19 permits Iowa's high school athletes to get through a full season.
As the defending state champions, they have high expectations for 2020, and a lot to live up to. 
"I think our whole team is pretty excited," Mooberry said. "It's not too often that you can say you are the returning state champs. That has got everybody excited to start competing again. We've got some young underclassmen that we'll probably have to sub in. They're pretty excited to be a part of the journey, learn from the upperclassmen and carry on the tradition." 
Osage head wrestling coach Brent Jennings has known and coached Mooberry and Abben since they were young, and likes what he sees in each of their college choices. For Mooberry, the chance to wrestle in the Big 12 is a thrilling opportunity, while Abben is happy to stay close to home and wrestle for a coach that knows him well, in Grimm.
"They've been great competitors and leaders," Jennings said. "I am tickled for them that they're going on to wrestle in college. That is great, and I think they will be great assets for both of those programs. I think they will do well once they are there, and I'm happy that they both decided to continue on with the sport that they both love. It's a pretty cool deal."
Shane Lantz covers sports for the Globe Gazette. You can reach him at Shane.Lantz@GlobeGazette.com, or by phone at 641-421-0526. Follow Shane on Twitter @ShaneMLantz.