Wendy Thorson believes that music is not only art, but essential to life. It provides depth to the human experience. That is true whether it comes from Mozart or Elvis Presley.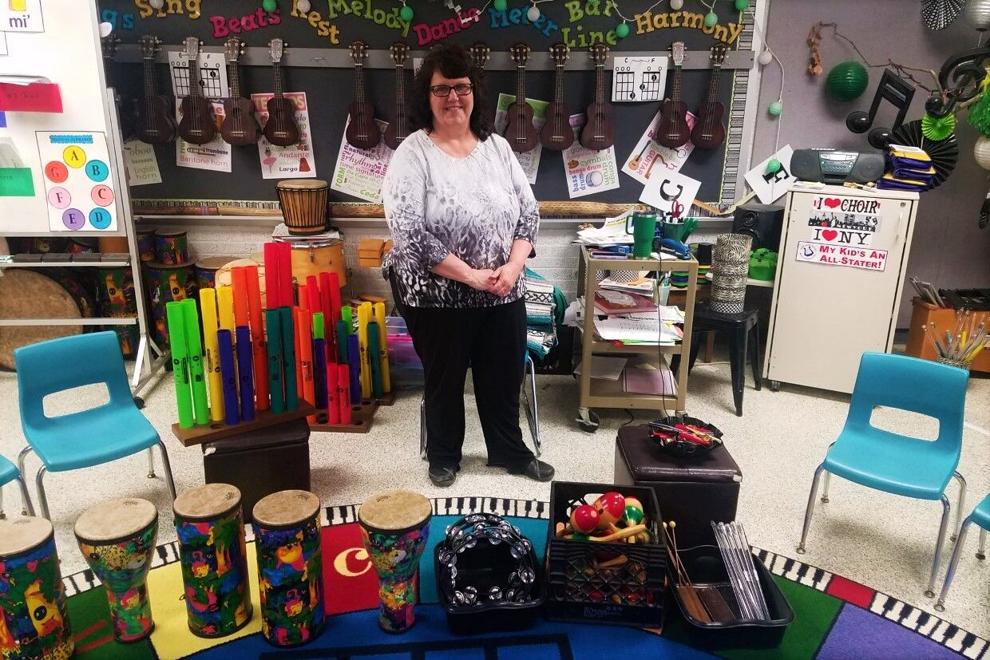 Thorson is the kindergarten through eighth grade music instructor for the Osage Community School District. She is celebrating her 25th year as a teacher. She is also a pianist and a member of the Fine Arts Council of Mitchell County, where she is an advocate for local artists of every stripe.
She is accustomed to the sound of music. Every morning in her room an orchestra is performed for the hallways.
"My job as a music educator is to prepare them for the future," Thorson said. "I believe music education makes better human beings."
Accounting
Thorson grew up on a dairy farm and graduated from St. Ansgar Community High School. Her parents taught her the values of hard work and perseverance.
She always knew she would be a teacher, but the path was not straight.
As a non-traditional student, she received her music degree from the University of Northern Iowa in 1998. Despite having three kids at home, for four years, five days every week, she commuted to Cedar Falls.
"I was on the road a lot," Thorson said. "It was good for learning music history though – I listened to recordings on the drive."
Before that, Thorson had worked in accounting, though she led a children's choir in church. She decided she had a talent for music and for teaching young people, and that led to her arduous journey from accounting to ukuleles.
"I needed more in my life," she said. "Music was always an inspiration to me. I wanted to bring that to other people, and teaching is a great way to do that."
Thorson began her teaching career in elementary education, before guiding sixth through 12th grade students at St. Ansgar for 13 years.
"My groups had great success there," Thorson said, noting they performed several times at Carnegie Hall in New York City. "That's quite an adventure taking all of those kids, but what a wonderful experience."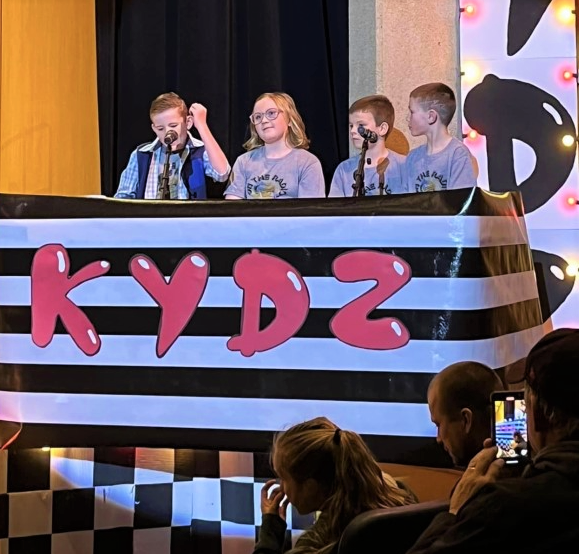 Thorson has also taken her students to Nashville.
Despite these experiences and the success her students achieved in high school, Thorson decided to return to elementary education, where she plans to finish her career.
"I wanted to inspire kids at a younger level to love music," Thorson said. "That was instrumental for me wanting to get down to the lower grades again."
Next year will be Thorson's 10th in Osage. She also teaches seventh and eighth grade choir.
Rain stick
Thorson loves the freedom music provides for her young students. She wants to give them confidence.
"They're uninhibited while they're performing," she said. "They can be themselves and not care what other people think about them. I want them to do their very best, and at least try."
Art has rules. Music takes organization. Around Thorson's room, musical instruments hang from the walls and sit at the front of a circle of chairs, where she serves as conductor. She imposes order, but of a loving kind. She pushes them hard in kindergarten so that by fourth grade their skills are top notch.
The students do not shy away from the workload.
In the room there are rows of ukuleles, which are her students' favorite. There are multicolored Boomwhackers – pitched percussion tubes that students hit together to learn about different musical notes. There are African floor drums, maracas and tambourines. They have studied Australian didgeridoos. Below the whiteboard is a bamboo rain stick.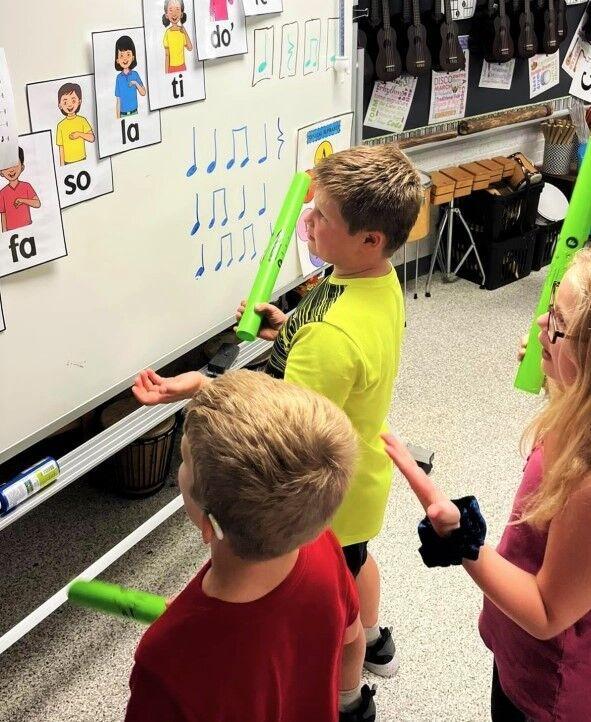 The students love to play the instruments. They play music games. They do not care if it is from a different culture. It is all music to them.
Thorson also has a soprano recorder program with martial arts terms as signs of progress. Students start out as white belts and work their way to their black belt before the end of the school year.
Recorders are meant to get them ready for band in fifth grade.
"It's a new venture for them," Thorson said of the recorder's draw to her kids. "They can be independent. They're just so proud of themselves."
Thorson can tell when a student has talent. Some have rhythm. Singers have developed vibratos. While her goal is to instill the love of music in all her children, she also has a duty to nurture precocious musicians as well.
Jingle Bells
A few of Thorson's favorite pop and rock stars were Elvis Presley and Michael Jackson. She grew up listening to records with her mom and dad. She has traveled to Graceland many times – she took the Osage choir there last year. The peace and instrumentation of classical music is also captivating to her. Mozart is her favorite composer.
"I want kids exposed to all of those great ones," Thorson said. "They don't know those old artists. I love Mozart because of his personality and genius. He was magnificent from the beginning."
Thorson tries to introduce a new composer every month, including contemporary artists, some of whom have scored Hollywood movies.
A few things have changed in Thorson's 25 years of teaching, mainly in her students' taste in music. Popular artists change with the years, but the biggest differences are social media, which introduces a wider variety of experience, and her kids' growing interest in rap and hip hop music.
Another change is the censorship of folk songs, sometimes with good reason. A few have racist or other negative connotations. However, Thorson believes it can be taken too far. An example is "Jingle Bells," which has been banned in certain schools for its possible origin in the minstrel shows of the 1800s, and whose censorship flabbergasts even the university professor who authored the origin story of "Jingle Bells."
Thorson must serve herself as a reluctant censor, as many popular songs contain vulgarities inappropriate to a school setting, to the most impressionable minds who do not fully understand the meaning and prevalence of sexism and violence.
"When you're getting ready for pop shows in seventh and either grade, they'll only want to play music that is current," Thorson said. "I have to say, 'Let's stop and think – what's your audience look like – let's go back a few years and include them with songs that they know.' Normally the kids end up loving those songs the best."
Classical music is Thorson's favorite genre, but she tries to be accepting of other styles. Acceptance is a talent of younger students.
Despite their specific tastes, Thorson said students at that age are open to whatever music she presents. But by the time they reach fifth or sixth grade, they become more rigid. They are more established in their preferences and start to reject musicians and genres from different backgrounds. They have no use for maracas.
It is a constant struggle for attention.
"When you get to the older students, they close down a little bit," Thorson said. "They need a foundation. Just listening to current music is not giving them that foundation.
"Kids are kids. If you expose them to higher level stuff, they're going to perform. If they're not exposed to that, then they're not going to know it exists."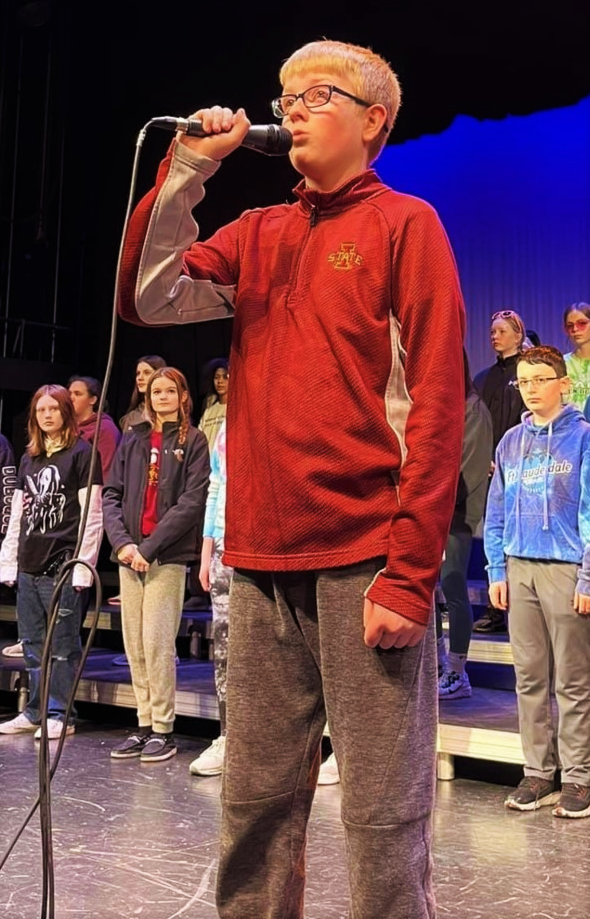 Piano
Throughout the year, Thorson helps her students put on programs such as the winter concert. The work is repetitious. There are many after-school rehearsals. It takes dedication and supportive parents.
"Kids want to perform well, and that helps," Thorson said.
The most time-intensive and difficult performances are from third and fourth graders, who are just beginning to get into acting. The annual Cedar Summerstock Theater has helped tremendously. Every year, students from across the country come to work with local actors and musicians.
This summer, young children will appear in "The Wizard of Oz." Last year it was "Matilda."
"I can see that in my classroom," Thorson said. "I have kids who are thirsty for that kind of entertainment and performance level."
As well, many of her Osage students have made opus in her tenure. Opus is an all-state honor choir for fifth through ninth grade students in Iowa. Every year at Osage she has had three to six students make it, which is a very high standard for the size of school. Last fall, four Osage students made opus.
Thorson is a musical artist herself. She began playing piano when she was in second grade. She plays the organ for her church. She is proficient with those instruments. She is a veteran.
"When I have a really heavy day at school, I'll go home and sit at the piano and play," Thorson said. "It brings me peace."
Despite her experience, she continues to grow as a musician. She has hundreds of young teachers.
"I'm learning right along with my students," Thorson said.
Jason W. Selby is the community editor for the Mitchell Country Press News. He can be reached at 515-971-6217, or by email at jason.selby@globegazette.com.