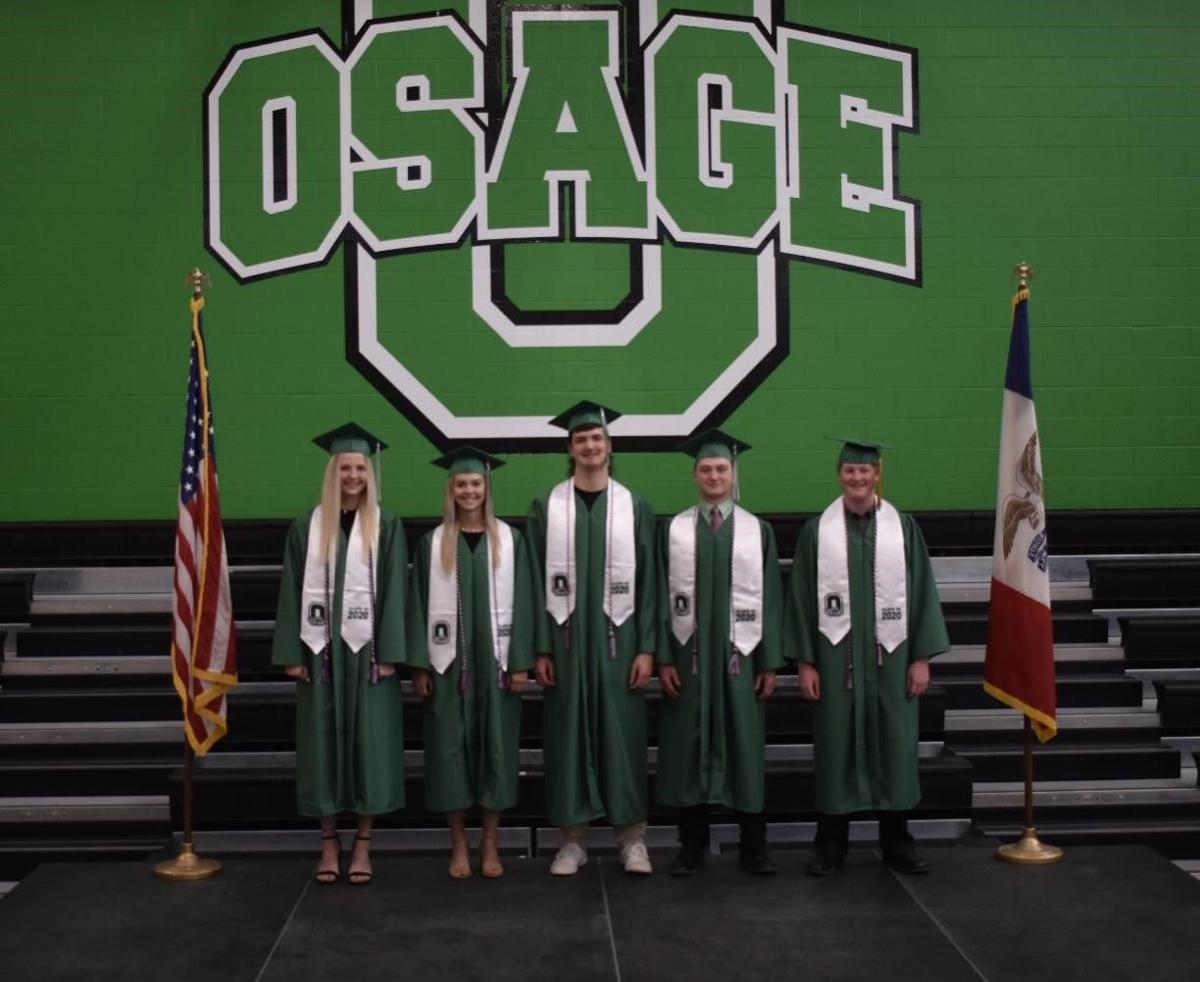 Six Osage High School graduates from the class of 2020 have joined the military: Sawyer Chisholm, Meirick Huffman, Owen Muller, Libby Schwamman, Nicolas Shoars, and Lauren Voaklander.
OHS principal Tim Hejhal also entered the Iowa Air National Guard out of high school.
This particular group is much larger than usual and very patriotic. As a retired military officer, Principal Hejhal said, "I'm so proud of all of them, and I look forward to watching as they progress in their military careers. Good luck soldiers and thanks for serving your country!"
Sawyer Chisholm is entering the Army, and is slated to leave on June 1. His job title is Horizontal Construction Engineer. He follows in the footsteps of an uncle who entered the military, and he's looking forward to experiences he knows he could not get elsewhere. He hopes to make a career of it. Chisholm's advice for those considering the military is to talk to your parents and recruiters.
Meirick Huffman completed basic training last summer, and he is slated to leave on May 27 for the Iowa Army National Guard. His job title is Military Police. He follows after his maternal grandfather, Dick Meirick, who was in the Air Force. Meirick knows this experience will help his future, as one day, he wants to work for the DEA or FBI. Huffman also joined knowing the military would help pay for college.
His advice to others looking at joining the military is, "If you're considering it, do it."
On Sept. 22, Owen Muller is scheduled to leave Osage for the Air Force. His job will be in Egress Systems.
"I want to serve my country and be a part of something greater than myself," Muller said.
Owen's older sister, Sophie, also joined the Air Force. He hopes to gain job experience, a college degree and retire after 20 years. Muller's advice to students looking at joining a military branch is, "do it!"
Libby Schwamman will also be leaving Osage in September to join the Air Force. Her job has not yet been assigned, but she is hoping for Inflight Refueling. Both of Schwamman's grandfathers served in the military as well: Grandpa Schwamman in the Air Force and Grandpa Sabelka in the Army Reserve.
Schwamman hopes to become a pilot and gain knowledge in the field of aviation. She is looking forward to doing something different and taking part in what her grandfathers did. Her advice is, "Keep your options open and just do you!"
Nicolas Shoars will be joining the Army National Guard as of Aug. 12. His job will be Chinook Repair. Shoars has entered the military to give back to his country. He expects to learn lessons that will help him in every aspect of life. He is also hoping to gain the honor of serving his country.
Shoars' long-term goal is 20 years of service. His advice to students is, "Talk to someone in the military. Look at all the benefits. Weigh out if it would be a good option for you. Remember, there are many different ways to serve that might suit you."
Lauren Voaklander is joining the Iowa Air National Guard. She is hoping to attend basic training in the fall; unfortunately, COVID-19 has caused a change in dates for her, though her weekends will resume in June. Her job title will be Geospatial Intelligence.
Voaklander joined to help pay for college, to experience new things, and to serve her country. She is looking forward to new relationships and experiences. For those considering the military, Voaklander offers this, "There is something in the military for everyone. Do it!"
Be the first to know
Get local news delivered to your inbox!