On July 19, the Osage School Board met in preparation for the 2021-22 school year.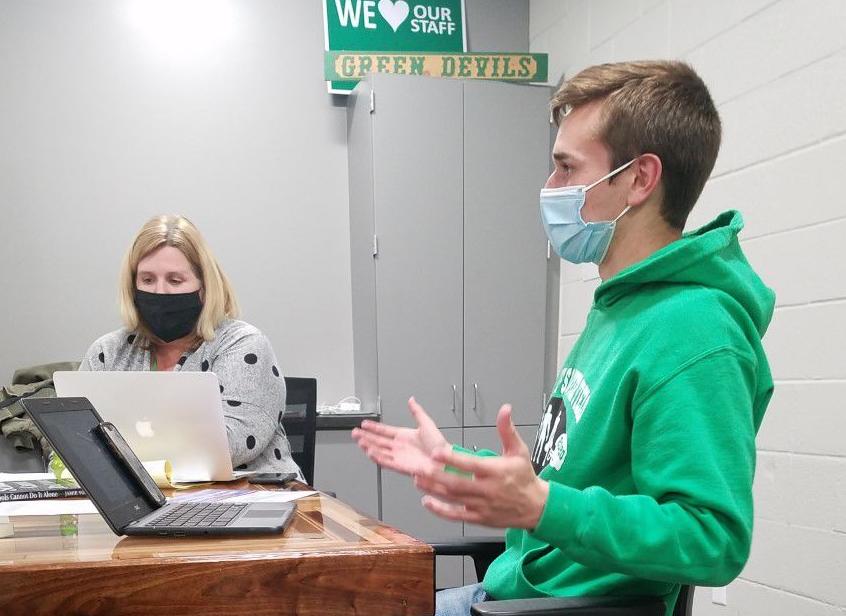 Superintendent Barb Schwamman said that by August the district needs to update its Return to Learn plan and submit it to the board. It had been one year to the day of the board meeting since she sent out the first memo, when Osage decided to go to four days a week because of COVID-19.
"It's a fine line, because part of me just wants to take everything out," Schwamman said. "But are we at that point? Because I know at the county [level] our numbers are soaring and things are going back up again.
"But it's looking at where the politics play into what the governor is going to allow or not allow schools. We know we'll have to be in session. We know that we probably can't force masks. In essence it's business as usual that we're going back to, which is good. But it's also hard from the planning standpoint and the realistic standpoint."
Many in education leadership are nervous, according to Schwamman.
"We could have more division than ever," she said. "As excited as we all are to get things back to normal, what is normal? A lot of our core values were challenged – how we did business before, and even some of our teaching practice. You start thinking about things differently."
Osage's Return to Learn plan will ultimately be submitted to the state.
• Schwamman indicated that tax rates have fallen, especially this year. Osage is in the bottom third of school districts.
"When you hear people starting to complain because it's September, guess what? They have to pay their taxes. 'Our taxes went up this year,' which you can say," Schwamman said. "But the school rate went down. That will kick in for everyone."
• The Osage trap team earned 56th at the national tournament in Michigan. There were hundreds of teams competing.
• The Board named Kaebre Sullivan as its student representative, taking the place of Logan Martin.
• Schwamman indicated that renewals for insurance had increased since the previous year. Coverage has also evolved to keep pace with technology.
"We looked at our cyber liability," she said of the school's coverage through Heard Insurance of Osage. "It's the policy we already had that's becoming obviously newsworthy. We're hearing schools getting taken for ransom."
The Board approved moving forward with Heard Insurance. They also approved spending $750 with a $100 discount to become a member of Rural School Advocates.
• Schwamman said the school leases part of Randy's Neighborhood Market parking lot, and the Board approved continuing to lease it for $325 per month. The arrangement is necessary to provide parking for school staff.
• Lightspeed is a sound system teachers wear around their necks to amplify their voices, and at least two of these systems need upgraded.
"We know it's good for all kids," Schwamman said.
Electronic Engineering is the company that does all video cameras and security systems in each school building, with Lincoln Elementary needing an overhaul.
• School Board elections are approaching. Election Day is Nov. 2. Interested parties may take out papers beginning Aug. 23, with the final day being Sept. 16.
School board members are elected to serve four-year terms. These are not paid positions.
According to the Osage Schools website, nomination papers for school board seats are available from Helen Burrington, Board Secretary. School board candidates must obtain the signatures of at least 50 electors. For information on the rewards of board service, campaign finance disclosure law, conflict of interest, key dates, and candidate education, visit www.ia-sb.org/getonboard.
Jason W. Selby is the community editor for the Mitchell Country Press News. He can be reached at 515-971-6217, or by email at jason.selby@globegazette.com.