Every Thursday, barring a storm, vendors set up their booths in Osage. They sell produce, barbecue sauce, marmalade and candles. This is the farmers market. Its leader is Jessica Baldus.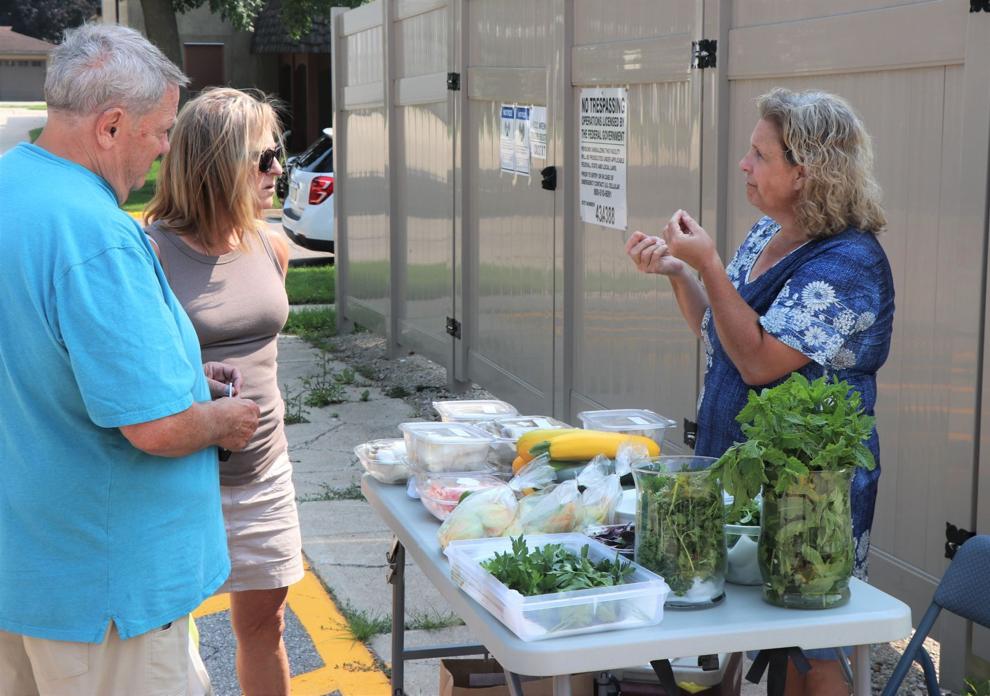 Not only does she sit on the Chamber of Commerce board, Baldus is chef and owner of Taste on Main Street. She volunteered to coordinate the market.
Then COVID-19 struck. In 2019, there were three or four vendors each week. But the pandemic actually boosted sales, and at the peak of the 2020 season, there were as many as 20 vendors set up at 114 South 7th Street.
"Last year there was a lot more flexibility with peoples' time," Baldus said. "They didn't go to their jobs because of COVID. Everyone wanted to get out."
Numbers have decreased since the pandemic surge, but foot traffic is still above normal.
"Many vendors and producers don't have extra help," Baldus said of something true this summer for businesses such as public pools. "As the owner of a business on Main Street, I'm also struggling to find manpower."
Last year, restaurants were mandated to be closed, so Baldus had more time to direct the farmer's market. Now, not only is she back running her business, she is short staffed, leaving even less time to interact with vendors and help them set up their stands.
Bok choy and baby bibs
Baldus lived in Des Moines for 10 years, where she became enamored with its farmers market. It created a passion for the open air environment of selling wares, which she cultivated when she moved back home to Mitchell County.
Like the Des Moines farmers market, she would like Osage's to be an eclectic, festive experience.
"I learned how important it was to meet your farmer face-to-face, to hear their stories," Baldus said. "To hear where they're raising their product, and how it's being grown. Maybe it's someone's selling soy candles, and they can tell you how they're made."
Baldus formed many professional connections to producers, and she took those relationships home.
The obvious difference between big city and small town farmers markets is size. Last week, Osage had eight vendors, which is proportionate to its population. For Baldus, it could always be better. She predicts that number will increase as the weeks go on.
"We haven't hit our peak season, specifically for produce and things like that," she said. "But also on that note, we don't want to limit the farmers market to only being produce and baked goods. We want to encourage people who make handmade crafts."
At some stands there are dish towels, baby bibs, pot holders and fashion items. There are unique products like bok choy and variations of the radish foreign to most. People sell jams, jellies, marmalades and maple syrup. Late last year, there were shiitake mushrooms and other fungi.
Red Rooster Farms sells farm-raised meat products. Piggyback Smoke Shack sells barbecue sauce. Chris' Kettle Corn comes into town and sets up shop.
There is entertainment. Last year, Osage pianist Sam Crosser drew a crowd, and that crowd shopped.
"It sets a great ambiance for the market," Baldus said.
However, this year, the Chamber does not have the budget for performers.
"What I'm really hoping for is to have some volunteers step up," Baldus said. "I know we have a lot of really great people in our community that volunteer with great organizations such as Shop on State Street, library programs and Cedar Summerstock Theater.
"People recognized they need volunteers to make them successful. The farmers market is no different. We definitely need the manpower and the hands of volunteers."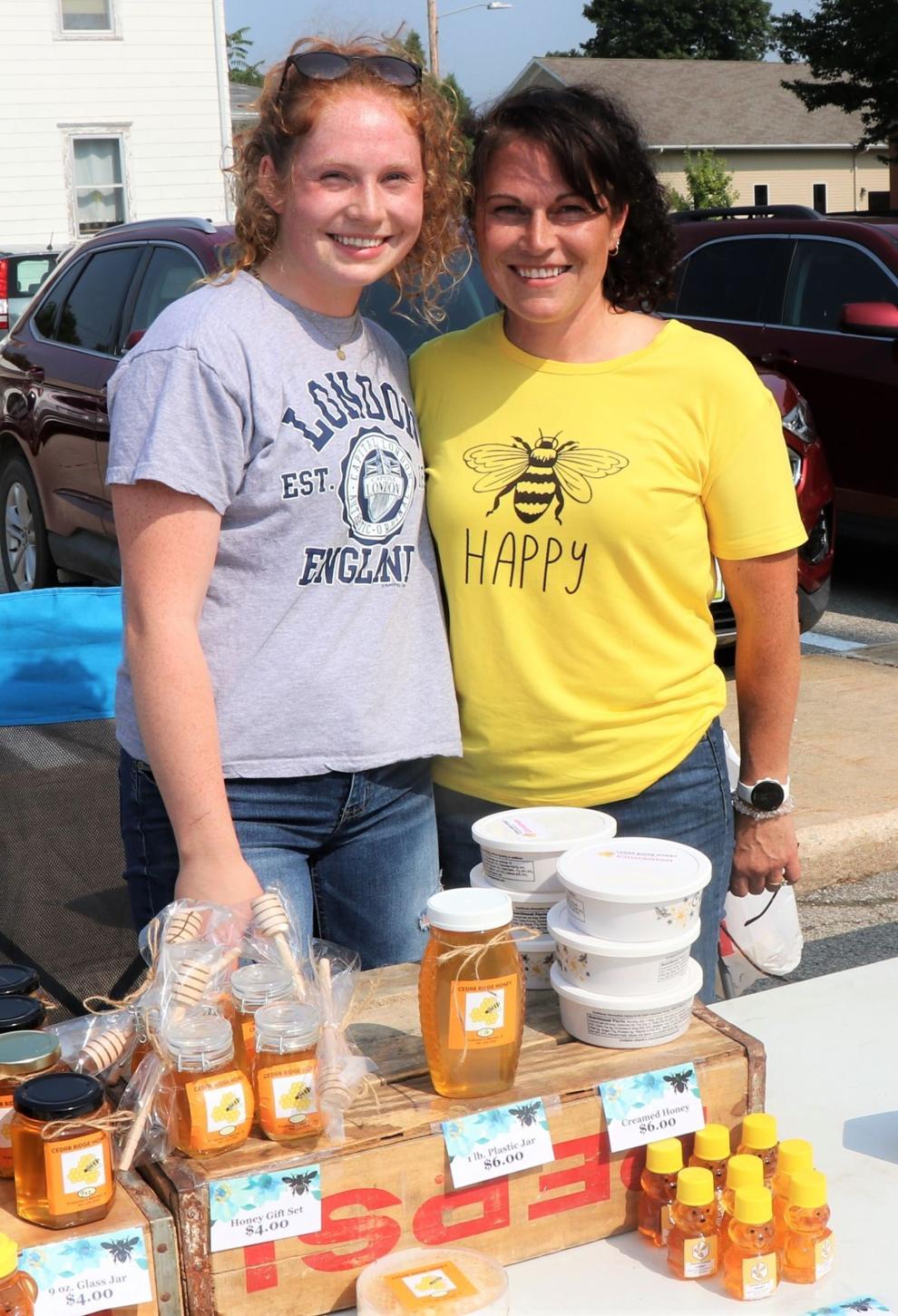 Honey and mushrooms
This is the second year Cedar Ridge Honey has set up shop at the farmers market. While Jeremy Mostek of Mitchell processes the product, his daughter Makayla Mostek likes to sell. She is a volunteer.
Jeremy's family has made honey for generations.
"It's nice to be able to provide the community with something like this," Makayla said.
"Something's got to happen with this honey, so it's nice to bring it here," mother Katie Mostek said of their hive to market operation. Mother and daughter stand together in the sun with a table full of stacked jars.
The Mosteks also sell their product at their store in Mitchell. Business is good, but unlike items such as bread, honey lasts. That usually means one jar per customer, but fortunately there are bakers who cannot get enough.
Across the way, it was Becky Murphy's first afternoon selling at the farmers market. It was her first day ever. It took a nudge from Baldus, who had been attempting to convince Murphy to sell. Baldus is a fan of fungi. She cooks with them at Taste.
Murphy is a certified mushroom grower. She specializes in rarer commodities than bread or tomatoes.
"It's so much fun," Murphy said of this practice of grooming mushrooms for the table, which requires patience. She is performing the admirable duty of planting a morel mushroom garden in the shade of her house. After putting them to bed, it takes months for them to rise.
On her booth, stacks of oyster and pink oyster mushrooms sit next to herbs such as basil, chives and parsley.
"Some vendors who sell at the farmers market, that's their means of living," Baldus said. "But you don't need to have a ton of products to sell on a professional level."
It could be as simple as an extra 10 tomatoes, she said. Gardeners always have too much. Why not get paid for something destined for compost?
In 2020, the farmers market waived its setup fee, which was $40.
"It gave them the security of, 'I think I'm going to give it a try. If it doesn't go well, I'm not out anything,'" Baldus said. "The more vendors we have, the more success we have, because there's more foot traffic."
She hopes the farmers market can continue this trend of growth. Since organizers mark the spaces for the stands out earlier that day, her only request is a heads up from potential vendors.
For Baldus, volunteering is a broad term and the lifeblood of a small community. It could mean something as simple as buying from the farmers market. Every month, she has a theme dinner at Taste, and this month it is farmers market finds. She does all her shopping at the booths, and the result is a four course dinner for 50 people.
If the pandemic taught her a professional lesson, it was to give more of her time.
"When I volunteered in 2019, I had no idea what I was getting into with COVID," Baldus said. "I like to find a silver lining in everything, and I think COVID helped slow things down for people. It gave vendors more time to show up and be present.
"Last year was a blessing in disguise in terms of trying to grow the market. And now we're at the point where we need to keep building it up or we're going to fall back."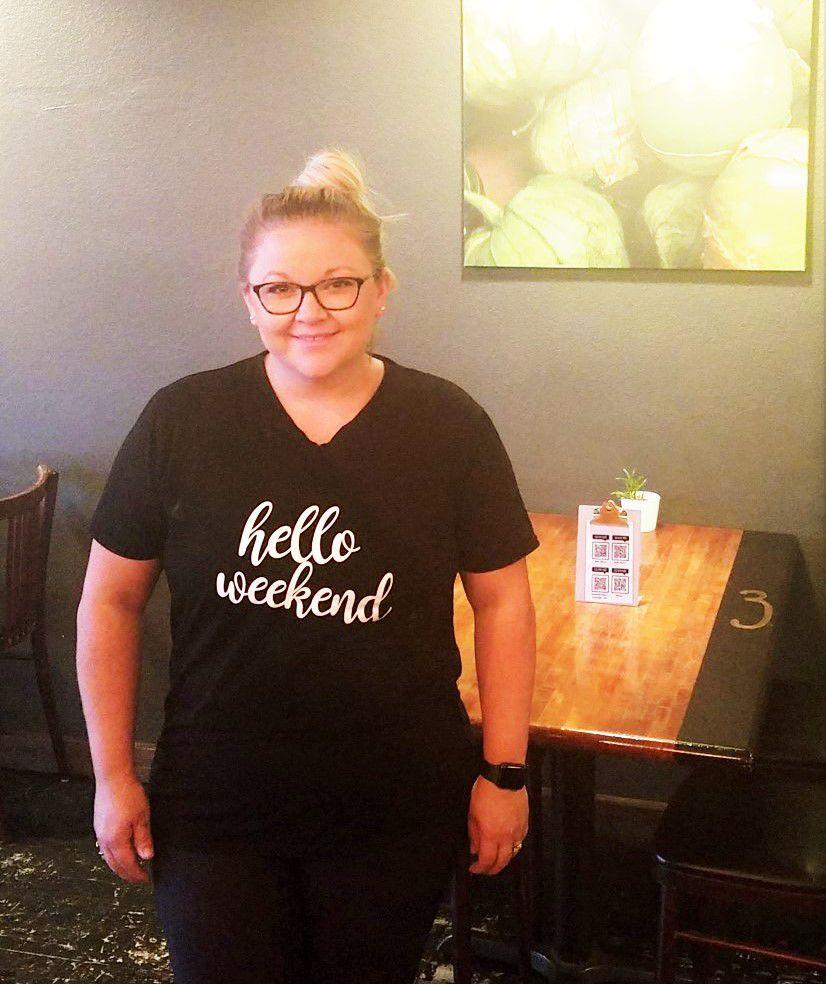 Jason W. Selby is the community editor for the Mitchell Country Press News. He can be reached at 515-971-6217, or by email at jason.selby@globegazette.com.