North Iowa Area Community College recognized 71 student leaders at the 29th annual Pathways to Success luncheon held in early April at the Muse-Norris Conference Center.
Honorees were nominated by NIACC faculty and staff for their academic achievement, positive attitude, character, teamwork, and ability to inspire others. The event also featured a keynote address by 2019 Outstanding Alumnus and North Iowa native, Cerro Gordo County Sheriff Kevin Pals, Class of 1999.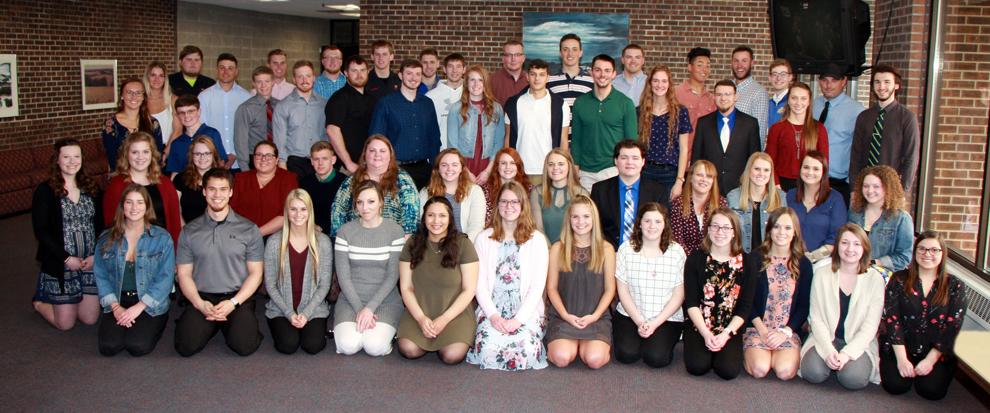 In addition to Pals, long time Forest City educator, Scott D. Bertelsen, Class of 1979, was awarded the 2019 Distinguished Alumnus award.
 Students honored at the event included: Luke Arrowood, Algona; Addyson Clark, Allison; Nicholas Schonrock, Blue Earth, Minnesota; Julian Echeverri Spaggiari, Columbia; Katharina Josipovic, Bruck Salzburg, Austria; Emily DeBower, Carpenter; Tina Slinger, Charles City; Grant Dieken, Emily Endelman, Clear Lake; Caitlin Serle, Colac VIC, Australia; Alexandra Hable, Decorah; Cailey Weaver, Dougherty; Vaughn Deinhart, Ryan Swanson, Eden Prairie, Minnesota; Benjamin Roisen, Forest City; Candie Cueva, Garner; Tate Powers, Gilbert; Kala Rose, Clay Shultz, Greene; Parker Allen, Douglas Steinhoff, Hampton; Amanda Poley, Tyler Swenson, Joice; Jonathan Hernandez, Kanawha; Ashley Jolly, Klemme; Dylan Cavett, Lake Mills; Keith Adams, Little Cedar; Emily Overy, Manly; Ashley Alert, Matthew Bormann, Scottie Brown, Cyle Calhoun, Sarah Dodd, Benjamin Fitzgerald, Nathan Hanna, Timothy Hoffmann, Kyle Lang, Morgan Luecht, Christian Paloma, Jill Paul, McGwire Skogen, Jacob Tefft, FaLicia Tucker, Trey Wiegmann; Thomas Skoro, Medicine Lake, Minnesota; JC Houdek, Jonathan Opkis, Hannah Wagner, Nora Springs; Michael Oh, Northbrook, Illinois; Klaire Chisholm, Annmari Milbrandt, McKenzie Mohl, Hanna Mullenbach, Elizabeth Valasek, Osage; Julian Giustiniano, Perth, Australia; Ryan Bartling, Sydney Fullerton, Rockford; Sae Oikawa, Saitama-shi, Japan; Benjamin Boerjan, John Patterson, Colin Salz, St. Ansgar; Rachel Kontze, Tauranga, New Zealand; Kirrilly Hughes, Telegraphy Points, NSW, Australia; Kyle Pike, Thornlands, QLD, Australia; Ashley Johnson, Urbandale; Denise Thompson, Wadena; Jack Woods, Walton-on-Thames, United Kingdom; Tahya Campbell, Adriane Cole and Cecilia Novotney, Waterloo.