It can get quiet in North Iowa at nighttime, but if you stood on your porch and listened closely as Sunday night turned into Monday morning, y…
On Friday morning, the dreaded news finally came down for spring sports in the state of Iowa.
There is a new face at the head of the Osage football program and it's a familiar one for North Iowa football fans. 
The Iowa Print Sports Writers Association (IPSWA) released its All-State girls basketball list, and North Iowa was very well-represented, with…
With plenty of time on all of our hands with the high school, college and professional sports all on hiatus, now is the perfect time to rememb…
While the Riceville girls and boys basketball teams had an off year, finishing 7-14 (boys) and 13-10 (girls), all eyes were on Riceville sopho…
For the St. Ansgar girls basketball team, not getting to the Iowa girls state basketball tournament for the past 19 years was a big motivator. 
To say Osage athletics had a stellar winter sports season would be a bit of an understatement. 
Proud. That was the consensus emotion for the Osage girls' basketball team on Saturday night at Wells Fargo Arena.
The Osage girls basketball team played stifling defense to upset Cascade 46-32 Friday in the Class 2A semifinals at Wells Fargo Arena in Des Moines.
The season ended in disappointment for the St. Ansgar girls basketball team in the girls state semifinals Friday at Wells Fargo Arena in Des Moines.
Osage wasn't expected to be in the Class 2A Iowa girls state title game on Saturday.
The St. Ansgar girls basketball team is in uncharted territory, at least for those born after the 1990s. 
Photos from the Osage girls basketball team's 67-60 victory against Emmetsburg during the Class 2A Region 2 championship game Wednesday at Gar…
"It was pretty cool. We have an awesome community behind us. It has been way too long since we brought a title back here," said Junior Spencer…
Saturday was a day full of mixed emotions for the Osage wrestling team at the state wrestling tournament at Wells Fargo Arena. 
Eight local participants ground it out in a Super League style triathlon at the Cedar River Complex on Feb. 16, swimming, biking and running t…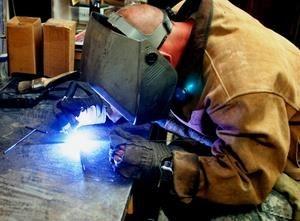 J & J Machining, Welding & Fabricating
Saturday was a day full of mixed emotions for the Osage wrestling team at the state wrestling tournament at Wells Fargo Arena. Two Green Devil…
The Newman Catholic boys basketball team pulled off a 48-47 upset win over St. Ansgar in the Class 1A-District 3 first round game Thursday nig…
The St. ansgar girls basketball team fell behind early but kept chipping away at the lead to overcome a six-point deficit after three quarters…
The West Hancock girls basketball team left no doubt that they are the team to beat in the region as they easily handled Clarion-Goldfield-Dow…
In the history of Osage girls basketball, the team has only made the five-on-five state tournament only once, in 2016. They've come close plen…
On the second day of the Iowa High School wrestling tournament, there have been a few surprises so far for North Iowa teams. By day's end, fiv…
The Newman Catholic boys basketball team pulled off a 48-47 upset win over St. Ansgar in the Class 1A-District 3 first round game Thursday nig…