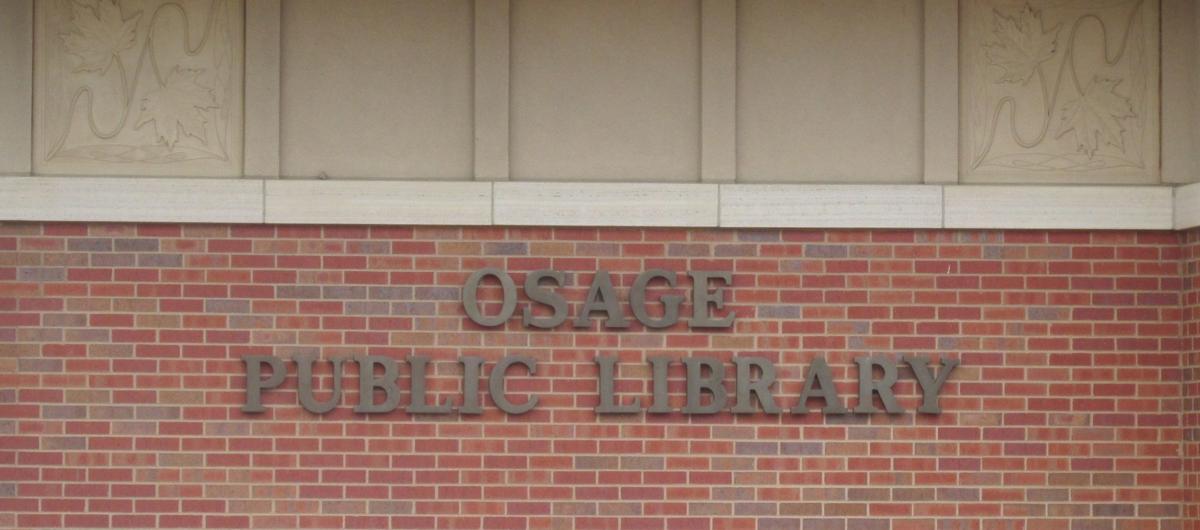 Happy New Year! It's time to make a New Year's resolution. How about "Read a book" – or better yet; how about "Read a new book"?
Stop into the library and ask about the new arrivals. Many are so new that no one has had a chance to read them. You can read one (or more) and be the first to tell us about it.
Perhaps you're wishing to broaden your horizons by learning a new language. The library can help you with that! We offer an online language learning website called Transparent Language. Use one of the library's computers to set up a profile with user name and password by logging on to the Osage Library website at www.osage.net/~osagepl/ and looking for Transparent Language under Online Resources. Chose from one of over 90 languages available, register for an account and you're good to go. After this initial setup, Transparent Language may be accessed on any computer connected to the internet.
We have recently added several new books to the collection, including:
"A Dangerous Man" by R. Crais: Joe Pike and Elvis Cole become caught up in their most perilous case to date, one full of tangled family secrets where even the victim is hiding something.
"Outfox" by S. Brown: One man with multiple identities; eight women who vanished without a trace; the next likely victim – his wife. Also in large print.
"Window on the Bay" by D. Macomber: When single mom, Jenna Boltz, becomes an empty nester, she spreads her wings to rediscover herself. Also in large print.
"Ellie and the Harpmaker" by H. Prior: Ellie Jacobs takes a walk in the woods and comes across Dan Hollis's barn where he carves exquisite Celtic harps. Ellie soon realizes that Dan isn't just different; in so many ways, his world is better and he gives her a fresh perspective on her own life.
You have free articles remaining.
"The Escape Room" by M. Goldin: four young Wall Street rising stars discover the price of ambition when an escape room challenge turns into a lethal game of revenge.
"The Golden Hour" by B. Williams: this novel brings World War II-era Nassau to life in an epic tale of espionage and human courage inside the court of the Duke and Duchess of Windsor.
"Midnight at the Blackbird Café" by H. Webber: Anna Kate Callow has returned to Wicklow, Alabama, to settle her grandmother's affairs which means closing her cherished restaurant, the Blackbird Café. A novel of healing, family and second chances that sparkles with just the right touch of magic.
"Kill Zone" by K. Anderson: Deep within a mountain near Albuquerque, a Cold War-era nuclear weapons storage facility is being used to covertly receive nuclear waste from across the U.S.
"The Oysterville Sewing Circle" by S. Wiggs: Caroline Shelby returns to the sewing shop where she first found her passion and discovers that even in an idyllic beach town, there are women living with the deepest of secrets. Also in large print.
"This Tender Land" by W. K. Krueger: In the summer of 1932, on the banks of Minnesota's Gilead River, the Lincoln Indian Training School is a pitiless place where Native American children, forcibly separated from their parents, are sent to be educated.
"Heaven, My Home" by A. Locke: Texas Ranger Darren Matthews is on the hunt for a 9-year-old boy who's gone missing but the boy's family of white supremacists is the real target.
The Osage Public Library is open Monday – Thursday 9 a.m. to 8 p.m.; Friday 9 a.m. to 5 p.m.; and Saturday 9 a.m. to 2:30 p.m. You may contact us by phone, 732-3323, or by e-mail at osagepl@osage.net.
Visit our website at www.osage.net/~osagepl/ for the latest news and events or like us on facebook under Osage Library.
Syd Heimer is the director of the Osage Public Library.