OSAGE | Thursday was a day of community in Osage as over 250 meals were served at the community Thanksgiving Day meal at the Osage American Legion.
After a 13-year hiatus, community members Becky and Mark Johnson, along with New Covenant Fellowship Pastor Steve White, decided to bring back the once annual tradition. The three were helped by Leo Chisholm, who oversaw the revival of Osage's Community Thanksgiving Dinner.
During preparations for the event, organizers repeatedly said their main goal for the event was "to promote community."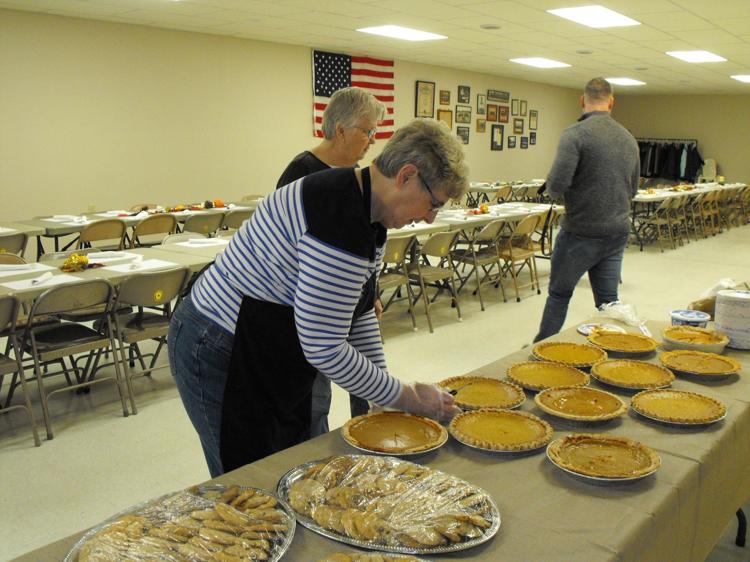 Dozens of volunteers helped set up, cook and serve the meals made up of traditional Thanksgiving items. Several area families sacrificed their own family time and traditions to volunteer for the event.
Over a dozen volunteers began preparations for the meal on Wednesday evening, wrapping silverware, decorating tables and preparing food.
Volunteer Michelle Richardson said, "We are very blessed and I think this is good way to give back to the community during the holiday season."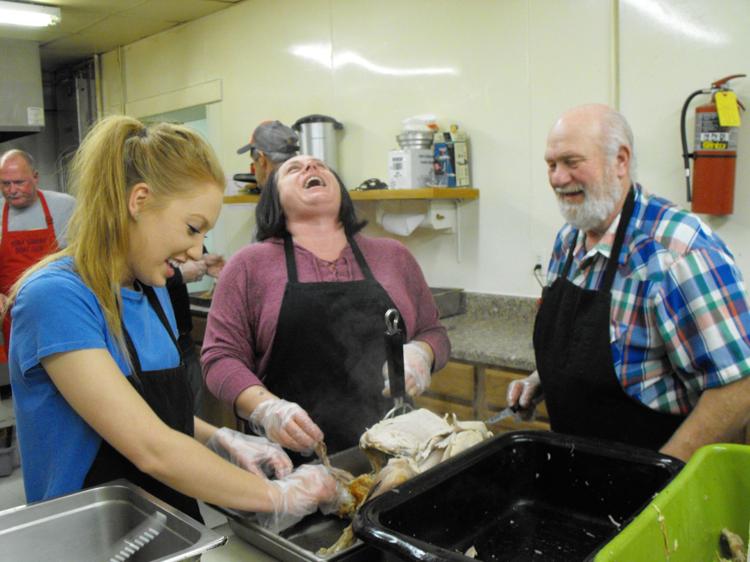 "This brings us all together, as we work together," Jean Brumm said. "It's good for the community and we have much to be thankful."
Mark Johnson said turkeys began cooking at 4 a.m. Thursday. 
First-shift workers carved the 16 donated turkeys and made food preparations for the dinner that began at 11:30 a.m.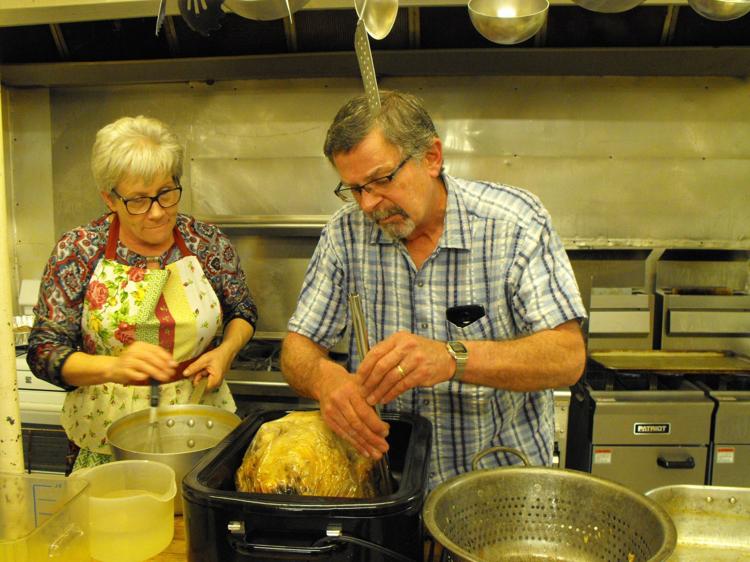 "I volunteered him," said Sandy Norby, smiling at her husband, Randy. "I told him, 'Guess what we are doing for Thanksgiving? We are helping with the Community Dinner.' Randy said, 'Good, it sounds like a lot of fun.' 'That's good because you are going to be carving some of the turkeys,' I replied."
As she was cutting pie, Reva Harris, of Osage, said, "We were just going to be home by ourselves and they needed help. It's fun with all the camaraderie."
Becky Johnson who initiated the dinner said, "I started this because I worked in home health care for many years and saw a lot of people alone for the holidays. We were going to do this at our diner, but it wasn't big enough so I mentioned the idea to a few people and it went from there.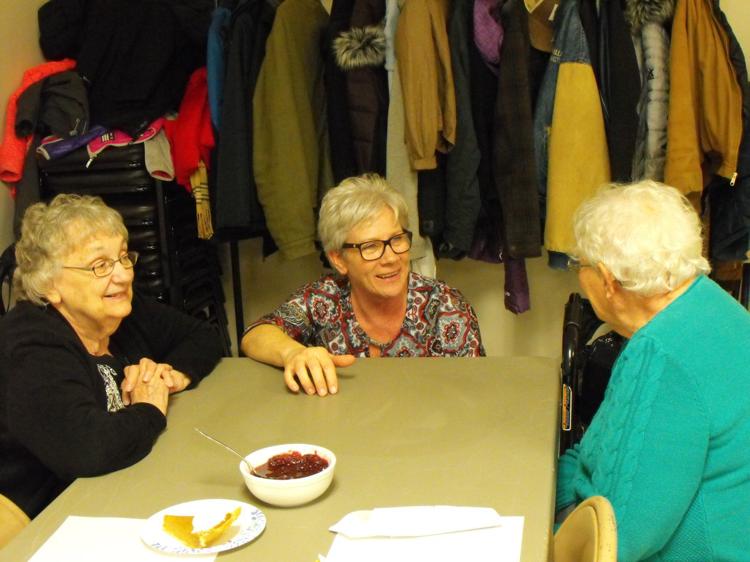 "The community really pitched in and volunteered and provided donations of money and food."
"Being longtime residents of this community we knew we would have plenty of volunteers and several area business also assisted us," Mark Johnson said.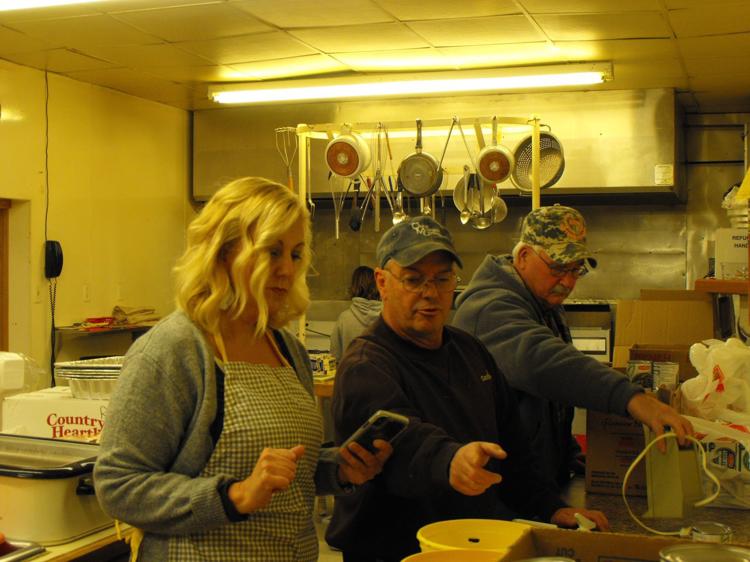 Taste provided the mashed potatoes, Paradise Pizza the buns and American Legion the space. Home Trust and Savings Bank, First Citizen Bank, Randy's Neighborhood Market, New Covenant Fellowship Church and Bec-Mar Diner provided monetary donations. 
The efforts of the volunteers didn't go unnoticed by dinner guests.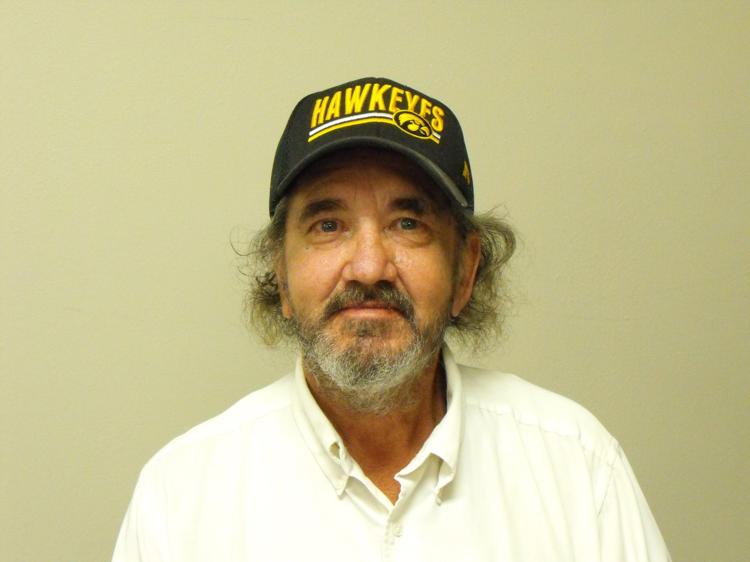 "I would have been home cooking, but my son is on the road driving truck and I didn't want to sit home alone all day," said Randy Mayer of Riceville.
Janet Juenger of St. Ansgar has relatives in Colorado and New York. 
"My sister and I don't cook so we came down here," she said. 
"It's a lovely place to come to on Thanksgiving. I wasn't going to fix a turkey by myself," said Leone Dunkelberg of Osage.
"A lot of people are doing Thanksgiving on different days and it's a good thing to get out with community and show people we love them," said Terry Popken of Elma.
"This is what makes it successful, all these people volunteering and helping out," said Pastor Steve White.
Photos: Osage Community Thanksgiving Day Meal