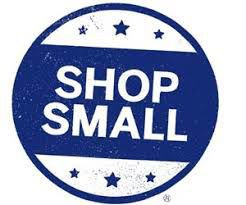 It's called Small Business Saturday on Nov. 30 – but there is certainly nothing "small" about it.
In fact, big things will happen that day in Osage, including the appearance of Santa Claus.
The Small Business Saturday shopping holiday, sponsored by the Osage Chamber of Commerce, is the recognition of small town retailers whose businesses are the backbone of the American economy. The welcome mat will be rolled out by merchants who will have special deals and holiday promotions, as well as extended shopping hours, for customers.
"Small Business Saturday is about celebrating all of our small businesses and committing to support them not just on the day, but all year," said the Chamber's executive director, Kati Henry.
You have free articles remaining.
"Black Friday is great for the big-box stores and online retailers but this event aims to help lift up small businesses during the holiday season. Small businesses claim nearly 30% of their annual sales are generated during holiday sales. Our community is lucky to have a great mix of retail businesses and they support our community infrastructure, schools and more," she added.
In addition to in-store promotions, Santa Claus will be available to have his photographs taken with the younger set from 10 a.m. to noon at the Chamber of Commerce office on Main Street. His appearance is made possible by CIA Insurance.
Other holiday fun already underway continues that day: the Great Holiday Giveaway and the Holly Jolly Scavenger Hunt, both which run through Dec. 8.
Shoppers may continue to register for the Giveaway at participating businesses. At each business they may submit one contest entry per day, per qualifying purchase, per in-store visit (online purchases are not eligible). A total of 30 lucky shoppers will each win $50 in Chamber bucks. Winners will be announced on Dec. 11 after one representative from each of the three Osage banks draws 10 names. The Giveaway is sponsored by CUSB Bank, First Citizens and Home Trust and Savings Bank.
The Holly Jolly Scavenger Hunt also continues, inviting shoppers to obtain a clue card at the Chamber of Commerce or participating businesses; with that in hand they will need to solve the clues at each business to figure out where a sock monkey has been hidden. The business owner then writes their initials next to their clue. Once a clue card is completed, the owner's name is entered into a drawing for $100 in Chamber bucks. Cards must be turned into the Osage Chamber of Commerce office by 5 p.m. on Monday, Dec. 9.