Administrators do a lot of dirty work behind the scenes. No one would deny this.
However, this is the first year Osage administrators have ever had to roll up their sleeves and finish a senior prank.
After the school shut down, a senior confessed her prank idea and prior work on the prank to a teacher via Zoom. (Names have been omitted to protect the guilty.) This senior's prank idea was a relatively harmless one. Each day, for much of the school year, she took two forks at lunch. She returned the fork she used and took the clean one along with her. Needless to say, a great many forks were socked away in her locker and more were found in her computer bag -- 91 to be exact.
If we had not ended school when we did, she would have easily had another 30 or so forks to work with.
What did this senior have planned? She wasn't going to steal the forks. She wasn't going to stick them into grass around the school grounds outside. She had planned to spell out 2020, in forks, in the new school gym.
After it became clear we were not going back, the senior shared her fears of getting caught with the forks in her locker with a teacher. After all, this individual had never intended to get caught. If you're from Osage, this brings a completely new meaning to the phrase, "Fear the fork!"
The teacher delivered the inside scoop to Superintendent Schwamman, who found the whole situation hilarious and took it in stride.
Armed with this information there was only one thing to do: bring the senior's long-term efforts to fruition. So, with the forks, administrators Schwamman and High School Principal Tim Hejhal "snuck" into the gym and spelled out "2020" in forks in the middle of the gym floor.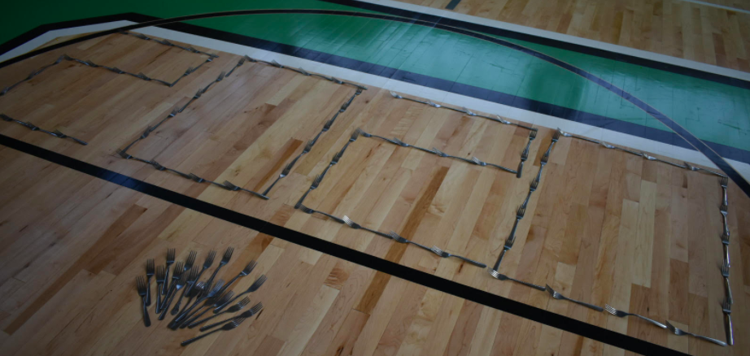 "This prank took planning, math skills, artistic ability, creativity, and patience," Schwamann said. "There is no doubt this graduate will go far in life."
Food Service Director Hemann said, "I appreciate that the forks were going to be returned." 
At this point, it is unclear who exactly is the victim of this prank. Hopefully the senior's efforts and the administrators' response will at least bring you a smile. If there's one thing 2020 has taught us, we know we have to find joy in the little things.
Be the first to know
Get local news delivered to your inbox!