Tom Burkhardt of New Haven and Bill Clark, who lives east of Osage, have become close friends and partners because of their interest in rodeo.
"I rode bulls for four years in rodeos around Iowa, starting back in the late 1990's," said Burkhardt. "I started riding because I just wanted to try it. I went to a Terry Don West Riding School near Lamoni, Iowa. They showed us the fundamentals of bull riding, and then we got to riding practice bulls. Once I began riding I tried to go bull riding every weekend.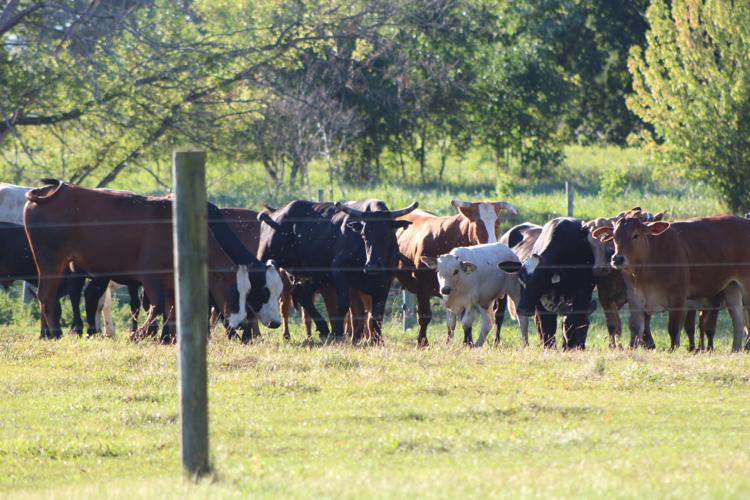 "I stopped riding in 2000, and in 2009 I started buying weanlings, and yearling heifers hoping to produce bucking stock," Burkhardt said. "Some of the heifers came out of California, and Texas. Some people call them Longhorns, but they are really Registered Bucking Stock."
Clark's interest in rodeo took a different route.
"I grew up on a farm and my brother Tom and I used to break ponies to ride when we were kids. I have always been interested in rodeo, and wished they would've had rodeo as a sport in school when I was a kid," said Clark.
Burkhardt and Clark first met at a Mitchell County Fair Rodeo, and soon became friends. Their common interest would draw them into a partnership.
"In 2010 Steve and Julie Ravenscroft sold the best cow they had at the time, and five of us bought interest in her. In 2009 that cow's bull calf, who was named Black Pearl, won the Classic Championship at the PBR (Professional Bulls Riders) Finals in Las Vegas," said Burkhardt.
"We flushed her getting four eggs, and fertilized those eggs with Bushwhacker's semen. Bushwhacker had been the PBR's three time Bucking Bull of the year. We ended up with three bull calves and one heifer calf. We sold two of the bulls as weanlings, and kept the heifer and one bull calf."
Burkhardt and Clark co-owned the remaining bull calf that was raised at Burkhardt's farm until he was three.
"We named him Lebanon Levi after a notorious TV character. When the bull was young he wanted to run you down. We later took him to southern Iowa and bucked him with dummy weights on his back," said Burkhardt.
Because Lebanon Levi performed well, he was later sent on the road with various stock contractors that bucked him in rodeos throughout the United States. The bull scored high in PBR competitions, and as a 4-year-old Lebanon Levi placed 14th at the PBR World Championship in Las Vegas.
Burkhardt continues to grow and develop potential bucking stock. He places them with stock contractors for dummy competitions. If they do well, the bulls can transition into rider competitions.
"From one time to another you never know how they will do," said Clark, who states that young bulls are unpredictable during dummy competitions. "One time they buck well and the next time they just hop across the arena."
A good bucking bull must consistently demonstrate his ability to rigorously buck in a circular pattern to be used in rider competitions.
In PBR contests, the bull rider and the bull are independently scored on the bases of 1 to 50. If the cowboy doesn't score because he thrown off before 8 seconds, the bull is still scored because he, too, is competing for prize money. Only top scoring bulls throughout the year are eligible to participate in the PBR Finals in Las Vegas.
Burkhardt continues to breed his well-pedigreed cows and heifers hoping to produce another bull with the potential of Lebanon Levi. With a herd of top-notch registered bucking stock females, Burkhardt and Clark have a good chance of producing another great bull, because 75 percent of a bucking bull's potential comes genetically from the cow.
Be the first to know
Get local news delivered to your inbox!