Based on discussions at Tuesday night's Osage City Council meeting, it sounds like city sanitation pickup issues may be working themselves out.
After the city issued a 30-day notice requesting corrective action in late August, according to Mayor Steve Cooper, Holt Services of Mason City has given its two-week notice, and its final day of service in Osage will be Sept. 19. Red Can, which is locally owned in Osage by Ryan Kittleson, is poised to fill in wherever Holt Services leaves off.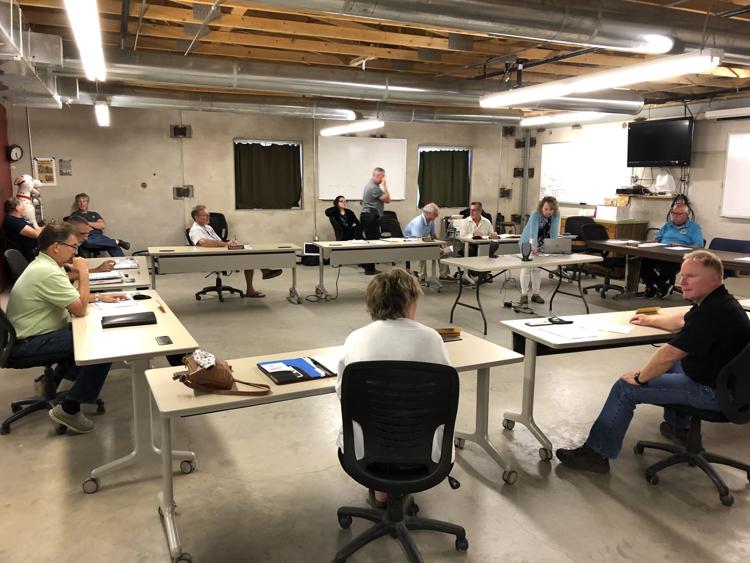 "There's a lot of dynamics that enter into this, but the other thing that entered into it with me is that ... he's a local businessman, his payroll is local; I think this has a lot of things that it's a plus for," Cooper said.
Many ideas were floated by council members about what the transition period from Holt to Red Can will look like: Could customers swap remaining Holt stickers for Red Can stickers? When will Holt stickers no longer be valid? Kittleson agreed at the meeting for Red Can to honor Holt stickers for the interim; a specific end date for doing so has yet to be determined. Those transition details, among others, will be solidified in the near future, council members said. 
"Ryan, I would like to thank you for cooperating with the city and making this thing work, because … when this all started and we were having some issues, there was a lot of discussion about, 'How are we going to do do this?' And I appreciate your willingness to work with us on this," Cooper said to Kittleson.
Outdoor seating for businesses gets OK
Earlier in the meeting, Osage businesses on Main Street were given the OK by the council to temporarily offer additional, outdoor seating to patrons in the era of COVID-19. The item when brought up for discussion was initially focused on a request from Limestone Brewers, but the council expanded the motion more generally to businesses on Main Street.
Businesses that wish to do so can set up outdoor seating taking up no more than half the sidewalk, which is 15 feet wide, so businesses have 7.5 feet from the fronts of their buildings to the middle of the sidewalk to work with. 
An additional requirement is that any seating area will need to have some sort of temporary barrier like chains or rope so pedestrians can still easily pass by on the sidewalk. In the words of Second Ward Councilman Rick Bodensteiner, "Just something" to separate the business space from pedestrian space.
"We should have did this four months ago," Bodensteiner commented after the motion was approved.
Trick-or-treat day set
Halloween trick or treating was set for Friday, Oct. 30; more details about city events will be solidified in coming weeks.
Planned city projects continue progress
The 9-to-10-week water well project will start around March 1 next year and is anticipated to cost about $324,000. Work on the well house, priced at about $395,000, will start in October and should be completed before the end of the year. 
Water tower foundation work should begin in April 2021, so big expenses will be due in May or June: the total cost of the water tower project will be about $1.73 million.
On the wastewater project, planned work on a blower building will go as far as putting foundation in this fall. Sludge tank work, a cost of $724,000, won't start until April or May of 2021.
The sewer project on Chase Street quoted at $30,136.40 is expected to be finished by Jan. 1.
The question of when to borrow for some of these upcoming city projects, especially for the water tower, will be discussed further; the goal as discussed by council members will be to borrow closer to project start dates to minimize unwanted interest gathering if the bond money were borrowed too early. 
PHOTOS: Shop on State in Osage
Profits from sales made at Shop on State in Osage are used to fund a grant program which provides monetary assistance to Mitchell County nonprofits.
Be the first to know
Get local news delivered to your inbox!