A public hearing was set for 8:45 a.m. Jan. 28  on a county ordinance that will establish five voter districts in Mitchell County for the general election in November 2020.
The redistricting came as a result of a county vote in 2018 to change the county's supervisor board from three to five members in January of 2021.
"The plan has already been OK'd by the Secretary of State, but we are still required to have a public hearing," said County Attorney Mark Walk at Tuesday's Mitchell County Board of Supervisors meeting.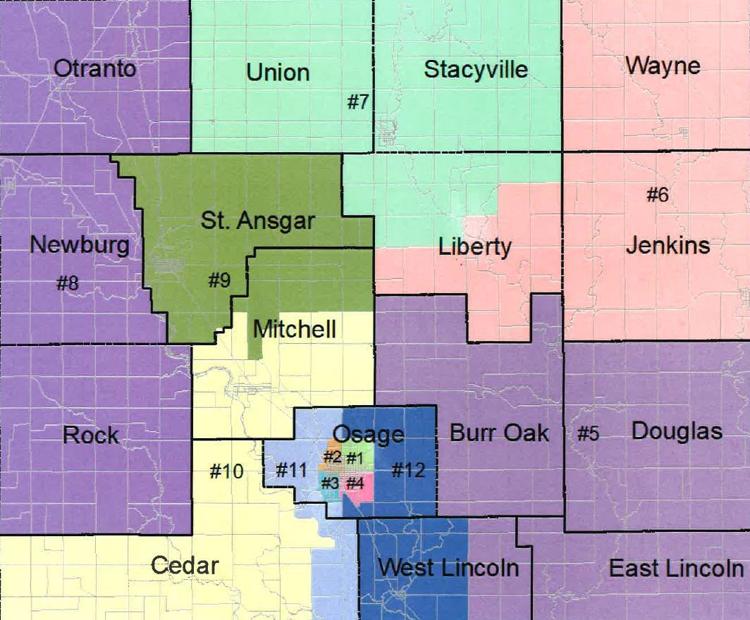 Once the public hearing is held, the board will then be able to approve the plan, which makes way for elections in the fall. All current board members will have to rerun next November. The top three vote-getters in the five districts will be awarded four-year supervisor terms, and the two district winners with the fewest votes will be awarded two-year terms.
During the discussion Supervisor Stan Walk pointed out that having a five member board compared to the current three member board will cost the county $718,000 over the next six years, not including pay raises.
"We could have used this money for day care and other things," said Walk.
You have free articles remaining.
Roads budget needs more money
County Engineer Rich Brumm notified the board that they will need to amend the road budget for next year, because of the cost for rock for secondary roads in 2019. "This past spring didn't help," said Brumm, who stated that the 2019 budget had $700,000 allocated for rocking, but because of extreme weather and road conditions the final tab came in at a million dollars.
He also said that there are several farm-to-market road projects that are being considered for 2020.
Voter fraud investigation
County Attorney Mark Walk and County Auditor Lowell Tesch expressed their displeasure on how state officials recently handled a voter fraud complaint in the county.
The Auditor's Office had recently received the complaint and was in the early stages of their investigation, when a news media source called about the investigation.
"What frustrated me was to make a public announcement, while we are investigating the case," said Walk of the State Auditor's Office.
Tesch agreed that a public announcement by state officials before the conclusion of the investigation was inappropriate. The auditor said that after investigating the complaint it was the result of a clerical error.
Tesch did note that the state has prosecuted cases of voter fraud when residents had first voted with an absentee ballot, and later voted again on Election Day. He indicated that these voter discrepancies will show up when the state goes over election results.