Osage Community Schools has formed its first Athletic Hall of Fame with its first class of honorees being recognized during homecoming festivities next weekend.
The Hall of Fame committee has selected the following individuals to be a part of the inaugural 2019 Athletic HOF class (in no particular order) - Gerald Leeman, individual wrestler; 1923 Boys Basketball team; Doug Schwab, individual wrestler; Mark Schwab, individual wrestler; 1992 Girls Basketball team; Susan Helfter, individual track; and the 1940 High School Wrestling team; Dr. Mark Haganman, friend of Osage athletics, Ron Betts, friend of Osage athletics.
The induction will take place at 11 a.m. on Saturday, Sept. 21, in the Osage High School gymnasium. The event is free and open to the public.
The purpose of the Osage High School Hall of Fame is to honor those Green Devils who have accomplished extraordinary feats in extra-curricular activities and to honor those who have made great contributions to Osage High School activities over a period of many years.
The intention of the Hall of Fame is to recognize friends of athletics who have fostered and preserved good sportsmanship, service, scholarship and citizenship in the Osage school and community and encourage them to continue to motivate Osage students to excel.
"I have been amazed at the quality and quantity of tremendous athletes who have come through this school," said Osage Schools Athletic Director Michael Henson. "I wanted to create a way to honor and recognize them and all of their achievements.
"Osage has a great tradition and I believe it is important we take time to recognize some of these athletes."
"As you look at the list of Inductees in our Inaugural class, you can't help but be impressed. We have state champions, Olympic qualifiers and medalists, as well as individuals who have given decades to Osage athletics as coaches and/or volunteers," Henson said.
Members of the 2019 selection committee were Mike Henson, committee chair, Scott Hoppel, high school coaching staff; Brent Jennings, high school coaching staff; Ross Graft, community member, Steve Jensen, community member; Jackie Muller, athletic boosters and Todd Frein, school board/education foundation. In addition, two non-voting members, Tim Hejhal, high school principal and Barb Schwamman, superintendent.
"This annual event will coincide with Homecoming and we hope alumni near and far, young and old, will attend this event to honor these individuals and teams," said Osage Schools Superintendent Barb Schwmann. "We are excited and look forward to this annual event."
The following is a brief look at each of the members of the inaugural Class of 2019 of the Osage Schools Athletic Hall of Fame.
1992 Girls Basketball team - inducted as Osage's first and only state championship team in girls basketball.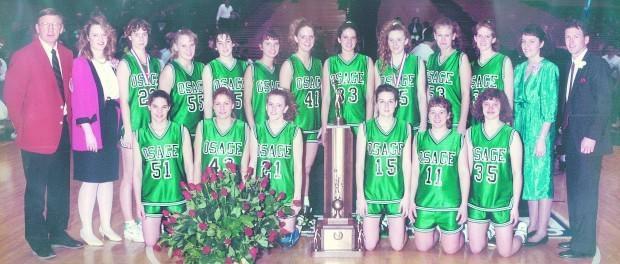 This team, coached by Gary Knudtson, accumulated a perfect 28-0 mark on their way to a state title. They defeated Ida Grove 87-63, then Adair-Casey 76-48. In the semifinals, the Green Devils beat Atlantic 63-50 setting up a finals showdown with Hampton Dumont.
The Green Devils went into the contest allowing the fewest points while Hampton-Dumont was the highest scoring team in the tournament.
The Green Devils dominated from start to finish posting an 88-70 victory to seal the championship.
Some of their season achievements included racking up 2,555 points, shooting 57% from the field and 65% from the free throw line. The Green Devils had two girls selected to the all-tournament team - Teri Fleming (Forward) and April (Grimm) Hintz (Guard). Anne Snider-Harswick and Anne Knudtson (Street) were named to the All-State team that year as well.
1940 State Wrestling Team - inducted for winning the 1940 State Individual Wrestling Team Tournament.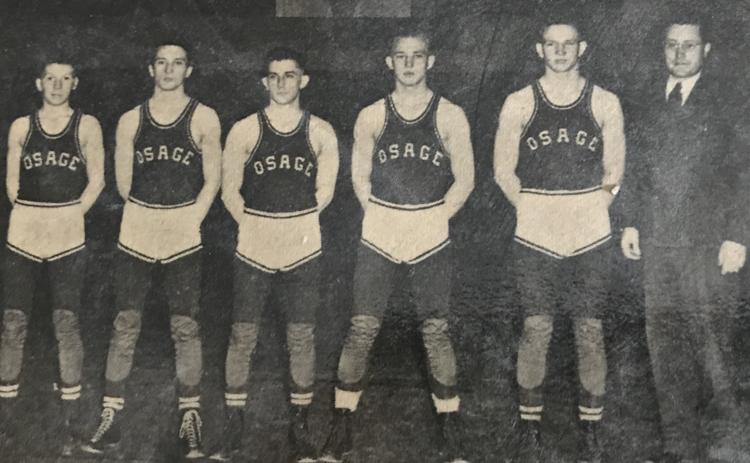 With just five state qualifiers, the 1940 State Championship team members took home three individual state championships: Gerald "Germ" Leehman, 115 lbs., Dick Gast, 155 lbs. and George Gast, 165 lbs. while Kenney Harris came in second at 135 lbs. The state tournament was held in New Hampton. The team scored 19 points to take the title over second place Fort Dodge with 15. In 1940 there was only one class. Glen Behrens was defeated in the first round (8 wrestlers in each of 10 classes that year), there were no wrestle backs at the time.
Dick and George Gast were the first brothers to hold state titles in the same year. Other team members included Delmar Reed, 85 lbs., Felix Diaz, 105 lbs., Lenny Carter, 125 lbs., Carol Paulson, 145 lbs., Loren Gunderson, HWT, along with Harvey Norby, Kenny Roehr, Morris Maakestad, Lavern Klar and Keith Dunley. The team was coached by R.T. Mitchell.
1923 Boys Basketball team - inducted for winning the 1923 Boys Basketball Championship.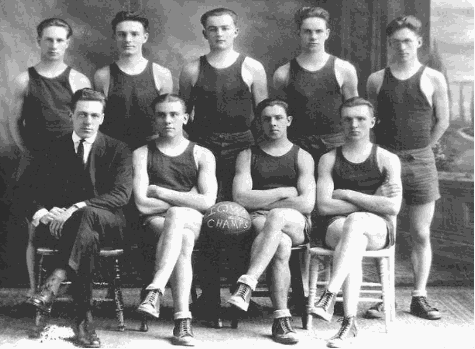 Team members were J. Randall Perry, Coach; Maurice Henderson, Charles Bailey and William Gutches, Carl Erbe, Ralph Hogan, Elton Larson, Sidney Hill and Virgil McGhan
The 1923 team, led by Iowa Hall of Fame pick Ralph "Buzz" Hogan, went 30-0 and was the first team to win the Iowa High School Athletic Association basketball championship. During the regular season, the boys outscored their opponents 976-434.
The Green Devils also went on to play in the National High School Basketball Tournament in Chicago, defeating teams from Louisville, Kentucky; Hyde Park, Chicago, Illinois; and Fitchburg High School, Massachusetts, before losing, by one point, to a team from Michigan.
"Osage high school's Green Devils, undefeated in the basketball line, proved themselves invincible beyond a doubt when they waded through the other three best teams in the state of Iowa at Boone last Friday and Saturday, and won the first undisputed high school basketball title," stated in the Globe Gazette.
The State Tournament was held at Boone High School in 1923. It was the first Year under the IHSAA. There was also only 1 class.
Doug Schwab - inducted for individual wrestler.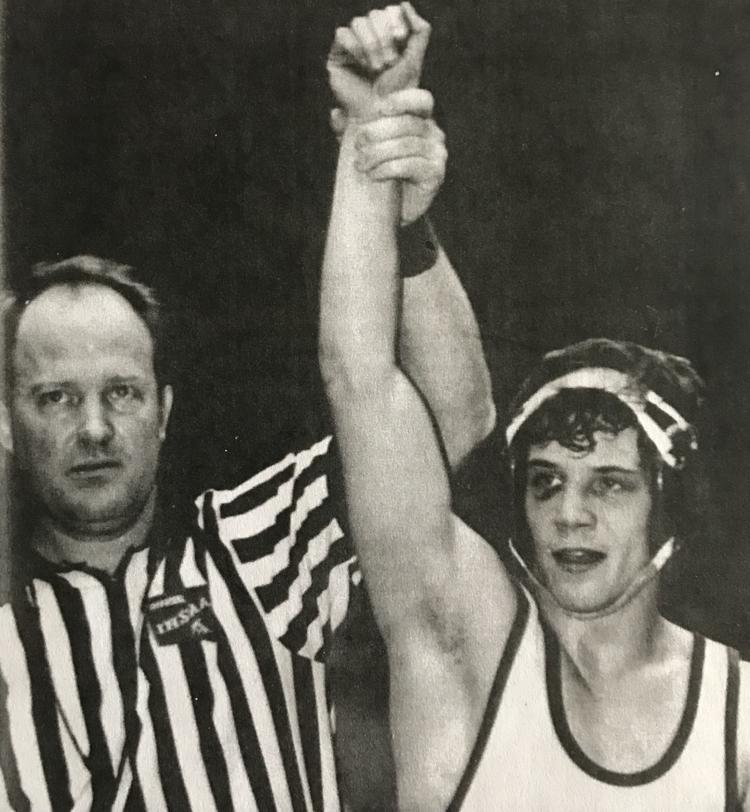 As a high school wrestler, Doug was a 3-time state finalist finishing second in 1993 and 1995 (missing the 1994 tournament due to injury). He won the 1996 2A state championship at 130 pounds.
He wrestled at the University of Iowa, where he was a three-time All-American and three-time Big Ten Champion, on his way to accumulating a 130-21 record. He also won the 1999 NCAA Championship, 3rd in 2000 and 2nd in 2001 at 141 pounds. He finished his collegiate career with 130 wins, which ranked 10th in school history as of 2012.
Following his collegiate career, Schwab served as an assistant coach under Tom Brands at Virginia Tech during the 2005-2006 season. He returned to Iowa as a volunteer assistant coach in 2006-2007. He was promoted to full-time assistant for the Hawkeyes from 2007-2010. On August 1, 2010, Schwab was named the 9th head wrestling coach for the University of Northern Iowa.
He led the wrestling squad to a perfect 13-0 dual season and crowned three All-Americans. Doug was inducted into the Iowa Wrestling Hall of Fame in 2014.
You have free articles remaining.
Mark Schwab - inducted for Individual Wrestler.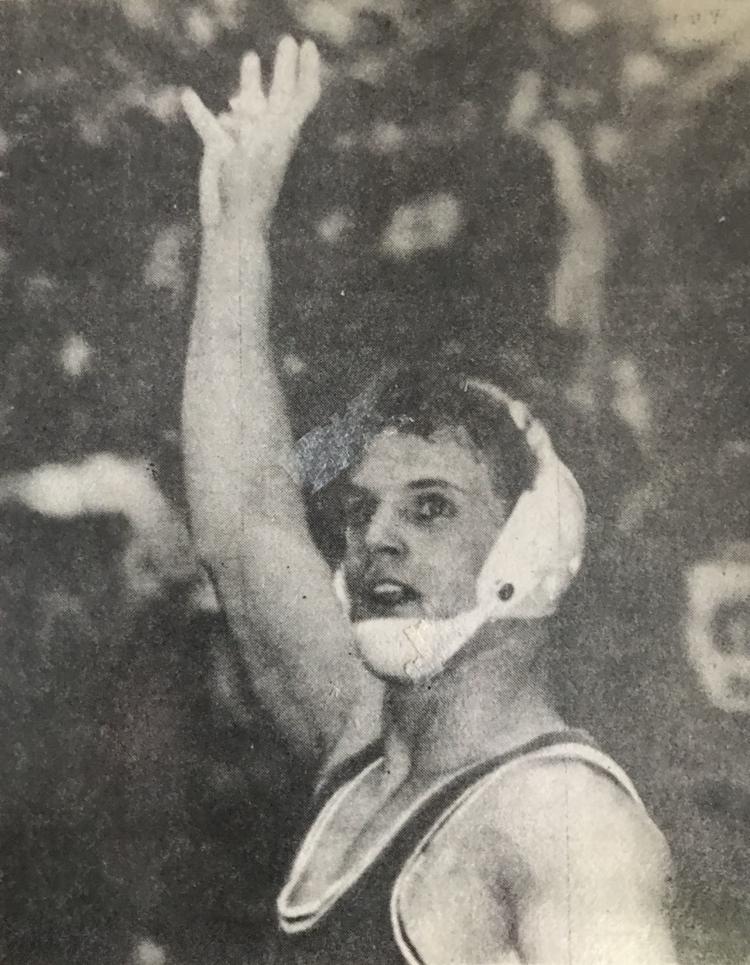 Mark Schwab went 106-1 while in high school, winning four state titles and being named a first team All-American, wrestling on the Junior World National team and winning four Junior National Championships.
Success followed Schwab to college as he placed sixth in the nation as a freshman at 118 lbs. for the University of Northern Iowa. His career sadly was cut short when he developed a staph infection following a knee surgery that spring. Eight additional surgeries followed. He finished with a record of 115-18. In 1986 he finished 5th at the NCAA tournament at 118 lbs. He returned to the NCAA tournament in 1990 where he finished 6th at 118 lbs.
He was also a 4-Time USA National High School champion, first three-time National Junior Freestyle champion in the history of Junior Nationals and a four-time finalist. He was the National Greco champion and placed fifth in the World Championships.
After college he went on to wrestle in the World Cup, where he finished third twice.
The love of the sport continued as Schwab went on to coach. He was an assistant coach at UNI for one year, then assistant coach at Purdue for two years, followed by nine years as assistant coach at the University of Minnesota. While at Minnesota the squad won two national team titles.
In 2004 Schwab took over head coaching duties at Buena Vista University and was named IIAC Coach of the Year in 2007.
Mark was inducted into the Iowa Wrestling Hall of Fame in 2008.
Gerald "Germ" Leeman - inducted for individual wrestler.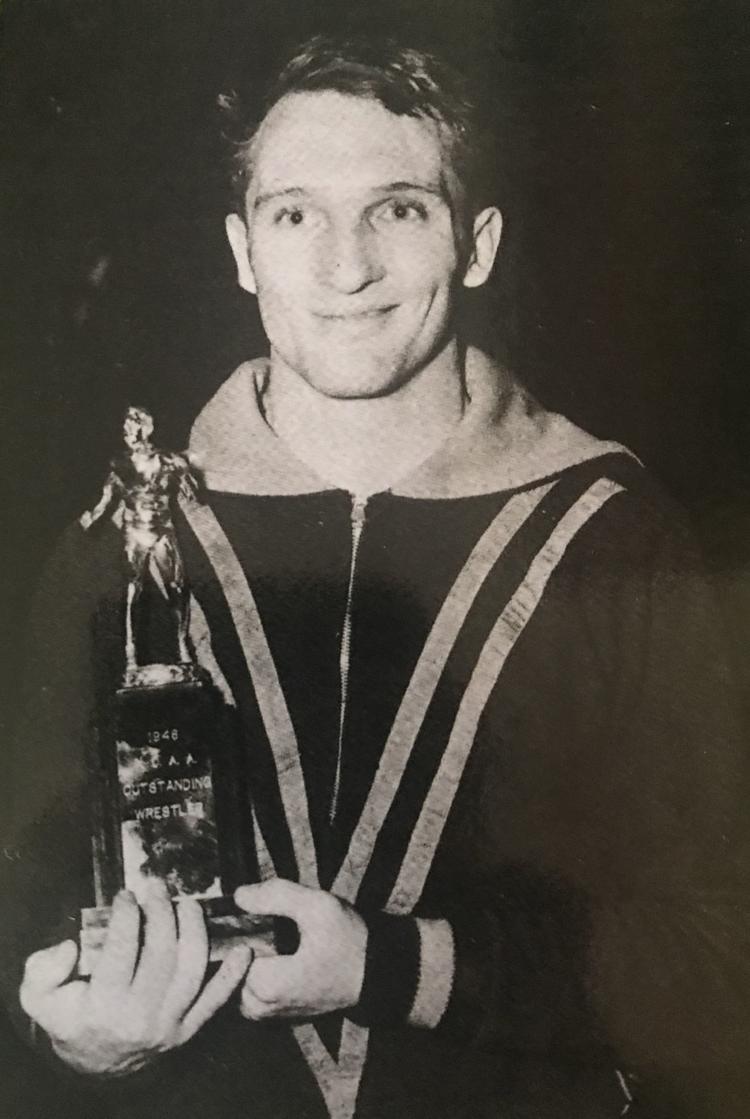 Leeman's nickname came from the football field. "One of the kids said, 'He goes through those holes like a little germ.' Then the coach started calling me that," Leeman said in a December 2007 interview with The Des Moines Register.
Gerald Leeman was the first three-time high school wrestling champion in 1939, 1940 and 1941. Gerald went on to wrestle in college for Iowa State Teachers College, now the University of Northern Iowa. He won the 1946 NCAA national championship at 128 pounds and was named outstanding wrestler of the tournament. While at UNI he also won 2 AAU wrestling championships. Two years later, in 1948, Gerald wrestled at the 1948 Summer Olympics in London, England and won the silver medal for freestyle wrestling at 125.5 pounds.
After returning to the United States, he briefly coached Fort Dodge High School's wrestling team, but would quickly move on to a college coaching position at Lehigh University in Bethlehem, Pennsylvania.
In 1953, Leeman became head coach and compiled a 161-38-4 record and unsurpassed 80.3 winning percentage before resigning in 1970. His 161 victories ranked fourth all-time in school annals, while his 80.3 win percentage is tops all-time. In his 18 years as coach he never had a losing season at Lehigh.
He is a member of several halls of fames. He was named one of the top fifty Iowa athletes of the 20th century by Sports Illustrated.
Leeman retired to Cedar Falls, Iowa, where he died of cancer on October 10, 2008 at age 86.
Dr. Mark Haganman - inducted for Friends of Osage Athletics.
For years Dr. Haganman has gone the extra mile in support of Osage athletics, whether it be early in the morning, late at night, before or after games/meets he makes himself available to treat athletes.
Haganman is being honored for his years of dedicated to Osage athletics. Regardless of the sport he is very accessible to all athletes, parents and coaches for treatment, counsel, referrals, or any other way in which he can help.
Haganman has been very involved Osage athletics. He has served as president of the Booster Club, has been active in fund raising for over many years.
In general Dr Haganman has been a tireless supporter of Osage Athletes. He commands the confidence and respect of the Osage Community.
Ron Betts - inducted for Friend of Osage Athletics.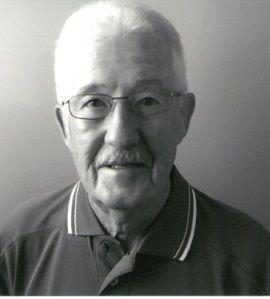 Betts grew up in Oelwein and participated in football and wrestling. At that time, schools didn't offer wrestling for junior high students. He began his wrestling career as a freshman and was a state runner up at 127 lbs. Upon graduation, he attended and wrestled for the Northwest Missouri State College Bearcats at Maryville, Missouri and majored in Industrial Technology. He wrestled at 137 lbs. for the Bearcats.
Betts began his teaching career at Osage in 1964 as the auto mechanics, foundry and machines teacher. He was also the assistant wrestling coach under Don Corrigan and was on staff for the schools 1965 State Championship team.
Susan Helfter - inducted for individual in track.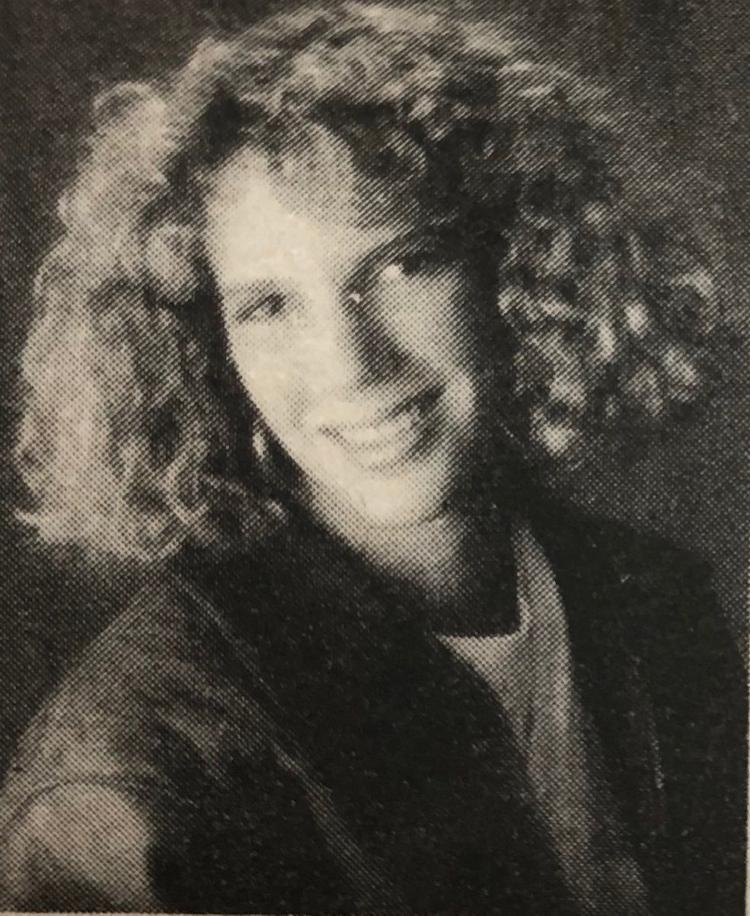 Helfter was a three-time state champion in the 400M dash. This marked the first time Osage Girls Track had a three-time state champion.
Helfter was the first Osage girl to be invited to run in an open event at the Drake Relays in 1989. In the 80s, the Drake Relays did not have a 400M dash for high school girls (which was her main event) so she was invited to run the 800M race instead where she finished second.
She qualified for four events in 1989 (400M dash, 200M dash, Sprint Medley Relay and the High Jump). She was the anchor on the Sprint Medley team which was the school's first relay championship ever. In addition, Sue was on four second-place relay teams as well.
Helfter went on to run for Stanford University after high school.