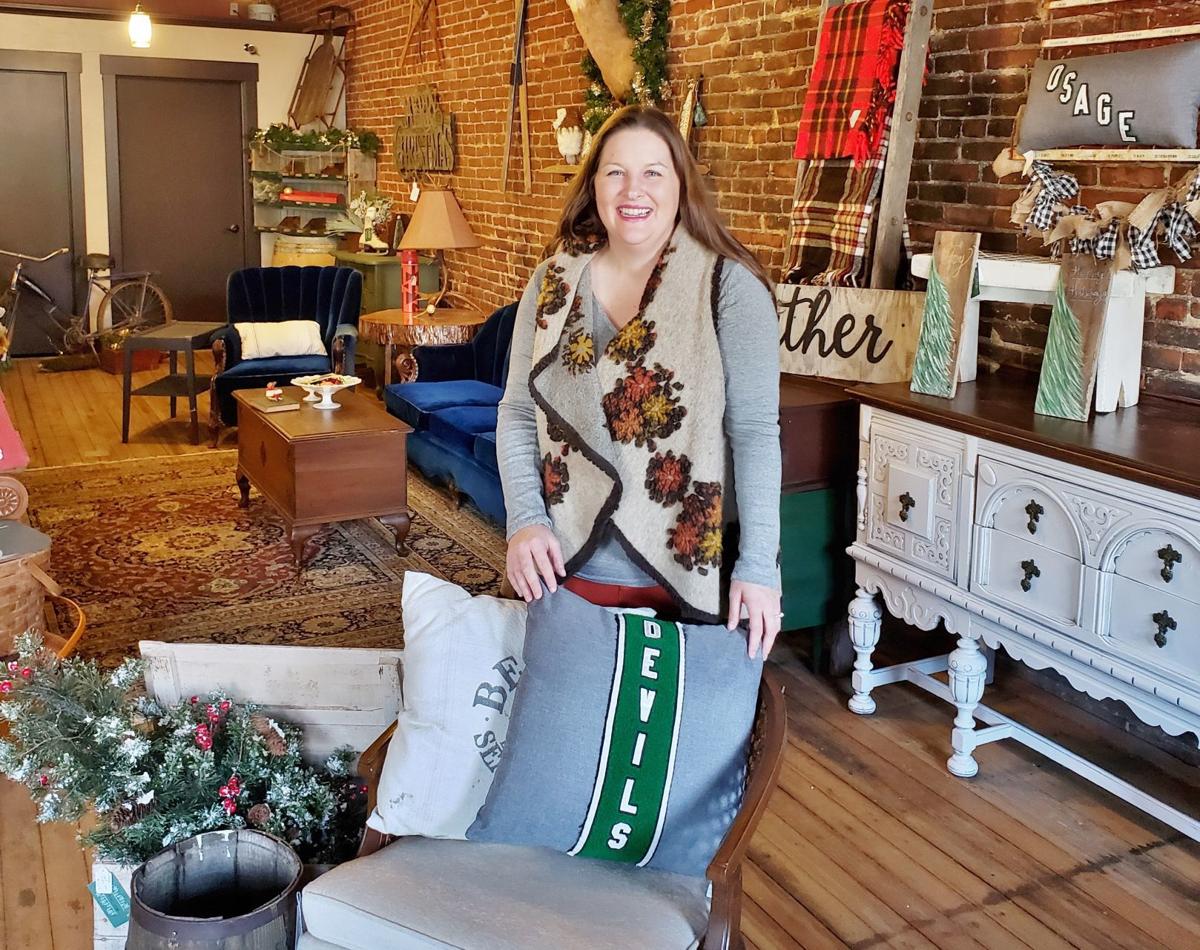 Angie Muller, of Osage, has taken a lifelong love of design and used her talents to open the seasonal shop, "Wildflower Vintage," in a Main Street storefront. She opened her business on Nov. 1.
"There has been good traffic," she said. "I'm impressed with the number of people who have stopped in."
The shop at 718 Main Street, next to Subway, is filled with a unique mix of new and vintage furniture and home décor many of whose one-of-a-kind pieces are reimagined, repainted, redesigned in a modern-rustic-industrial-farmhouse style.
The pieces range from furniture items – church pews, chairs, dressers, buffets and end tables – to accents that include holiday themed hand-painted cedar shingles, old wood boards, molding and other hand-picked pieces from farm houses across Iowa and Minnesota.
Particularly popular are her accent pillows, some of which are hand-sewn antique grain sacks painted with designs, or are sewn with vintage Osage sports jerseys.
Muller credits "my very talented mother and mother-in-law" with the sewing.
You'll find north woods-themed items, including antique skis and snow shoes, as well as an antler-based lamp, and a deer head around whose neck a Christmas garland is draped.
"Many of our items can also be customized," Muller said. Such items include personalizing a piece of furniture including its color, stain and finish, putting a family name on an item, or the very popular customizable stocking holders or coat rack hook plaques made out of salvaged wood from farmhouses and barns.
You have free articles remaining.
She will also offer handcrafted ornaments in the shop as well as various new retail home décor and gifts. New pieces are added every day, she said.
Muller has sold her creations at various festivals including Osage's Autumn Artistry and Clear Lakes' Harvest Festival.
"Part of my reason for trying this venture is because people always asked where my shop was and when I told them I didn't have one they would say, 'Why not?! You should have one!'"
Muller is a Stacyville native and a graduate of St. Ansgar High School and Iowa State University. She also graduated from the Floral Design Institute in Seattle, Washington, where she lived some years ago.
Her husband, Tom, is an Osage High School instructor. They are the parents of Miles, 3; and Maverick, 1. All of them support her new venture.
There may be a time, she added, when she has a year-round shop.
In any case, she added, she is always available for helping customers find and customize items from her home in Osage.
"This is something I have always dreamed of doing; I've always had a passion for designing things," she said.
Check out Muller's shop from 4-7 p.m. on Thursdays; 10 a.m. to 5 p.m. on Fridays and Saturdays, and from noon to 5 p.m. on Sunday, through the holidays.