Though coronavirus continues to spread, area food shelves continue to provide food for area families. Both the Mitchell County Food Bank located in Osage, and the North East Iowa Food Pantry which provides food once a month at Prairie Lakes Church west of Osage, continue to serve the public, but with a few major changes.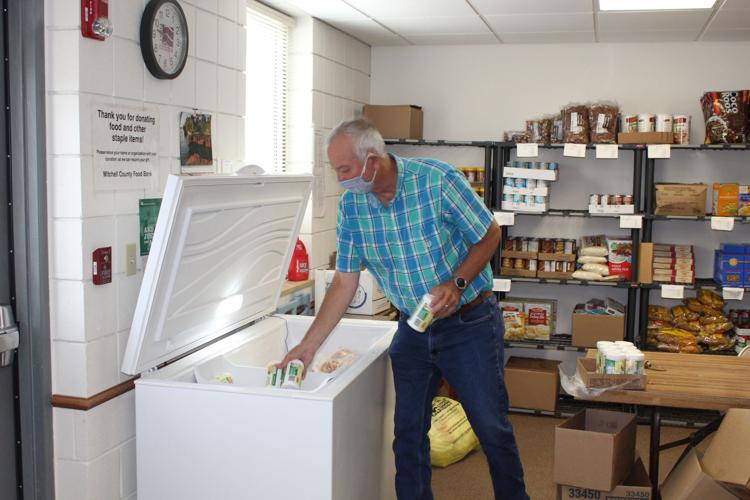 Mitchell County Food Bank
When the coronavirus shut down other public buildings, the Mitchell County Food Bank, headed by Director Denny Johnson, continued to operate. Johnson had just taken over the directorship from Leo Chisholm just as the virus struck. Though Chisholm had trained Johnson, a new norm arose with the pandemic, and Johnson found he had to implement several changes immediately.
"We no longer allow clients inside the building, they have to remain in their cars, and we have to go out and take their information. Our volunteers have to put all the food together, and take it to their vehicles. To minimize risk, we only place groceries in an open trunk, or pickup box," said Johnson. "We do not ask our volunteers to place groceries in the interior of vehicles. If the groceries have to be placed inside a vehicle, volunteers set boxes on the sidewalk and client must load the boxes themselves."
"After the coronavirus came, it was somewhat of a challenge to get our stocked items from the local grocery stores, because they were facing shortages. We began ordering more items from the Northeast Iowa Food Bank, and from grocery stores throughout the county. As a result we are actually giving out more food items than we previously had," said Johnson.
"During the whole pandemic we've had great monetary support from local businesses and individuals. We definitely appreciate it. We have been open throughout the whole pandemic, and have plenty of food. Nothing has changed in supplying food."
Mitchell County Food Bank does have some restrictions.
"You must live within the county, and you are only allowed to come once every 30 days. If clients still have food shortages we encourage them to go to the Northeast Iowa Food Pantry."
Johnson recently placed the food banks' information in a computerized system, which helps to track how often clients come, how much food is disbursed every month, and he has easy access to client information if governmental agencies request it.
"There is some confusion as to our hours," said Johnson. "We are open every Tuesday and Friday from 10 a.m. to 11:30 a.m. We encourages clients not to come late because our volunteers leave at 11:30."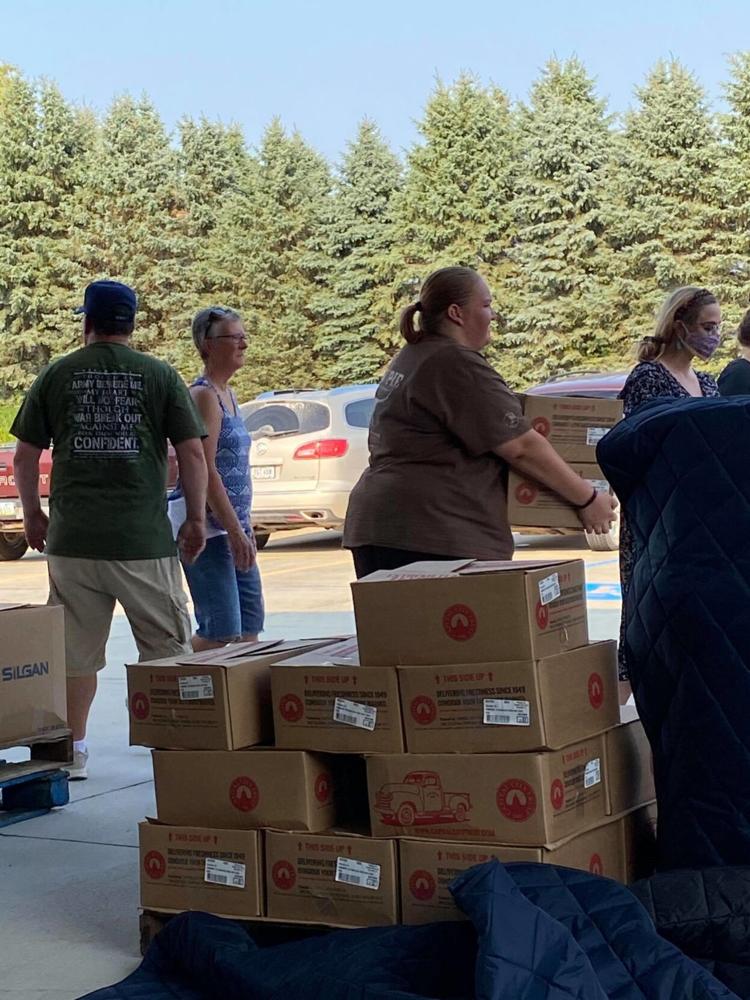 North East Iowa Food Pantry
"We have made some changes, too," said Ken Emerson, co-director of the North East Iowa Food Pantry with Lisa Brandau and Nancy Kempt. The food pantry is held at Prairie Lakes Church starting at 5:30 p.m. on every fourth Tuesday of the month, except for November and December, when it's held on the third Tuesday of the month. The pantry has always been staffed by members from area churches.
Previously, clients walked through the church, but since the virus a new distribution method has been developed. Currently all groceries are boxed by volunteers in Waterloo at the North East Iowa Food Bank. Each client now receives one large box of dry goods and canned food, a box with fresh vegetables and fruits, and a box of frozen items. Clients are served on a first come first served bases and can begin registering at 4 p.m.
Iowa National Guardsmen helped with the outdoor distribution until August, but now the pantry is again fully maned by volunteers.
"We typically serve from 128 to a 135 families each month, which is up a little from pre-pandemic numbers," said Emerson, who appreciates his wife Diane's help with his part of the operation.
"I miss having it inside, because I miss communicating with the clients, and getting to know them, but doing it outside is a lot faster. When we do go back to the old way we will probably need to find some new volunteers to fill positions. We have great volunteers, without them we couldn't pull this off."
At August's distribution it only took about an hour to hand out 130 families' groceries.
Both directors request that clients clear a space in their vehicles where groceries can safely be placed. They also encourage those who are in need of food to show up during distribution times.
Be the first to know
Get local news delivered to your inbox!