Carson Marcks of the Mitchell County Outlaw 4-H Club, and Kayelea Parks of the Osage High Tower 4-H Club, both had projects selected for Iowa State Fair 4-H competition.
Marcks, who will be entering ninth grade in Osage this fall, took a unique approach to produce his project.
"I wanted to use used stuff from around the farm. I used a piece of old wood from an old granary. I washed the board off, and cut it to six feet. I then stenciled the wood which read WELC ME. I left out the "O" and later replaced it with an old horse shoe. The shoe was taken off my horse last year."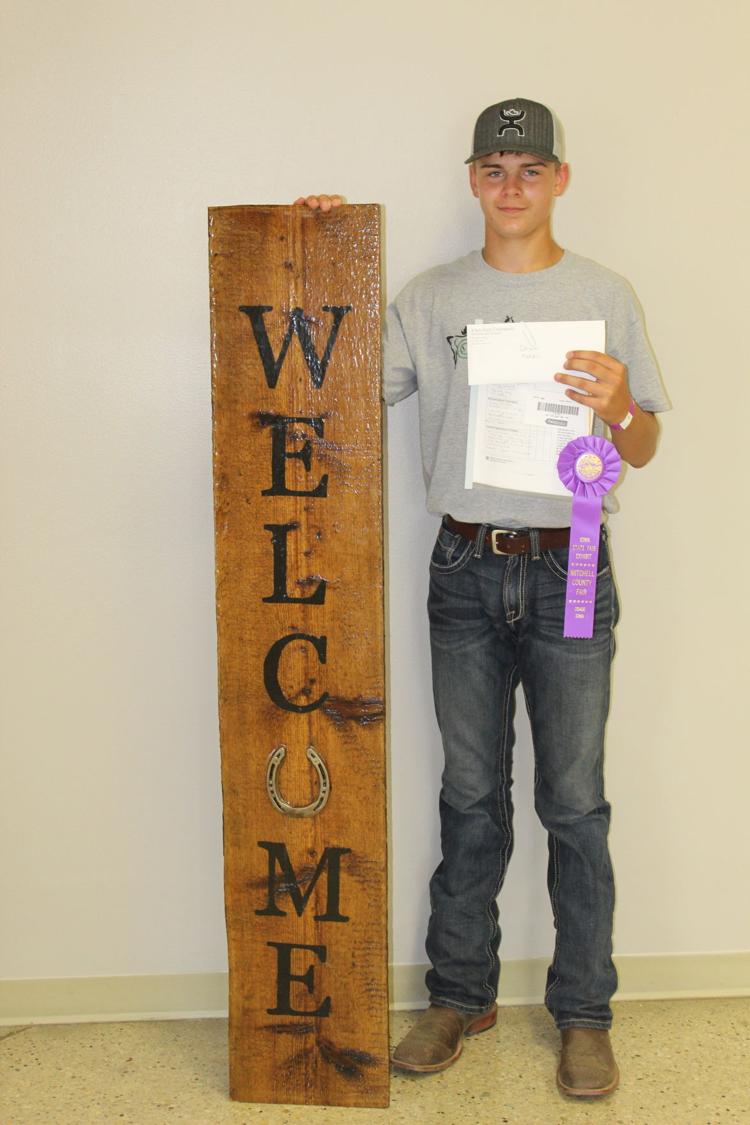 Because the shoe was well rusted and pitted with dirt Marcks had to clean it.
"I put it in vinegar and hot water, and let it set so all the rust would come off. I had to then clean the shoe with a wire brush to clean all the remaining dirt from it," said Marcks. "Next, I pressed drilled holes, and then fastened it to the board with horse shoe nails."
He then coated his welcome sign with three coats of polyurethane. "I used 40 grit sand paper between coats of polyurethane so the next coat would adhere better," said Marcks, who now has his first entry in State Fair Competition.
Eighth-grader Kayelea Parks of Osage is no stranger to State Fair competition. This will be her third year at Iowa State Fair, and she will be entering three projects.
Her Butterfly Art was produced out of copper and an old piece of rotted wood found in their yard. The piece has a wooden stand and the mounted butterfly was produced out of copper.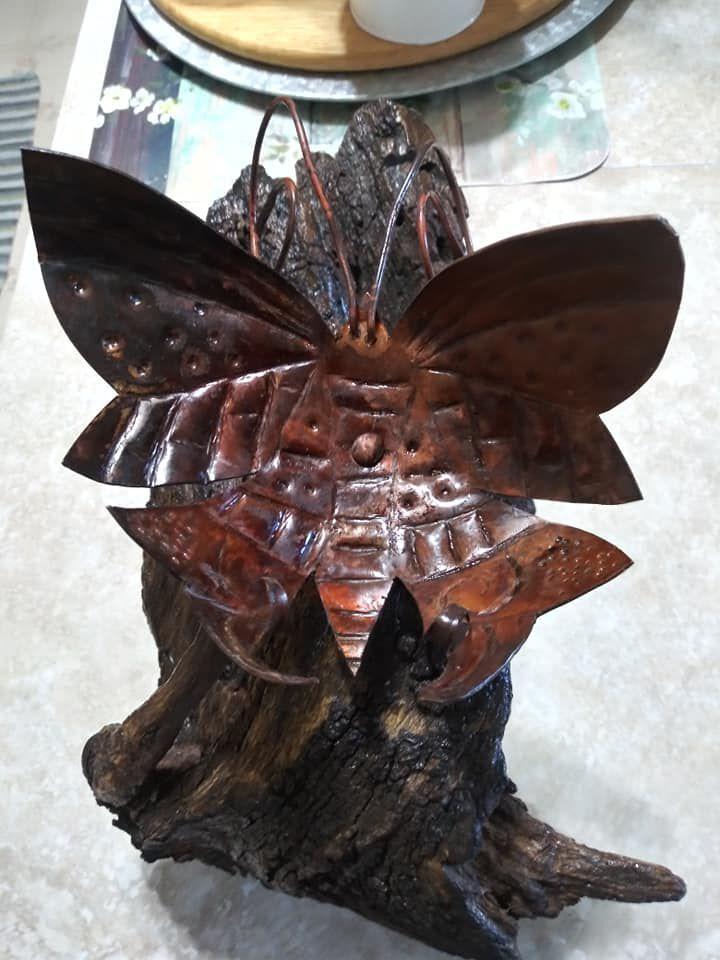 "First I had to chisel off the dead wood. Then we used three coats of Australian Timber Oil to keep the remaining wood from weathering," said Parks. She drew and cut out a stencil and used a marker to draw out the lines on the soft copper. "Dad showed me how to use a chisel to make different lines. One special chisel could be moved along to make those lines. I then made my own copper nails to nail the butterfly to the wooden stand."
"I drilled holes where the butterfly's antennas should be and used copper wire for them. I coated the butterfly with bee's wax."
Another of Parks' products was an iron cross. Her dad Adam, who is qualified in blacksmithing, taught her how to use both hot and cold forging. To produce the cross she first measured and cut the metal, and used a propane torch to heat it.
"I then hammered it down with the ball end of the ball-peen hammer to it look like a fishtail. I used the other side of the hammer to smooth it out. I heated it up and used a special chisel of Dad's to make lines so it would look like wood," said Parks, who then drilled a hole in the middle of the two iron pieces, and riveted them together to form the cross. She also chiseled out a pointed end so the cross can be placed in the ground.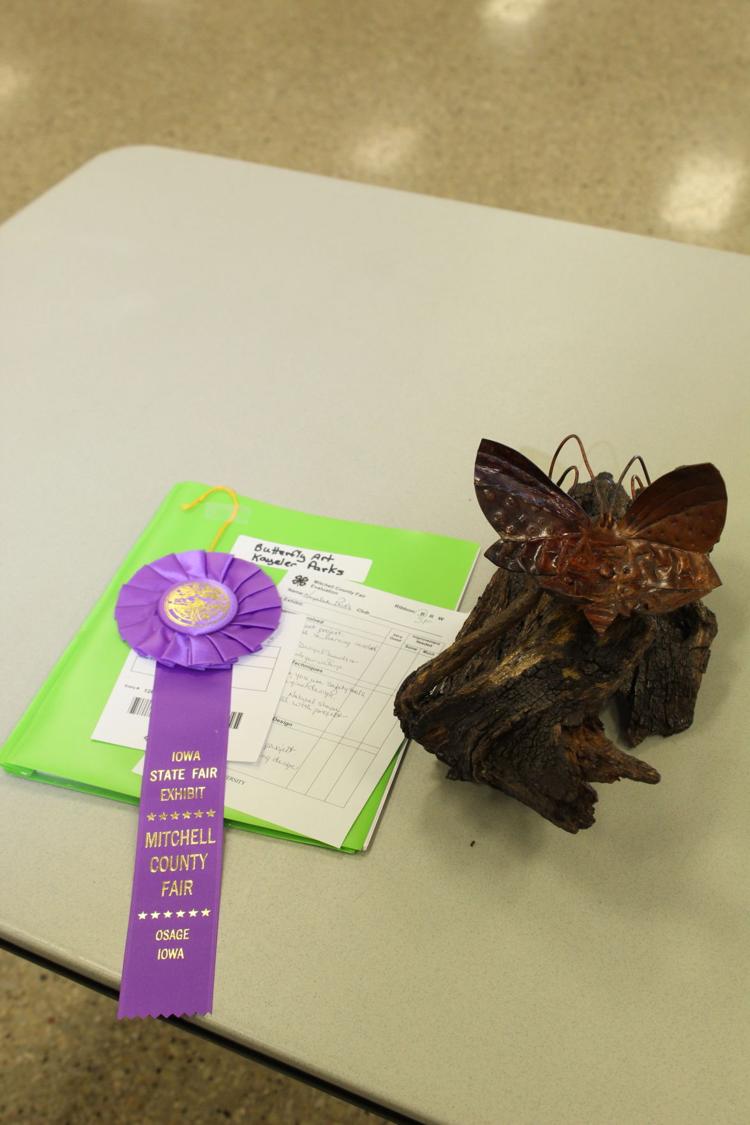 Her final pieces were two necklaces, and two earrings shaped in copper. She then placed glass beads inside the formed copper and heated the glass until it melted. The process produced colorful glass centers, surrounded by a copper form.
Be the first to know
Get local news delivered to your inbox!