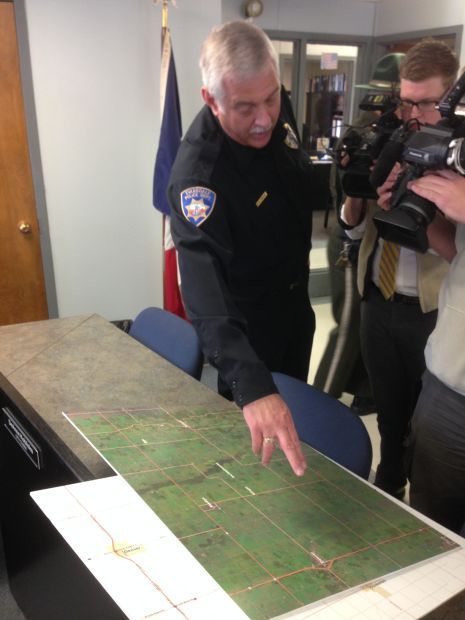 EVANSDALE| Hunting. Fishing. Camping. And occasionally partying.
These are the things Seven Bridges Wildlife Area has been known for over the years.
Now authorities in the missing cousins investigation are asking residents with information about people familiar with the area to come forward.
The bodies of Lyric Cook-Morrissey, 10, and Elizabeth Collins, 8, were found in the Bremer County woodland on Dec. 5, 2012, by hunters months after they disappeared while riding their bikes in Evansdale.
The park's remoteness is a clue that the perpetrator is from the area and likely had been to the park before, said Evansdale Police Chief Kent Smock, who last week returned from a trip to the National Center for Missing and Exploited Children's headquarters in Virginia for a roundtable discussion with experts from across the country.
"Every single person in the room at the National Center remarked on the importance of Seven Bridges Wildlife Area in this investigation," Smock said Tuesday during a press conference at City Hall.
"Unless you knew that area, you're not going to just happen across it," Smock said.
Seven Bridges --- a 125-acre wildlife area between Denver, Readlyn and Fairbank --- is about 22 miles north of Meyers Lake, where the girls' bicycles were found on July 13, 2012.
Bisected by the Wapsipinicon River, a bridge used to allow motorists to pass through on 270th Street, but the bridge has long since been removed. Access to the park is now from the west side on a dead-end gravel road. The place had been a county park, but officials quit maintaining it several years ago.
"There are very little markings that will tell you where it's at. But it's a very common area for people in Black Hawk County that know. Personally, it was an area during high school or just post high school that we would go to to have get-togethers with some of our friends," Smock said.
He said the park has changed over the years and it now used for hunting and fishing.
"People can go in and camp, but it's primitive camping. There are no facilities there, so it's very isolated," Smock said.
Smock confirmed that authorities have checked hunting licenses linked to the area and said Bremer County deputies have continued to monitor the park, but he declined to discuss other steps they have taken in relation to Seven Bridges. Everyone in the Seven Bridges area was cooperative following the initial discovery of the bodies at the park, he said.
"We are asking that everyone think about anyone they know who is familiar with Seven Bridges. At some point in their life, they may have hunted there. They may have fished there. At some point in their life, they may have camped there. They may have gone there to party when they were younger," Smock said.
Smock said investigators will be cautious not to falsely accuse anyone, and the information will be kept confidential.
"We know there are hundreds or thousands … of people that have ever been to Seven Bridges. We want to eliminate everyone that we can from that pool, and we will be very careful not to tarnish someone's reputation or make them feel like they shouldn't come forward," Smock said.
Smock declined to talk about specific suspects, evidence collected or theories that investigators are pursing. He did say they haven't ruled out anything, including possible connections to drug activity.
"There have been a multitude of people who have risen to the top, who we watch, who we investigate. … Do we have a person who we definitely are targeting? At this time, no we don't," Smock said.
A $150,000 reward is being offered for information leading to an arrest and conviction in the case. Also, Cedar Valley Crime Stoppers has a $20,500 reward for anyone coming forward with information that simply leads to an arrest.
Anyone with information on the case is asked to call the Evansdale Police tip line at (319) 232-6682 or Cedar Valley Crime Stoppers at (855) 300-8477.
Be the first to know
Get local news delivered to your inbox!