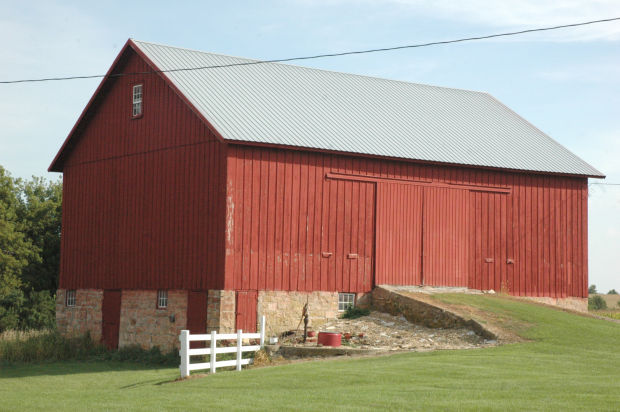 The barn is quiet now, empty of the sounds and smells of farm production from days gone by.
However, there are the occasional sounds of a wood planer buzzing from the rafters as Marilyn Rockafellow prepares to create her carvings.
This weekend, the Rockafellow barn, built in 1877 for horses and cattle, will be alive again with activity when it is one of 91 barns statewide that will be open for tours by barn enthusiasts on Saturday, Sept. 28 and Sunday, Sept. 29, from 8:30 a.m. to 5:30 p.m.
There is a lot of history in the Dean and Marilyn Rockafellow Barn and that's why, in 2001, they wanted to partner with the Iowa Barn Foundation in sharing it during the foundation's first-ever Iowa Barn Tour.
In exchange for their cooperation, they received a matching grant from the foundation to fix the roof and windows and give it a new coat of paint.
"The very first one was a huge success," said Marilyn. "We had 275 people from seven states come see our barn.
"The event was even advertised in the Chicago Tribune."
Every year since, except last year, Marilyn has had the barn featured on the tour.
The barn is set on a limestone base. The 54-foot-by-40-foot bank barn has an earthen ramp to the upper level and its timber frame construction is connected with wooden pegs.
To reach the barn, go north out of St. Ansgar on U.S. 218 for two miles. Turn left at Echo Ave. The farm is the first right at 4484 Echo Ave.
Owners will discuss the barns and their histories at many stops.
The tour, the only one of its kind in the country, attracts visitors from around the United States and other countries.
Changes in agriculture have lessened the role of the American barn, long a symbol of hard work and the American dream.
Because of the Iowa Barn Foundation's preservation efforts, Iowa is one state where barns can still be enjoyed and their importance remembered.
Most of the barns on tour, many built in the 1880's by farmers and barn builders, have been restored with matching grants from the Iowa Barn Foundation. Other property owners received awards of distinction from the foundation for restorations they undertook themselves.
The Iowa Barn Foundation, an all-state, all-volunteer, non-profit organization founded in 1997, raises money from individuals, foundations, and corporations in order to give matching grants to property owners to restore their barns.
The barns must be restored as closely as possible to the original. The property owner must sign a perpetual easement when receiving a grant so that the barn remains standing.
Be the first to know
Get local news delivered to your inbox!