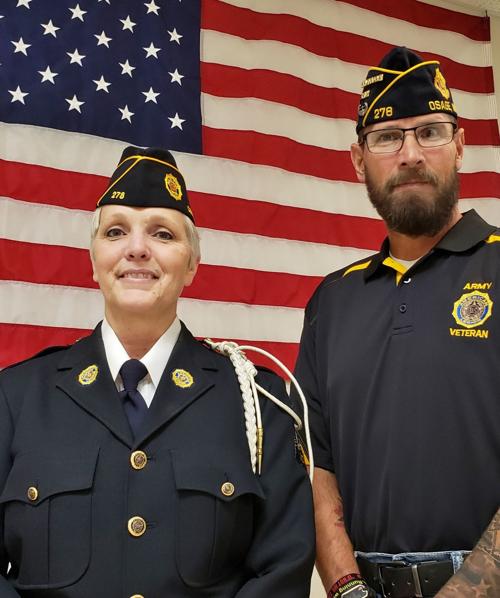 Rachael Kimmey may be the first female officer elected to take up duties at Osage American Legion Post 278, but being "first" is nothing new to her.
The Osage native spent 23 years in the U.S. Navy and when she walked into her first Navy welding shop many years ago, "I was one woman among 60 men," she recalled.
But once she proved herself a good welder, she was considered a brother – well, sister – in arms. She recently made a similar move, so to speak, when she became the first-ever female officer at the Legion. She joins Commander Brad Gentz, First Vice Commander and Historian Brandon Parcel, Adjutant Ed Parcel, Sergeant-at-Arms Kyl Andrews, Chaplain Mike Nicholson and Finance Officer Mark McGivern on the officer slate.
Kimmey had been a local Legion member for about two years when Gentz nominated her for the spot during elections. She said it was an honor to accept and is enjoying serving the post. She has already participated in three flag-raisings, helped to serve meals at Autumn Artistry in September and will even take up fill-in bartending duties when needed.
You have free articles remaining.
Gentz said he was impressed with Kimmey's willingness to get involved in Legion activities.
"When I got to know Rachael, I thought, this is exactly what we're looking for – someone with good insight, great ideas, and the drive and desire to make a difference and do things," he said.
Gentz, Kimmey and fellow officers all hope to raise awareness of Legion activities and reach out to eligible veterans. Being able to sustain the post's activities depends heavily on the service provided by its members. Hopes are to expand fundraising for the post and to host more activities. Gentz urges anyone interested in joining the Legion to contact the local post for more information. They are also welcome to attend the monthly meetings, held at 7 p.m. on the third Wednesday of the month in the Legion club rooms.
"People don't always realize everything the Legion does," Gentz said, adding that providing honor guards at services, placing flags on graves, overseeing flag raisings and conducting programs, such as Memorial Day services – and a host of other duties – are provided by the local Legion.
Kimmey, 52, is a 1984 graduate of Osage High School. She entered the Navy in 1984 and served as a welder for 11 years before being promoted to chief petty officer. She served in that supervisory capacity until her last three years of service, when she served as a drug and alcohol counselor. Upon her honorary discharge, she held the rank of senior petty officer.
She has always been part of a military family. Her dad, Raymond Power, also served in the Navy. She and her husband, Kenneth – also retired from the Navy – are the parents of four children, Kyle, Jessica, Bryant and Anna. The Kimmeys moved to Osage in 2010.