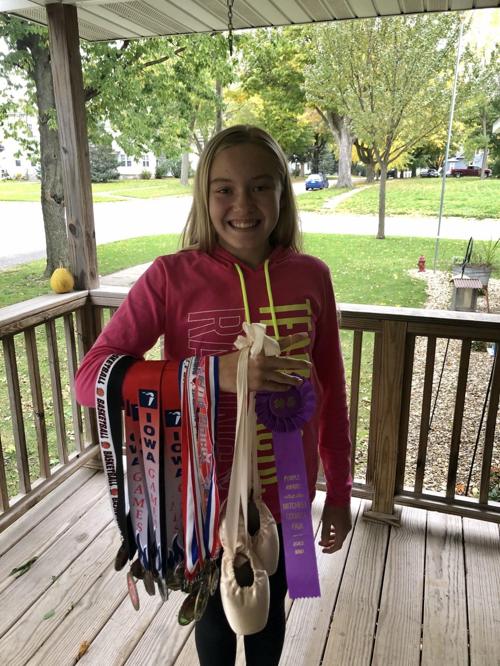 Many people think a typical 12-year-old is spending their time playing video games, watching TV or scrolling through social media, but for one 12-year-old, her life and schedule are a little different from most.
KaRena Herrick, daughter of Jason and Becky Herrick and sixth-grader at Osage Middle School, spends her extra time on sports and family. Herrick has two younger brothers: Kade, a kindergartener at Lincoln Elementary, and Kwynn, a preschooler at Growing Tree Preschool.
Herrick has had a busy schedule since she was five. She is involved in many activities such as softball, dance and 4-H since she was 5; Jr. Blue swim team since she was 6; and volleyball and basketball since she was 10. Herrick spends most of her time practicing softball with her traveling team, Manly Heat. She has been able to travel around because of Manly Heat. "I go to Des Moines, the Quad Cities and southern Minnesota a lot for softball," Herrick said.
This last year, Herrick was able to add showing a cow to her resume. This last year, Herrick showed her shorthorn steer named "Stormy" at the Mitchell County Fair, earning a purple ribbon. She spent the last year working with Stormy and is ready to show again this next year.
You have free articles remaining.
"My friends help me get interested to try new things," Herrick said.
Herrick's yearly schedule is softball and 4-H, all year long, dance during the school year, basketball and volleyball in the winter and triathlons during the summer. "My favorite activity is softball, because of how competitive it is and I get to spend time with my friends," Herrick said. College may be a few years down the road for Herrick, but if she could do one activity in college, she would play softball.
Herrick cannot maintain her busy schedule alone, so her mom is always there to help out. "My mom helps me balance my schedule and make sure I have time for my brothers," she said. "Having a busy schedule has taught me to be more organized and it helps manage my time well."
During her free time, Herrick loves spending time with her family, going camping, snowmobiling and traveling. "On my free days I spend most of my time playing with my brothers," she said.
Herrick said she always knows who to turn to in a time of need. "My parents, family and friends are my biggest supporters," Herrick said. "Their support helps me keep going to try new things.
Herrick's one piece of advice, "Just try it to see if you like it before you change your mind about it."