Sen. Joni Ernst, R-Iowa, heard from representatives from education, agriculture, business, and healthcare about the importance of rural broadband access during an appearance in Osage on Tuesday.
"COVID has really exposed the haves and the have-nots," said Josh Byrnes, manager of Osage Municipal Utilities.
Lisa Peterson, a 1996 Osage High School graduate who lives north of town with her husband, J.R., described their family as an example of the have-nots when it comes to reliable internet access.
The couple used to live in the Des Moines area, but moved to Osage so their children could have the same kind of small-town upbringing they had.
In addition to farming, J.R. and Lisa each run businesses out of their homes. When COVID-19 shut down schools in mid-March, their children began distance learning, which ate up even more of their wireless bandwidth, according to Lisa.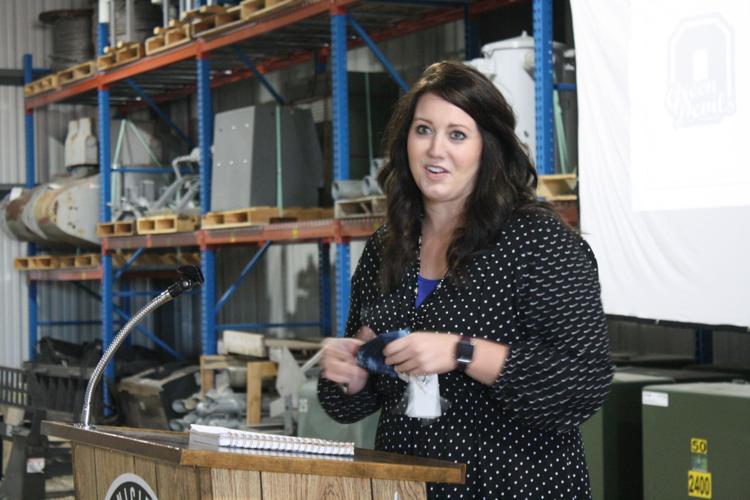 The Petersons live three miles away from a fiber optic network, but Lisa said no private investor would be interested in expanding it to their area just to connect four or five houses.
"They just can't justify that," she said.
The Petersons' story is similar to others in rural communities across the state, according to Ernst, who lives in Red Oak in southwest Iowa.
She said when she lived in rural Red Oak before moving into town, her daughter would have trouble submitting homework assignments online.
"We should be able to have the same level of amenities at our homes just as our metro counterparts do," Ernst said.
In some ways quality internet access is even more important for rural residents than urban ones, according to Ernst. She said people who live in small towns or in the country are more reliant on telemedicine as a way to communicate with health care specialists.
Ernst's visit was not open to the public. Osage Municipal Utilities board members and employees were present, as well as some community leaders.
Byrnes said Osage Municipal Utilities is somewhat limited in what it can do to help get broadband access to rural areas because it is a city utility.
However, USDA announced in January that OMU would receive nearly $5,000 to build modern broadband infrastructure in the Mitchell area. Ernst wrote a letter of support of OMU's grant application.
Byrnes said he is now applying for a second round of USDA funding so broadband access can be expanded to the town of Orchard.
Osage Middle School Principal Sarah Leichsenring said 90 percent of the families in the district have chosen face-to-face learning for their kids this fall, while the other 10 percent have opted for distance learning.
Thanks to OMU, must students in the town of Osage have great internet access, according to Leichsenring. However, one teacher who lives outside the city limits and has four children at home had to create a schedule so none of her kids are using the Internet while she is teaching online, she said.
Also, living in an area with good internet access isn't enough if a family can't afford to pay for it, according to Leichsenring.
"Rural poverty is real," she said.
During a press conference following the Osage event, Ernst said she would like to see a rural broadband initiative pass in the Senate this fall.
Ernst, who serves on the Senate Agriculture Committee and is chairwoman of the Rural Development Subcommittee, said this legislation also would have to go through the Commerce Committee.
However, if the rural broadband initiative were part of a larger transportation and infrastructure package, the Commerce Committee likely would be on board with it, she said.
Such a package would be a tremendous benefit to rural states such as Iowa because it would provide much-needed funding for roads and bridges, as well as water and sewer infrastructure, according to Ernst.
"I don't know how anyone could vote against it," she said.
Be the first to know
Get local news delivered to your inbox!