AMES | Terry Basol, Field Agronomist for Iowa State University Extension in northeast Iowa, reports over the past three years a relatively new corn disease has been spotted in east and northeast Iowa corn fields.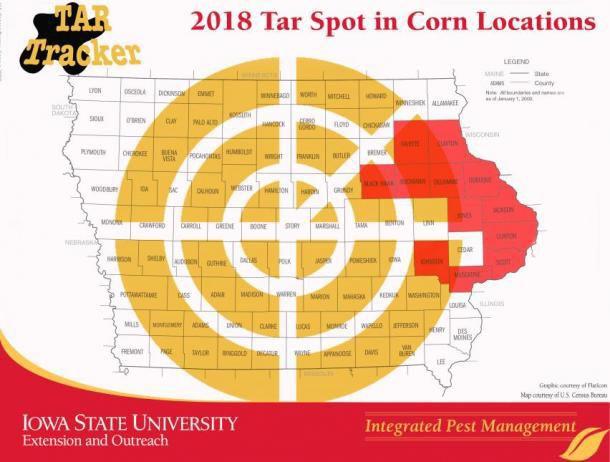 The corn disease, tar spot, was first spotted in Iowa in 2016. The infested area has grown since the initial discovery. The first U.S. sightings of tar spot was in Indiana and Illinois in 2015.
He said it is believed the disease spreads through spores carried by wind and rain water. It has been speculated the original spores were transported into the U.S. from Latin America or Mexico during a storm.
Symptoms of the corn disease are raised dark spots or lesions, which form on the leaves of a growing corn plant. The dark spots interfere with the photosynthesis of the corn plant which affects yields.
These symptoms can resemble other forms of fungi, but one of the determining factors is tar spots cannot be scraped from the corn leaf while other fungi can. The disease is believed to be accelerated during times of high moisture and high humidity.
Basol said researchers are currently researching fungicides that might retard or slow the disease, but little information on the research is available at this time.
"The severity of the infestation on the leaves is proportionate to the reduction of yield," Basol said. "The rule of thumb is if 3 percent of the surface of the leaves are covered with spots or lesions, then there is a 3 percent decrease in the potential yield."
Because corn residue can be a carrier of the disease, Basol recommends farmers till under the infested corn residue in the fall. Researchers have found some hybrids are more tolerant of the disease than others.
Basol said corn farmers should walk through their fields periodically to check for diseased plants.
"Your plant disease may be in an isolated area within the field," Basol said. "Should a farmer discover tar spot infested plants in their corn field, they should call the closest ISU agronomist and report the infestation, so the agronomist can plot where the disease has been sighted."