Josh Byrnes, manager of Osage Municipal Utilities, came before the Mitchell County Board of Supervisors on Feb. 18 to obtain a permit to bury …
The city of Osage will provide $23,290 toward tearing down and hauling away a former daycare center across the street from the Mitchell County…
U.S. Sen. Chuck Grassley, R-Iowa, discussed issues such as jobs and health care with members of the Osage Chamber of Commerce on Wednesday.
I hate packing my backpack. I always leave it until right before it's time to leave for school, which resulted in many a hectic morning. It al…
Most of the time in school we talk about our dreams, but we don't usually talk about our nightmares. I have a recurring nightmare that I'm una…
There's a new social media app on the market that is taking the world by storm: Tik Tok. You may have heard about this app, and I'm here to ex…
"TIF is a great tool for Mitchell County, it allows projects to happen without raising taxes." -Mitchell County resident
A sweetheart of a lunch was served this week to some Osage fifth-graders and their adult guests.
U.S. Sen. Chuck Grassley will visit Osage on Feb. 19.
As it has all season long, the Osage wrestling team dominated the day, claiming five district titles, and qualifying six total wrestlers for n…
Sponheim Sales & Services will host a cover crop meeting on March 10 from 9 a.m.-4 p.m. at the Milt R. Owen Nature Center in Osage.
 This year Mrs.Christensen and her fifth grade class are hard at work again this year and putting together their projects for the project fair…
Surveillance by the Iowa Department of Public Health and Mitchell County Public Health, and testing by the State Hygienic Laboratory indicate …
County Engineer Rich Brumm presented the Mitchell County Board of Supervisors with an estimate of $746,152 for road damage caused by the Turtl…
Edna Drewis celebrated her 100th birthday with family. She was born on Feb. 17, 1920, on a farm near Frederika, Iowa. She married her husband …
Gillian Johanns of Osage has been named to the Dean's List at the University of Nebraska-Lincoln for the fall semester of the 2019-20 academic year.
This past year, the Riceville FFA chapter has seen increased involvement in both the number of members participating in activities and also th…
If NIACC's $15 million bond referendum passes in March, the college will dedicate about a third of the bond to building new career centers thr…
ST. ANSGAR – Heritage Day 2020 featured flappers, ladies in hoop skirts, and even a few 1930s gangsters.
The new cafeteria is in full swing here at Osage High School.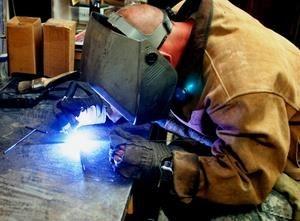 J & J Machining, Welding & Fabricating
Applications are now available for the annual Mitchell County Memorial Foundation Scholarship for high school seniors.
Carol Pollard has been named the first Foster Grandparent of the Month. She is a Foster Grandma at Osage Elementary School and spends her days…
At the Feb. 3 Osage City Council meeting, Syd Heimer, director of the Osage Public Library, gave a presentation on the library's traffic last …
Everyone knows sitting in the classroom can get a little boring.
A free community meal, "The Shared Table," will be held from 5-6 p.m. on Feb. 16, at Osage United Church of Christ, located on the corner of S…
Mitchell County Democrats supported Amy Klobuchar far more than the state as a whole during the Iowa caucuses.