At the Oct. 20 Mitchell County Board of Supervisors meeting, County Engineer Rich Brumm provided an accounting of the money the county has spe…
Gary Fossey, of St. Ansgar, is retired as a county employee with over 20 years on the job.
Tony Wynohrad is new to the politics world, besides his ninth-grade win as class president, but as the owner of one of Osage's more recently l…
Here are the latest titles available at Nissen Library in St. Ansgar:
Seventy-five women participated in the inaugural Osage Chamber of Commerce Ghouls Day Out event on Saturday.
The Shop on State Board of Directors met on Oct. 7 to review grant requests and make final decisions on the amount of grants to be awarded.
Madalyn (Kuhn) Harken grew up in Riceville and had considered being a veterinarian, but because of the extensive training need to become one, …
Osage and Riceville Superintendent Barb Schwamman was named a finalist for the School Administrators of Iowa (SAI) Superintendent of the Year.
In honor of National Cooperative Month in October, Northern Country Coop is continuing its participation in the Land O'Lakes Foundation Member…
Jason Kollum, the comedy juggling performer from last year's Library Halloween Party, will be doing a Live Show through Zoom at 10 a.m. Wednes…
When Jim Wherry was growing up, he thought often about leaving his native Mitchell County for something bigger and more sprawling. But 45 year…
Al Winters is focused on the future.
Dave Stauffer, a Mitchell County resident of more than 42 years, is clear about his intent in running for a seat on the board of supervisors. 
For 42 years, Todd Frein's father Bob worked as a city maintenance supervisor in Mitchell County. Bob made enough of an impression that even n…
Hearing the City of Osage was concerned with two deteriorating monuments at the Osage Cemetery, Betty McCarthy has offered her services to hel…
A new shop in downtown Osage offers natural, hand-made products such as skin care, nail polish, tinctures, sage, jewelry and clothing.
A discussion of how funding will be handled between the present three-member and the future elected five-member supervisor board arose during …
A video that sparked social media outrage fell short of demonstrating criminal activity, according to the Mitchell County Attorney's Office.
Those with cravings for meat sticks, cheese curds or even steaks from S&S Meats and Spirits in Osage can now get them even when the store …
Iowa Pork Producers CEO Pat McGonegle recently discussed some of the current issues facing today's pork producers.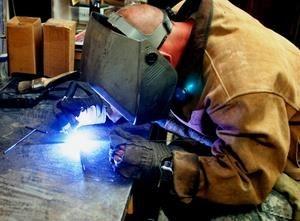 J & J Machining, Welding & Fabricating
Bruce Biederman, 72, of rural Osage has been politically active for most of his life, and it seems to run in his family. His grandfather attem…
Crop and livestock farmer Keith Pitzen, 62, has been living in the country his entire life.
Stan Walk, of rural St. Ansgar, likely needs no introduction. He's served on the Mitchell County Board of Supervisors for around 20 years.
Osage is doing something new with Halloween weekend this year.
Jessica Baldus, owner and operator of two restaurants and a bakery in Osage, has been named one of 40 Women to Watch in the hospitality indust…
More federal investment in infrastructure, child care and student debt relief will be key to restoring Iowa's economy, which has been hit hard…