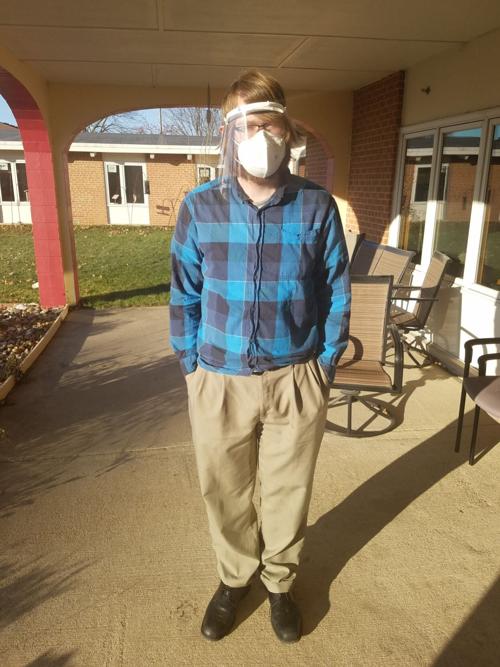 The coronavirus continues to hit home in Osage.
At Faith Lutheran Home, within the past month, life has completely changed for its residents. Administrator Hunter Lauritsen says the epidemic is spreading like wildfire. On this day, he cannot even recall exactly how many have died. He provides an estimate of 12.
That is around 25 percent of the total population of the home.
Every resident has tested positive for COVID-19. Most of the clinical staff have it as well. Most, however, have been cleared to return to work.
The home is a 60-bed facility, and before the spread of the virus, there were 49 people living there. Now there are only 35.
"It's not what we'd like to see happen," Lauritsen said. "When you're dealing with a frail and elderly population, they don't do very well when they get the disease."
The first case at Faith Lutheran, a staff member, was Oct. 8. A few days later, the first resident contracted it. Three weeks later, the first person died.
"When you're in a space like housing where everyone is close together, it's hard to control. Also, two residents and one staff member have ended up in ICU."
It is not just the elderly, Lauritsen said. The worker is in his 50s.
"This experience has been a very trying time," Lauritsen said. "But the community support that we've received, the support from the families, the understanding of our residents and the care from our staff have really helped keep us going.
"This is a very special place here. It's unfortunate this is happening. The community has come together to make sure we have everything we need to prevent and control this as much as possible."
Lauritsen has watched friends die.
"There are several who've been here for a long time. Some had been here longer than I have," said Lauritsen, who has worked at Faith Lutheran since 2018. "It's been very hard. There have been sleepless nights and taxing situations. I stay hopeful. Sometimes that's all we can do. It's going to be hard, when all of this is over, to go back to normal."
Having served on the front lines, Lauritsen said he has no patience for those who refuse to wear masks.
"I would say to think about the impact it has on those around you," he said. "I know it's very frustrating for people to wear a mask for over seven months now, but one little slip-up can cost people their lives. Be vigilant. This disease is horrific."