With the popularity of cupcakes and specialty-doughnuts still front and center, Sweet Creations by Alex owner, Alejandra Vallejo, of Osage, looked for a niche from which she could stand out in the world of goodies.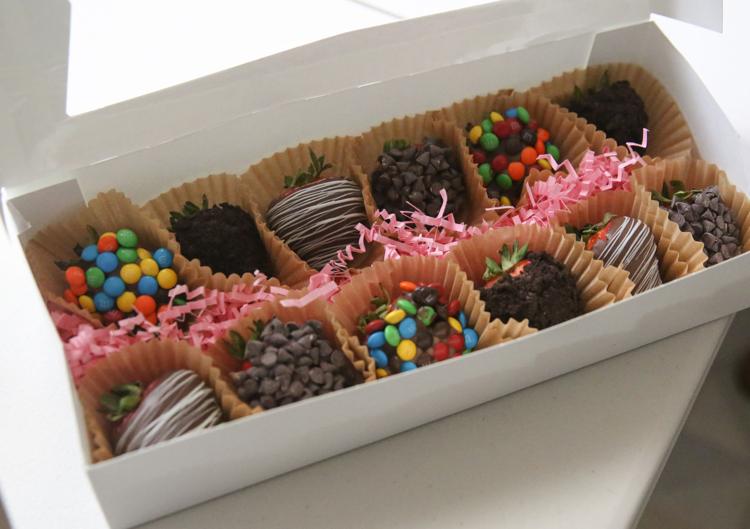 Candy-coated strawberries.
Like a lot of cooking and baking enthusiasts, Vallejo, 28, started hanging out in the kitchen at an early age.
"Since I was in seventh grade, I always liked baking cupcakes for friends on their birthdays and I would take them to our school," said Vallejo. "But later, when I was in college, I started making banana cake, carrot cake and chocolate flan."
Vallejo was born in California and grew up in Mexicali, Baja California, Mexico. After returning to the states, she spent time in Santa Monica before settling down with her husband, Alejandro, in Calexico, California.
In 2019, the Vallejos and their two kids, Alejandro and Aurora, now 5 and 1, respectively, moved to Iowa in search of greener pastures. Her husband found a good job in Mitchell County, and she was able to be at home with the kids. But Vallejo began to think about the future, and her family's financial security.
"I'm working on my accounting bachelor's, so that's really important to me," she said. "I want to get a job that is going to (allow) me to provide in case my husband ever has an accident (and can't work)."
She will graduate from North Iowa Area Community College with her associate's degree in accounting in December, but in the wake of the pandemic, Vallejo became worried she'd quickly be overwhelmed by debt.
"Part of why I started this is because I don't want to bury myself in student loans," Vallejo said. "Also, with this whole COVID thing, my [husband's] hours started to come down, but the bills never stop coming, so I was like, 'I need to get a part-time job.'"
Having spent part of her time off making treats with her kids, and taking advantage of the season by decorating strawberries, Alejandra's husband had an idea.
"My husband's like, 'You should sell these, babe. Nobody does this here," she said.
"I thought, well, I always wanted to own my own business. I need to pay for my books, I need to pay for bills that we have," Vallejo said. "I love decorating (desserts) and you know - like, why not give it a shot."
In early August, Vallejo, who uses the shortened name "Alex" in her branding, took her hobby and tiptoed into the culinary game.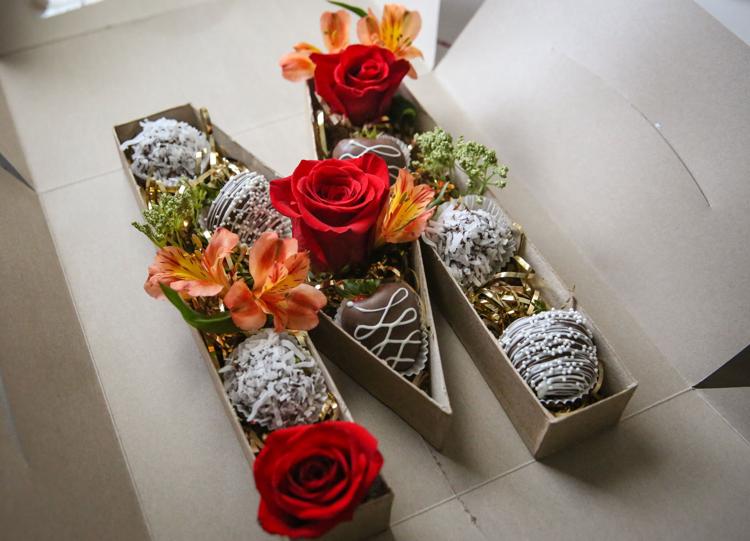 She made a Facebook page and started posting pictures there and in area marketplace groups of her intricately decorated berries - some topped with candy and cookies, some nestled beside fresh flowers and shimmery confetti.
But with no family or friends in Iowa to help get the word out, she wasn't sure how well it would work. The response from the public surprised her.
"People love them. They just started ordering like crazy," Vallejo said. "I have orders from people in Minnesota. People are reaching out to me like 'Are you gonna be selling in December? In October? Can you do my wedding?'"
Vallejo takes custom orders on the Sweet Creations by Alex Facebook page, accommodating many decoration requests, and is already plotting her next moves. She plans on implementing a set schedule for deliveries, and is considering expanding her menu by one or two more dessert items.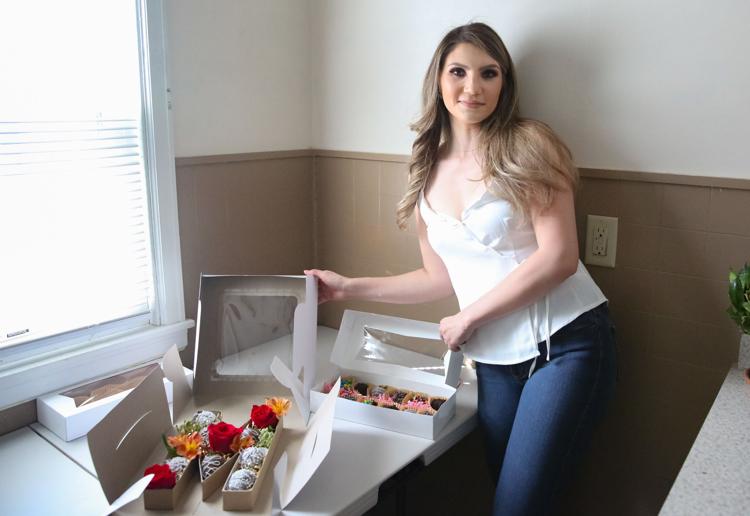 In the meantime, Vallejo is enjoying her new venture and is excited by what the extra income will do in the long run.
"I'm just trying to hustle my way out of student loans," she laughed. "I never thought we'd get that kind of feedback from the community ... I'm having so much fun."
Be the first to know
Get local news delivered to your inbox!