While fall does not officially start until Sept. 22, Osage will celebrate early when Autumn Artistry returns. If the past few years are any indication, it will be a success.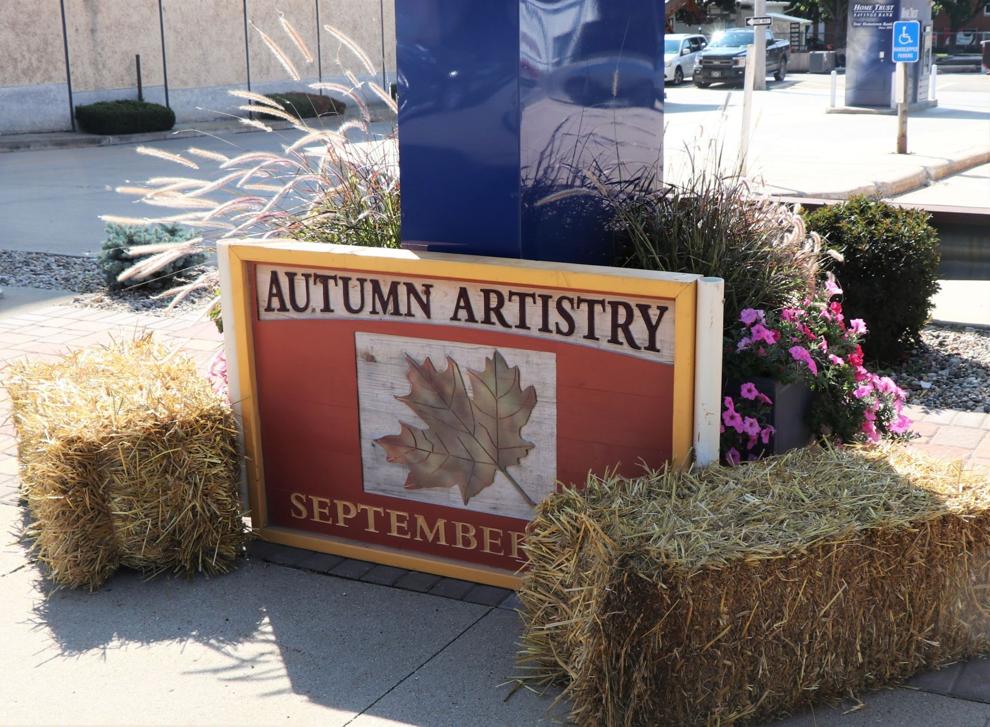 Ten days before the Sept. 18 event, which is marking its 21st year, it had over 100 registrations, and Kati Henry was still taking more. Henry is executive director of the Osage Chamber of Commerce.
Despite COVID-19, registrations have stayed consistent over the past couple of years.
While the epidemic prevented other events of its kind from being held, Autumn Artistry held its ground. Vendors said it was their best year.
"We had ours because it's primarily outdoors," Henry said of 2020. The event will continue to follow CDC guidelines. "Obviously if you're sick, stay home."
In 2020, the Chamber consulted Public Health as the event was planned. The Chamber sold masks, which they will likely do again this year. They encouraged social distancing and made signs that said, "Four Mums Apart."
"It's the perfect shot in the arms for the town," Henry said, no pun intended about vaccinations. "I'm so glad we did it last year, because it was exactly what retailers needed. I don't know if every business would've survived last year if we didn't have Autumn Artistry."
Henry said local businesses are still struggling with supply issues. They did not have the fall preview open house because seasonal items were no available. Therefore Thanksgiving and Christmas are getting pulled into Autumn Artistry.
"A lot of people will start on their holiday shopping," Henry said.
There will be live music and another success from last year, the Blacktop Cruisers car show, which boasted over 250 cars.
"Every other car show got canceled in the area, so they had a big turnout," Henry said.
Autumn Artistry features handcrafted items from local vendors, though some vendors are beginning to come from farther away, from Minnesota and across Iowa. Just one of the new vendors this year is Whalen Wood Company out of Calmar.
There will be antiques, handcrafted and hand-painted furniture, primitives, jewelry and boutique items. There will be harvest goods from farmers markets.
One of the biggest draws is chrysanthemums.
"One vendor, all they sell are mums," Henry said. "They'll bring in a flatbed trailer full of them, unload, go back to their greenhouse and bring another load back. They basically do loops all day."
One vendor coming this year makes furniture out of whiskey or wine barrels. In the past, one fashioned items from alpaca wool, scarves, hats and mittens.
"They were beautiful," Henry said.
Henry said Autumn Artistry has become a de facto homecoming for Osage High School class reunions.
"Because it is such a tradition anymore. So many alumni will be back in town, it's a good time to get people together," she said. "You'll see a lot of family reunions. There's almost always a wedding that same weekend. The town will be very busy."
The annual scarecrow contest is taking place at the same time, with judging from Sept. 14-18. The contestants number 20.
Home Trust & Savings Bank is listed as the main advertising sponsor, and it provides a parking lot. It is also a participant in the scarecrow contest.
"I just delivered straw bales yesterday to participating businesses," Henry said. "They must have them up by the next Tuesday (Sept. 14)."
Scarecrows will slowly grow around town, sitting on benches or leaning against lampposts. Citizens vote online for their favorites, or with a laminated bar code.
"The next week-and-a-half will be nonstop crazy," Henry said. "Osage will never look better. It'll be perfect for a fall festival."
Autumn Artistry 2020
The 20th annual Autumn Artistry event in Osage took place on Sept. 19, despite the COVID-19 pandemic.
This year's event featured more than 80 vendors selling crafts, jewelry, quilts, clothing, antiques, baked goods, and fall flowers such as mums.
The vendors were spread out in 10 different locations, mostly along Osage's Main Street but also at the fairgrounds where the annual Mitchell County Blacktop Cruisers Car Show was held.
Jason W. Selby is the community editor for the Mitchell Country Press News. He can be reached at 515-971-6217, or by email at jason.selby@globegazette.com.