The week before Thanksgiving, Josh Byrnes received a call from Iowa Gov. vKim Reynolds. The Manager of Osage Municipal Utilities had a decisio…
Mitchell County Regional Health Center has named Josh Steinberg as new Director of Acute Care Services, according to a release from the health…
Tyler Oberfoell scored three points all of last season for the Osage boys' basketball team. At halftime of Tuesday night's game against Newman…
Mitchell County Regional Health Center has been recognized by The Chartis Center for Rural Health and the National Organization of State Offic…
The St. Ansgar boys basketball team held on for a five-point win over Central Springs on Tuesday night, as the Saints rode 18 points from seni…
LifeServe Blood Center is asking community members to book an appointment to give blood at an upcoming area blood drive.
Photos from the Osage boys and girls basketball games against Newman Catholic for the season opener on Tuesday. 
In a game that saw many lead changes, and a wild finish, the Osage boys' basketball team took a season-opening victory over Newman Catholic.
U.S. Rep. Abby Finkenauer, who has personal and political connections to President-elect Joe Biden, is being considered for secretary of labor…
Republican leaders who hold majorities in the Iowa House and Senate for the next two years on Tuesday announced the list of legislators they h…
As the 2020 calendar makes its final turn into December, wrestling season is finally here. Early in the season, there are many wrestlers to ke…
Ever since I learned of Dr. Haganman's dismissal, I have been searching for the proper words to say. He has been my doctor since the retiremen…
To the Mitchell County Regional Health Center Board,
Byrnes is the general manager of Osage Municipal Utilities and previously was a three-term Republican representative in the Iowa House.
Things will look much different for the Osage boys' basketball team this season.
The good news for the Saints? The program brings back almost everybody from the successful 2019-20 campaign.
Sitting in the Auditor's office, Lowell Tesch does not look like he was once a great athlete.
Five years ago, Andrew Thyer broke his first clay pigeon with a Remington shotgun. Before the shards of that broken bird hit the ground, he wa…
A lot has changed since the Osage girls' basketball team made it to Wells Fargo Arena a season ago. But the squad is hopeful to make it back.
Big results lead to big expectations. After last season, expectations are sky-high for the Osage wrestling team.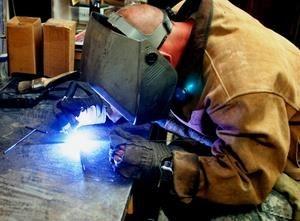 J & J Machining, Welding & Fabricating
With fall sports finished and Thanksgiving now done, winter sports are here. Already, several girls basketball teams have started, and boys ho…
Mitchell County residents will see new signage near bridges spanning the highways and byways of the county.
The message is clear from students in the Osage school district: We want to stay in school.
Sacred Heart Church will be hosting a drive-through Guild Supper on Thursday, Dec. 10.
With the announcement of the Osage Chamber of Commerce's cancellation of Magic on Main, the town will be without a holiday tradition in 2020. …
Mitchell County Regional Health Center is bracing for what experts believe will be a long winter.
Coaches and players in North Iowa are doing what they can to limit the spread of COVID-19. It can be challenging, but keeping players healthy,…