Lawson Losee leads the Riceville football team in passing yards, rushing yards, interceptions and solo tackles. Can one player really do it all?
"Mitchell County is wisely utilizing the wind farm TIFs in part on affordable housing projects."
The Osage Senior Citizens Center continues to offer home deliveries and curbside pickup. 
Victory was sweet for the Mohawks on Senior Night at home. The Mason City girls' swim team came out and beat Marshalltown, 72-30, to earn a te…
The Charles City School District made it clear back in mid-July that it was considering taking drastic action after then-junior Jeremiah Chapm…
Mr. Auto in Stacyville, which opened in June, is a one-stop shop where you can buy a used vehicle, arrange a payment plan for it and get it serviced.
"Take five deep breaths and blow out all the cares and concerns. Feel your body melt into the table. It's time to let go of all the burdens. A…
My name is Dave Stauffer and I am running as an Independent in the County Supervisor, District 1, general election.
The Rockford football team earned its first win of the season with a 42-32 victory over Riceville on Friday. The lions' share of the offense c…
Ryan Cole has been a force for the Saints on offense this season, and had one of the most impressive games of his career on Friday night.
Although North Butler snuck away with a win in one set, the St. Ansgar volleyball team earned the match victory on Tuesday night at home. The …
Attorney and Iowa State University (ISU) Farm and Agribusiness Management Specialist Melissa O'Rourke recommends that farmers and agribusiness…
Proverbs 16:9 says, "We can make our plans, but the LORD determines our steps." (New Living Translation) The truth is, because we are human, o…
In the first few weeks of school, Osage students and faculty have dealt with COVID-19 and new mitigation strategies.
One day after Northwood photographer Jodie Bachtle decided to not sell a Northwood-Kensett "Back the Blue" volleyball poster that was meant to…
At the Sept. 8 meeting of the Mitchell County Supervisors, County Auditor Lowell Tesch proposed that the county purchase a program to digitize…
Ryan Cole has been a force for the Saints on offense this season, and had one of the most impressive games of his career on Friday night. 
Friday night was a tough one for Osage football, but head coach Torian Wolf is still optimistic about this year's Green Devils. 
DES MOINES — Iowans heard some good economic news Friday when state officials reported an index of leading indicators posted its first positiv…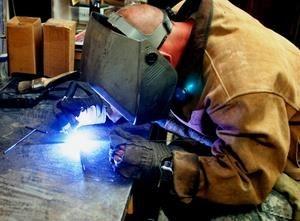 J & J Machining, Welding & Fabricating
During Tuesday night's Osage City Council meeting, Mayor Steve Cooper announced that Holt Services has given its two week notice.
CEDAR RAPIDS — Congressional hopeful State Rep. Ashley Hinson wants to increase workforce opportunities, especially for younger workers, by ex…
During an Aug. 31 Iowa State University Extension and Outreach webinar, Kristine Tidgren encouraged farmers to seek information on state and f…
Two weeks have passed in Iowa's high school football season, and we have already seen some memorable finishes and epic games.
NIACC freshman cross country runner Sarah Bertry ran the fourth-fastest 5K time in program history on Saturday at the Grand View open, as she …
Though coronavirus continues to spread, area food shelves continue to provide food for area families. Both the Mitchell County Food Bank locat…