At the Jan. 14 Mitchell County Board of Supervisors Meeting, Supervisor Barb Francis clarified a statement about the Public Comments Rule.
Osage Women's Connection will meet at  6:15 p.m. March 3 at the Osage VFW, Hwy 218 North.
The latest information on this weekend's winter storm. Travel is no longer recommended on I-80 west of Stuart.
LAKE MILLS — A Lake Mills woman has started a new business focused on helping people feel beautiful.
Here's a list of event cancellations, due to the coming winter storm. Keep checking back for additional information as it becomes available: 
Osage/Riceville School Superintendent Barb Schwamman has received a lot of state and national recognition recently, particularly for promoting…
Riceville 56, Clarksville 34
Clarksville 61, Riceville 45
The Osage wrestling team put up an overall dominant performance in its Thursday quad, as the Green Devils swept aside the competition, beating…
A new online research tool, known as AEA Scout, has been launched by Iowa's Area Education Agencies and ensures that students and families hav…
In the battle for Mr. and Ms. Wrestler, fans will get to have their say. 
The Osage Middle School recently released its first quarter honor roll.
Happy New Year! It's time to make a New Year's resolution. How about "Read a book" – or better yet; how about "Read a new book"?
I remember reading a parable once called "The Parable of the Life Saving Station."
North Iowa Woodcarvers Guild will meet Jan. 20, at 7:30 p.m. at the Buffalo Creek Activity Center, Titonka, IA. The evening's project will be …
Petunias & Pixie Dust Boutique of Osage is the winner of the SBDC's statewide December Small Business of the Month Award.
The girls high school basketball season is nearing the halfway point of the regular season, and teams such as Osage are looking to fine tune t…
On paper, the Osage boys basketball team had a decided advantage on Friday night as the 8-1 Green Devils entertained a gritty but undermanned …
The No. 7 St. Ansgar girls basketball team kept its winning streak alive on Friday night, with 51-32 win over Newman Catholic on Senior Night. 
Barb Francis, chair of the Mitchell County Board of Supervisors, set forth new rules for anyone wanting to address the board during the public…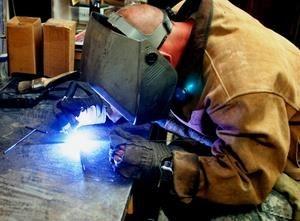 J & J Machining, Welding & Fabricating
Osage High School graduate Emma Williams was in second grade when her father was diagnosed with ALS.
Those who love the pizza, broasted chicken and other menu items at Kwik Serve in Osage soon will be able to sit down and enjoy them on site ra…
As the Salvation Army's Service Extension Unit representative in Mitchell County, I wish to thank the hundreds of friends and supporters who h…
Lieutenant Jeremiah Johnson representing the Osage Police Department at the Jan. 6 Osage City Council Meeting, asked the council to approve a …
An unforeseen conflict with the performance date has prompted the Fine Arts Council of Mitchell County to cancel its "Messiah" production this year.
Karla Mitchell, of Town & Country Insurance Agency, recently achieved status as an ICAP Certified agent, a recognition bestowed upon 10 Io…
I voted for five county supervisors and understand why the majority did.