The Cedar River Complex is offering a toddler gym and tumble for 3-5 year olds 9-10 a.m. Tuesday, April 20.
The new Cedar Arts Fest, showcasing the works of Mitchell County and area artists, will be a new event in Osage this summer.
In his uniform, standing well over 6 feet tall, Chuck Bengtson appears formidable. He is also soft spoken, a veteran of law enforcement who pr…
Sacred Heart Church will be hosting the Guild Supper on Thursday, May 13, in the Sacred Heart Church Hall.
Elderbridge Agency on Aging has advised Osage Senior Center that the reopening for dining in will now be June 1. Osage Senior Center will cont…
The Worth County Extension Service is inviting all North Iowa Area 4-H and FFA Beef Project members to attend an educational beef clinic. The …
Hannah Mauser of Osage, who is majoring in apparel, merchandising and design at Iowa State University, was named runner-up in the Most Sustain…
At its May 4 meeting, the Board of Supervisors proclaimed May as Mental Health Month in Mitchell County.
Organizers with the Osage Chamber of Commerce have announced plans to hold the annual Independence Day parade at 10 a.m. Saturday, July 3. The…
Every year, May is a bittersweet month for teachers and administration at Osage Community High School. The day of graduation comes around too …
As trauma season looms, it is time for blood donors to step up and donate with LifeServe Blood Center to make sure blood is on the shelf when …
Everyone could use a little more help.
Jesus says in John 15:9 -- "As the Father loves me, so I also love you. Remain in my love. If you keep my commandments, you will remain in my …
St. Ansgar's Braden Powers went from a quarter-mile specialist to one of the top sprinters in Class 1A.
A Swaledale man died of his injuries in a Tuesday accident in Mitchell County.
The Veterans Monument Restoration project is nearing completion at the Osage Cemetery. Work is proceeding on the new railings for the stage an…
At its meeting May 3, the Osage City Council returned to the subject of a splash pad and inclusive playground proposed near the Cedar River Complex.
On May 29 of Memorial Day weekend, Mitchell County will hold its Double Steak Cookoff in Osage.
As of May 3, the Osage Public Library is open. Appointments are no longer necessary.
Theo Baldus of Saint Ansgar was one of approximately 140 Central College students who presented academic research at the college's first annua…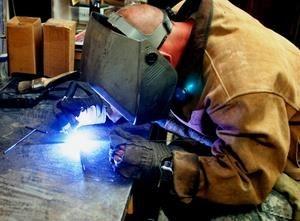 J & J Machining, Welding & Fabricating
The Lake Mills boys golf team is still perfect.
Garner-Hayfield-Ventura historically hasn't had its US Highway 18 rival Clear Lake's number in soccer, boys or girls.
In the April 28, 2021 issue of the Globe Gazette, Senator Ernst claimed she would "stand up for Iowa in war against meat", claiming to fight t…
Two former North Iowa standout football players have played a role in the Morningside football team's success this season.
We hope and pray that the pandemic, at least the most serious part of it, is coming to an end. We pray that the vaccines will be as successful…
Thursday night was another busy night for North Iowa spring sports.
"School Boards: Leading Through Uncharted Waters" will be celebrated this May as part of School Board Recognition Month in Iowa.