Mason City Fire Department held a swearing-in ceremony on Tuesday at the fire station.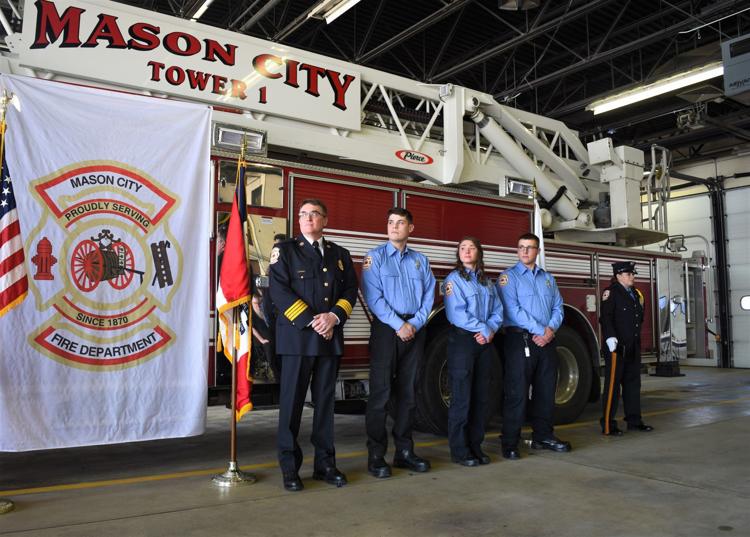 You have free articles remaining.
Firefighters/EMTs Austin Thompson, Kaitlyn Shirk, and Hunter Schmidt were welcomed to the department, and Department Lt. Carl Ginapp was sworn into his new role as Deputy Chief of EMT.
The hiring of the firefighters was funded by the Staffing for Adequate Fire and Emergency Response grant, which was awarded to MCFD by the U.S. Department of Homeland Security.
Ginapp fills the position previously held by Deputy Chief of EMS Dave Johnson, who retired from his post in December.
Those who come when called: North Iowa first responders
We never know how much we need them until they're called to duty. And that's the way first responders like it.
The Globe Gazette honored 10 first responders on Wednesday night, October 23, at Mason City Ford for their exceptional dedication to serving others. They were selected from nominations sent in by members of the public whose lives were touched by these first responders in their times of need.
The honorees, whose profiles are collected here, are law enforcement officers Ken Rodemeyer, Brian Koob and Dan Nelson; firefighters Scott Hagenson and Greg Nicholas Jr.; and EMTs Jamie Stanbrough, Deb Heidenwirth, Matthew Retz, Dave Luett and Jim Reed.