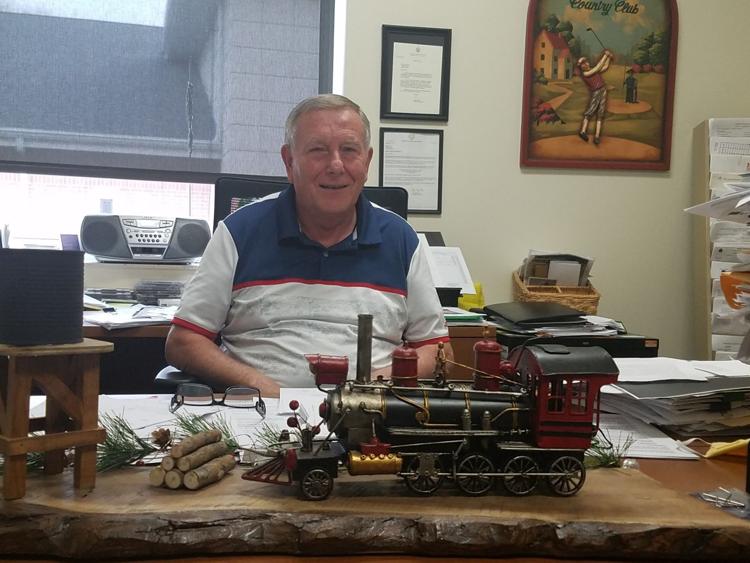 Sitting in the Auditor's office, Lowell Tesch does not look like he was once a great athlete.
While he doesn't like to brag, and says mildly that for three years he held the Class A record in the two-mile run. The day before he graduated from high school, he won an Iowa State Track and Field Championship.
In the streets of St. Ansgar, he once jogged through the cold and snow from the high school to the Cedar River Bridge, around the mill and back. He wrapped a towel around his neck to stay warm.
"It was freedom," he explained.
At the other end of the spectrum, in a six-mile race as a student-athlete at the University of Northern Iowa, he suffered heat stroke. It was 90 degrees and humid.
"I just collapsed," Tesch said. "The only thing I could remember was trying to stand back up. I kept falling down. I thought, 'I'm not getting up anymore.' It turned out I stumbled across the finish line in fourth place. I only had about 200 yards left. It seemed like it took forever. It was instilled in me that I had to finish.
"I was in pain. It felt like dying. A week later I ran again."
They carried him inside before he was driven by ambulance to a local hospital. Tesch received shrapnel from the race.
"I still have a few cinders in my knees," he said, laughing. "They stuck a long needle in my leg, took a brush and tried to scrub them out."
As a long-distance track star, it is appropriate Tesch lasted 20 years in the position of Mitchell County Auditor.
Sheltered
Tesch grew up in Grafton in the 1950s and 1960s. An only child, he graduated from St. Ansgar Community High School at a time when they still had a dress code.
"If you got in trouble at school," he said, "you were going to be in even more trouble at home."
When Tesch was 19 years old, his father was helping another farmer haul a hog to the meat locker. While shoving the body into the back of a pickup, he collapsed. Without warning he died of a heart attack.
"My dad was a very kind guy," Tesch said. "People liked him. He was a farmer, before adjusting to life as a laborer at the sugar beet plant in Mason City.
"I never had to want. He always gave me a little change — he didn't have a lot of money. I remember a cousin of his, a couple of days after my dad's funeral, turned to me and said, 'Your dad was just as happy if he had a dollar in his pocket as 20 dollars.'"
While the event was difficult, and for Tesch still hard to talk about, it led him back to college.
"In my late teens, Vietnam was going on," Tesch said. Having graduated from high school in 1970, he just missed being drafted. "It was different kind of war than World War II. Thank goodness there were kids who went and served their country. I had a cup of coffee with a guy. A lot of times the ones who really went through a lot keep things to themselves. They're the ones who don't talk about it."
There were also similarities between then and now in that people were becoming more aware of racial injustice.
"There got to be some unrest throughout the nation," Tesch said. "The difference is that with social media, everything is just instantaneous. Growing up, we were sheltered.
"We had started to see a few drugs in high school, but when I went to Cedar Falls, they had a drug bust in the junior high."
Straight ticket
In 1972, after graduating from college, Tesch went to work at the Champion Furniture store on Main Street in Osage, replacing an employee who had retired. He would remain there almost 28 years.
By 2000, both of Champion's former owners had passed. The Republican Party approached Tesch when the former auditor was retiring — otherwise, he never would have considered the position. To say he was green would be an understatement.
"I didn't know what an auditor does," Tesch said.
As a member of the Osage City Council, he was familiar with public office. However, he had never campaigned before. There were no debates or political posters, no vicious ads, only a walk from door to door, shaking hands.
After Mitchell County elected him to office, he crammed for several months to prepare.
One of his goals was to be kind.
"I relied on the staff and on the people who had been there. You can't do it all yourself, you run as a party," Tesch said. "I've been a registered Republican for a lot of years. Independent at one point. The job doesn't entail that you are a certain party. The job we do running elections is a non-partisan thing. We're here to serve and work with the citizens.
"It's been a privilege to represent Mitchell County. I'm going to miss my staff, but I'm not going anywhere."
Rachel Foster will take his place in the courthouse.
Tesch's office has organized every election in Mitchell County for the past two decades. The 2020 ballot was the first where Iowans did not have the option to vote straight ticket.
"I'm glad our legislators took that off, because people should not vote like that," he said. "I've heard other auditors say they used to look forward to elections, but now they don't because it's being scrutinized so much. Iowa has always been very good about running clean elections. You can have minor things here and there with technology, but other than that it's good. Auditors work together for the people. We put the party things away. We want it to be fair. We want it to be right."
In attempting to solve today's problems, Tesch returns to his childhood.
"Life was simpler," he said. "There wasn't as much divisiveness as there is now. You're always going to disagree about some things. And politically, you had your Republicans, you had your Democrats, you had those with no party, but people were more united.
Tesch said nowadays, everything's all one way or the other. It's a little frustrating to him.
"I've had this thought, even before the last four years — things in this country are scary. I'm afraid someday we'll wake up and our nation will not be what it was," he said. "You've got to have faith in God and belief. We need to center ourselves. The older I get, the more I think things happen for a reason."
For Tesch, the media has become less about news. It is a form of political entertainment.
"They've started to control things," he said. "Hopefully they're putting everything out there that's correct, but you wonder sometimes. They want to have a certain person be president or this or that.
"You need to listen to people and respect their opinions."
Tesch is consistent. He does not believe Russia interfered in the 2016 election, and he does not believe the 2020 election was rigged.
"It has probably put a distrust in our system," Tesch said. "It's another thing that places us in a bad light. They're comparing us to [corrupt] countries. The United States is supposed to be one of the best places to live—what's going on?"
He thinks more people are voting for party than for the best person.
"Vote for the individual," he said.
Tesch also believes that people need to laugh at themselves. In college, he studied history, which is often a darkly humorous subject.
"You look at the presidency and how the Founding Fathers formed our country. They set the precedent for a lot of things we're still following," he said. "We're a relatively young nation compared to England and others. We've experienced growing pains.
"You look at other societies, at Rome, how they were powerful and how that went away and someone else took over. Hopefully we have the values to still do what's right and fair for everybody."
Jason W. Selby is the community editor for the Mitchell Country Press News. He can be reached at 641-421-0578, or by email at jason.selby@globegazette.com.