While Sarah Leichsenring is stepping down as principal of Osage Community Middle School, she considers her time there invaluable. She is moving to be closer to family, but Osage will remain one of her homes.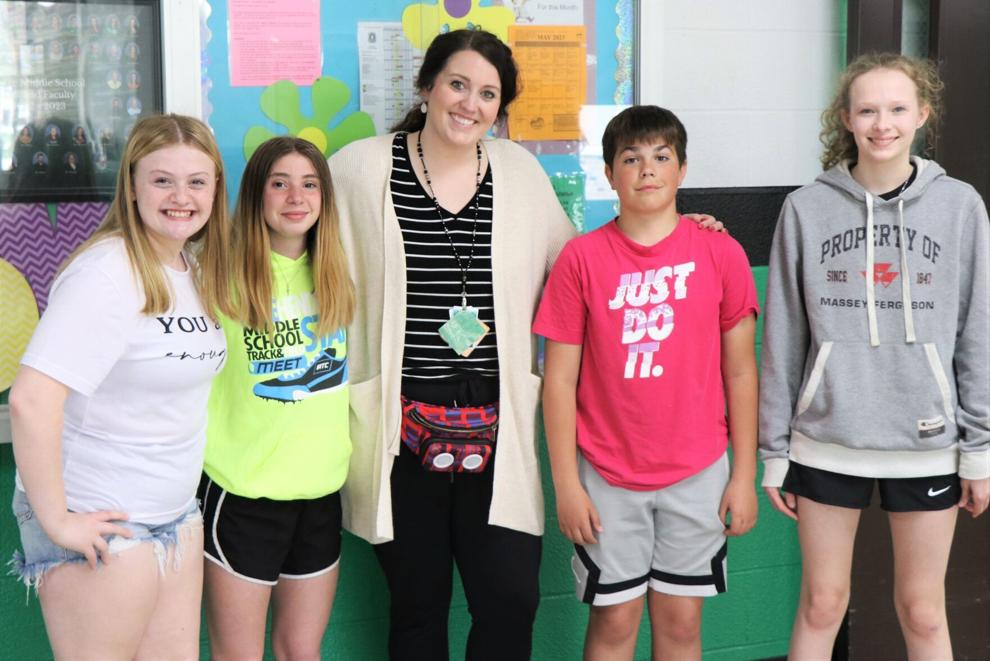 Growing up in Clarion, as the daughter of two teachers, education was a priority. In some ways, her path was preordained.
"Our dinner table talk was school," Leichsenring said. "I knew I needed to work in a profession where I was interacting with young people. Sitting in a cubicle wasn't something for me."
Her parents are retired, but they still substitute teach, and Leichsenring speaks with them every day.
"Sarah made those around her better," said Osage Community School District Superintendent Barb Schwamman. "Her enthusiasm and passion for school improvement will be missed. She left her mark on OMS, leaving it a better place, and we wish her nothing but the best."
War room
Leichsenring worked in Osage for five years. It was her first experience in administration.
After graduating from high school, where she was a teaching assistant with a third-grade class, Leichsenring attended Waldorf University in nearby Forest City. It is where she student taught, and where she is returning after her time in Osage is complete.
While Leichsenring has also taught high school, she is most comfortable with middle school children. It is an age of transformation that resonates with her.
"They're really shaping who they are, and trying to figure out where they fit, and figuring out their strengths and where they need to improve," she said. "They're just beginning to feel comfortable in their own skin, and that is appealing to me – I don't have to be perfect, I just have to come in every day and try my best, just like we ask the kids to do. I'm vulnerable with them, and they open up to me, too. We go on that journey together.
"It's not that you can't do that with high schoolers or elementary kids, but it's really special in that 10- to 14-year-old range, when students are trying to figure out who they are in that transition phase. It's a turning point where they're developing their own opinions and ideas, but they still need the guidance of adults."
It is complex, because middle schoolers express a need for both independence and connection. At that age, Leichsenring believes students are just trying to communicate.
"Whether they're doing it in a great way or a not so great way, they're always trying to tell you something," she said. "You have to listen. I've had to work hard making sure I listen before I speak. It's something I'll have to continue to work on."
Administration for any age range can be difficult. Work-life is not always a balance. Recently, she helped a PhD candidate with his dissertation on the stresses of administration.
There is pressure to make decisions and to make them as quickly as possible. Leichsenring must take a moment to process and slow down. The only thing she can do is make the best decision with the information she has at that time. Even though she has a team to rely on, there can be a sense of isolation.
"Just as we tell our students, you don't have to do it alone," Leichsenring said. "Ask for help. I have to keep that in mind for my work, too."
Leichsenring went through COVID-19 with her team. They had what they called a war room. The entire experience helped administration understand what they needed and what they don't need. It taught them the need for collaboration. It still influences them today.
"It was an awful and stressful time," Leichsenring said. "But also an empowering time. You have to learn to trust your decisions."
Bullying
One of Leichsenring's favorite parts of her job is greeting kids in the morning.
"I will never get sick of that," she said. "Knowing I won't see those faces in this district is hard to think about. Those small connections are important to me."
Something that Leichsenring must also do every day is meet her students' mental health needs.
"In the State of Iowa, within that middle school range especially, we're seeing some behavioral needs, and a lot of those behavioral needs are tied to mental health," she said. "Some students have those skill sets to tell us what they need, and some of them don't. It's a puzzle trying to find what pieces fit – to be able to provide that support.
"The idea we only serve the academic needs for kids is not true."
Leichsenring feels Osage exhausts every resource possible to meet mental health needs. After the pandemic, the school hired a social worker. Osage works with Turning Leaf Counseling and is open to any organization that could provide services.
The pandemic taught administration how useful telehealth could be.
Every day, there is also bullying, which has become high tech as social media continues to evolve.
"At every public and private school, when you have large groups of kids gathered, there are going to be disagreements," Leichsenring said. "There will be conflict and some sort of bullying. As much as you try to be proactive and pre-teach those things, instances do arise.
"We talk about power imbalance. Who has the power in a situation? We talk about the difference between persistent conflict and bullying."
Leichsenring knows bullying often comes from insecurity.
"Middle school is a place where a lot of kids are insecure," she said. "There is education around it, even as consequences are being given out. When there is a confirmed case of bullying, afterward there is a lot of follow-up, because we don't want it to happen again. It's not just about telling them to knock it off. Sometimes kids have to come to that on their own as well."
Whatever contemporary steps schools take to move forward and curb bullying, there is a backward push from social media and technology.
"It's just much easier," Leichsenring said of bullying. "Very seldom will kids go up face-to-face and say things to each other. A lot of times it will be over electronics and social media. Parents have to make that decision about what's appropriate for a child or not.
"It can be used in a positive way, but many times middles schoolers don't have the skillset to be able to navigate that world."
According to Leichsenring, any app that allows a student to remain anonymous is not a positive thing, especially for middle schoolers.
Book banning
When Leichsenring began her career in education, schools were not practicing lockdown and evacuation drills. It is different today. Iowa requires schools to do one every year, but Osage performs two.
"There's a heightened sense of awareness on those days compared to a fire drill or a severe weather drill," Leichsenring said. "The best thing we can do is talk openly about it – to reassure we're planning for a reason. We invite in local law enforcement and we're as transparent as possible. We firmly believe we have a safe school, but we also know that things can happen and we want to be prepared."
Education is no longer an administrator's foremost concern. Leichsenring considers keeping students safe as her first priority.
"Every time I talk to a student, whether it's about bullying and harassment, whether it's about physical or academic concerns – safety is not just our physical body, it is our brain, too, and our heart – you must look at safety as a broader picture.
"In order for education to take place, if those basic needs aren't met – if they don't have food or shelter or if they're not feeling safe – education is tough to do."
The job is not always pretty. Leichsenring cannot remember how many times she has unclogged toilets when the janitor was not available.
Other times, when there is no substitute, she must teach a class.
"Just those small moments of getting to see student learning – stepping into someone else's shoes helps me reflect on how I'm still part of the system," she said.
Not only must Leichsenring interact with students, she must interact with parents.
"Parents are partners," Leichsenring said. "As much as we want to say school and home are isolated, they're not."
Leichsenring graduated from high school in 2006, and one of the changes she has seen since then is the support provided to marginalized students in the LGBTQ community. For her, it is not a matter of politics, but of providing service. Bullying of any form is not a matter for disagreement.
"We have to be aware of any student need," Leichsenring said. "Whether that is academic, social-emotional or behavioral – anything considered an area where they would need additional support. That's our role as a public school system. It's not about indoctrination. It's not about trying to push values. We must meet the needs of all students."
Another issue is book banning. Leichsenring praises Osage's librarians and media specialists and trusts in their expertise. "They work to provide a diverse group of literature for students. Our goal, once again, is to meet student needs. It's important to find books that identify with who they are and what they value.
"It's not about indoctrination, it's about helping kids find connection and value in what they're reading."
Leichsenring also praises Osage's parents on this issue.
"Very seldom have I had any questions (about banning books)," she said. "I know that hasn't been the case in many school districts. Our teachers are very communicative letting parents know what's being read and why."
But when parents do have concerns, she would rather meet with them face-to-face rather than creating a public referendum. Some problems arise solely from misinformation and a lack of communication.
Leichsenring sees Osage as a traditional community, but one with high expectations.
"I've had wonderful experiences with our families and our community," she said. "We're very lucky, because I know that's not the case everywhere."
The light
Change has been consistent in Leichsenring's five years in Osage.
"I assume positive intent," Leichsenring said. "That frame of mind has brought joy to my job. You run into something every day, and there can be something positive drawn from that.
"Every student has a clean slate. Each day it's a new start."
"Sarah was an asset to the district," Schwamman said. "She was able to lead by example, building relationships with students and staff, helping revamp the middles school curriculum, and becoming a part of the greater community."
Leichsenring said that something she did not anticipate coming into the profession was the Iowa State Legislature's push to fund private schools at the expense of public schools. For many administrators, it is considered one of the reasons public schools are having trouble staffing teachers.
"As we see school choice as a hot-button topic, and as things come down in the State of Iowa, I just can't speak highly enough about public schools and the access they can give to students," she said. "I've got the chance to say this to a couple graduating classes of future teachers of different universities – it's difficult to go into this profession – and now more than ever we need people dedicated to kids.
"And it's such a rewarding thing to go into. That's the light that makes me excited to stay in education."
Jason W. Selby is the community editor for the Mitchell Country Press News. He can be reached at 515-971-6217, or by email at jason.selby@globegazette.com.