For the Lake Mills wrestling team, Saturday's Class 1A District 4 meet at Clarksville was business as usual.
As the tenth-ranked team in Class 1A, the Bulldogs have been dominant against nearly every team they've faced this year, including tournaments.
Lake Mills crowned two district champions, qualified five total wrestlers and held off Central Springs to secure the district team championship. The Bulldogs scored 92 points – 12.5 points more than the Panthers.
"It's still exciting. You work hard all year and you want to do the fun stuff at the end of the year," Lake Mills head coach Alex Brandenburg said. "I'm proud of our kids and our coaches."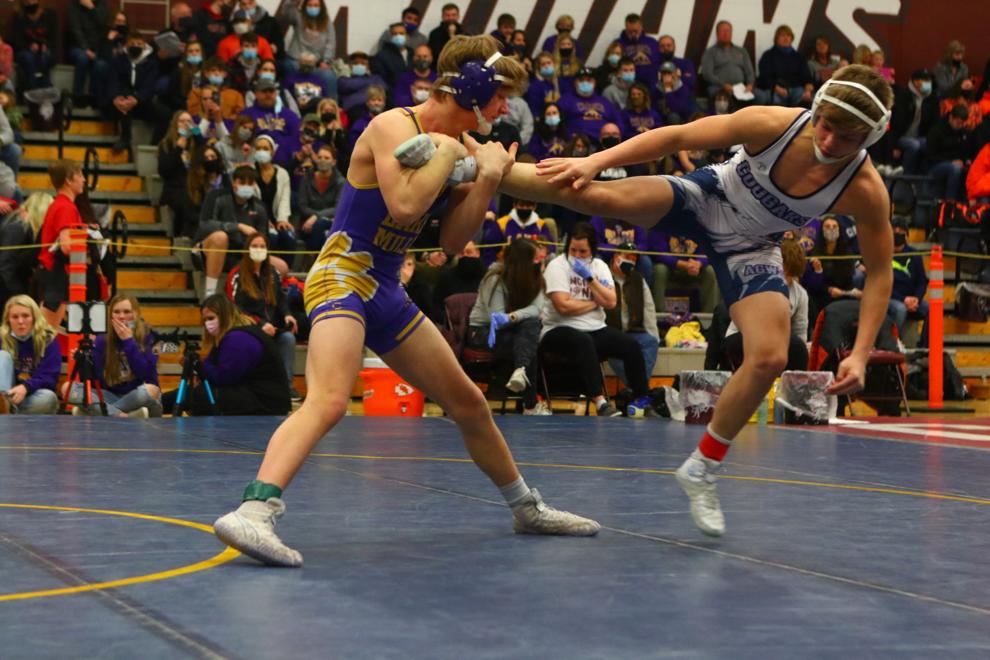 Sophomore Alex Beaty got things started for the Bulldogs. He scored an 11-5 upset win over Nashua-Plainfield's 10th-ranked junior McKade Munn. At 145 pounds, Beaty controlled most of the match, then sealed it by securing back points in the third period.
In a battle between ranked opponents, Lake Mills' second-ranked senior Elijah Wagner came out victorious over Riceville's fifth-ranked senior Drew Fox. Wagner controlled the match from the start and finished with an 8-0 win at 182 pounds.
"I've been hearing a lot of crap from Central Springs' fans telling me that Drew Fox was going to whoop up on me today," Wagner said. "I kind of fed off that and let that push the pace today."
Seniors Dalton Thorson (138) and Casey Hanson (160) both scored pins in their consolation matches to advance, and junior Brett Peterson didn't need to compete in a wrestle-back after his runner-up finish at 152 pounds.
Outside of Lake Mills and Central Springs in the top two spots, Riceville finished sixth, West Fork finished eighth, Northwood-Kensett finished ninth, St. Ansgar finished 11th and Newman Catholic was 14th.
Other Champions
Class 1A No. 1 Kale Petersen wasted no time showing why he has been the top-ranked wrestler at his weight class for the majority of the season. The West Fork sophomore pinned Nashua-Plainfield sophomore Kendrick Huck in the first period of the championship match.
Central Springs junior Clayton McDonough is headed back to Des Moines after dominating his championship match. The second-ranked junior controlled South Winneshiek junior Ethan Maldanado from start to finish, earning a win by technical fall. McDonough finished as a runner-up at 113 pounds in his sophomore campaign and has his eyes set on the state title this time around.
"I've got to train my butt off still," McDonough said. "It's not over. I've got to work hard, stay disciplined with my diet and just stay hungry."
Central Springs junior Bryce McDonough followed in his brother's footsteps. Just two matches after Clayton's championship win, Bryce beat Lake Mills senior Dalton Thorson, 7-2. The eighth-ranked wrestler at 138 pounds, Bryce will look to improve on his finish at the state tournament a year ago.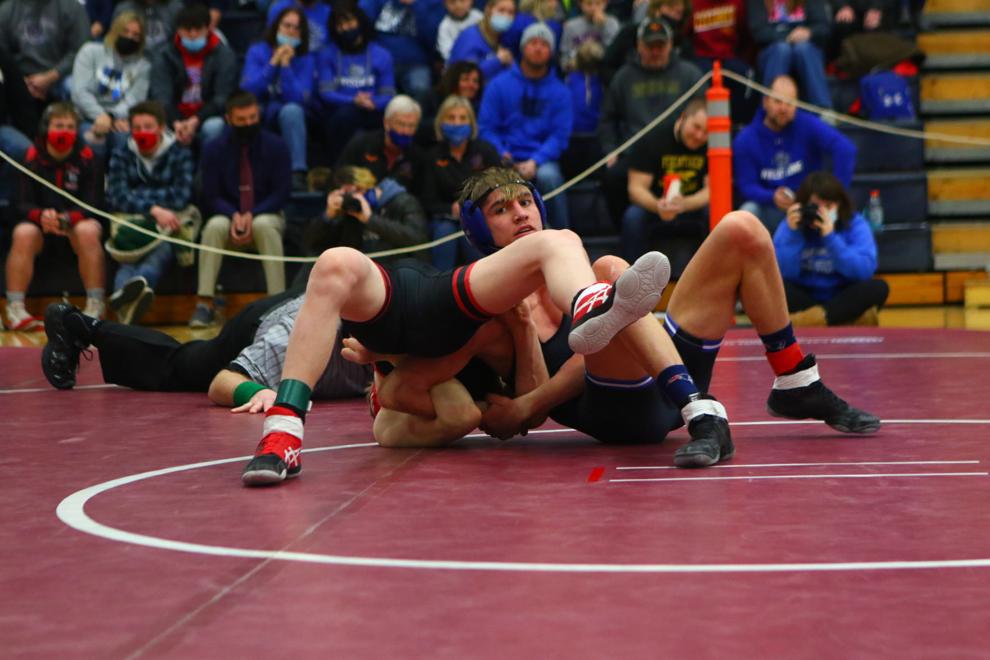 Riceville junior Lawson Losee and Lake Mills junior Brett Peterson had a great match at 152 pounds. Tied at 4-4 heading into the third period, Losee scored a takedown in the final minute, which was enough to earn a 6-5 decision. As the fourth-ranked wrestler in his class, Losee will go to the state tournament for the fourth-straight season.
Northwood-Kensett junior Drake Tiedemann blazed through his semifinal match and had eyes on a rematch with Lake Mills third-ranked senior Casey Hanson. Hanson got the best of him at sectionals, but Tiedemann controlled most of the match to earn a 7-3 win. Tiedemann's win handed Hanson only his second loss of the season.
After winning his 150th-career match during the sectional meet last Saturday, Central Springs senior Kaden Jacobsen followed it up by winning the district championship. Jacobsen beat South Hamilton senior Lane Swenson in a 5-2 decision. Jacobsen was Central Springs' third champion of the day.
Other qualifiers
Central Springs junior Brock Mathers lost his championship match, but he secured a win over the third place winner earlier. As a runner-up, he was the second qualifier for the Panthers after Clayton McDonough.
St. Ansgar's eighth-ranked senior Sage Hulshizer competed against South Winneshiek senior No. 4 Damon Meyer at 220 pounds. The pair went back-and-forth, but it was Meyer who secured a 7-6 decision. However, Hulshizer's runner-up finish qualified him for his first state tournament.
At 285, Riceville junior Mitchel Marr was the runner-up behind North Butler's top-ranked senior Chet Buss. Marr was Riceville's second qualifier.