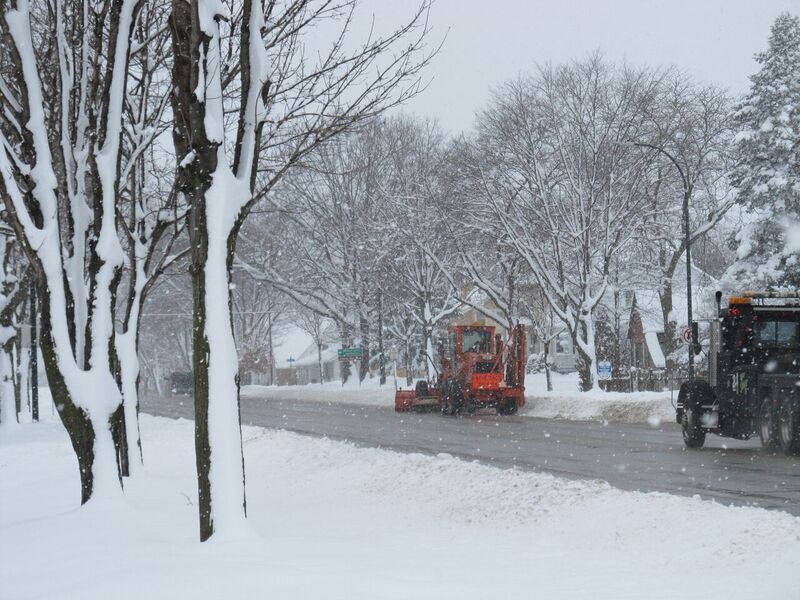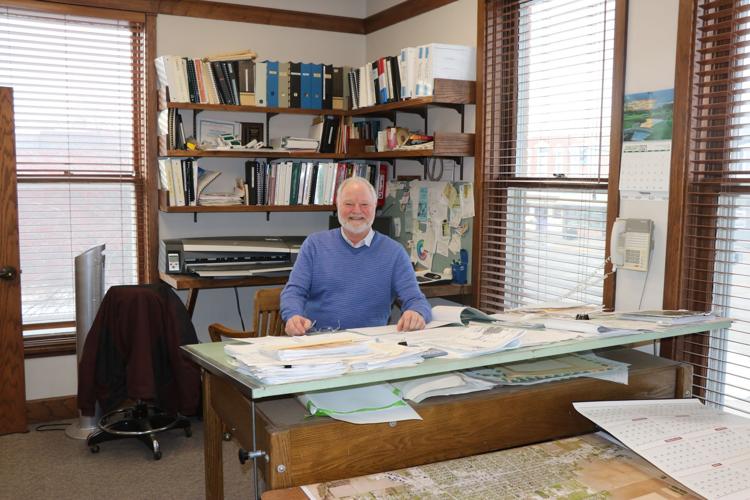 There is peace in new-fallen snow. There is work in removing it.
As a child growing up on a farm near Osage, public works director Jerry Dunlay and his neighbors gathered in white fields to build snow forts. It meant things like Christmas and community.
Snow is essential to Osage.
"I don't like seeing an open winter," Dunlay said. "Because if you don't have snow, there's a tendency to have water mains breaking easier because of the shifting of the ground. If you get a good snow in November and it covers everything up, that helps."
This month marks Dunlay's 25th year on the job.
When Dunlay began, everything was hard copy. Now, he can dial up the system on his smart phone and walk right up to what needs fixed – find one out of 2,000 water shutoffs – even if it is buried in snow.
"I used to draw everything," he said. "Now I take pictures and import them."
High desert
Dunlay graduated from Osage Community High School. His first job was in construction. Before long, he got married and moved to the high desert of Arizona.
Prescott and Osage have different climates, to say the least, but also a few similarities. The January mean temperature is 51 degrees there, but they also average 13 inches of snow per year. Those figures change as you ascend the mountains.
"One winter, the governor issued a state of emergency for our area," Dunlay said. "Because we were 5,000 feet up the mountain. We had 30 inches of snow one day. But it went away quick. You can drive an hour and it's 70 degrees."
After building houses in the southwest for eight years, having three children and attending a two-year technical school, the family decided it was time to move back to the hard winters of the Upper Midwest.
"Bill Bollinger, who'd been here 33 years, called me one day and said, 'I'm going to retire pretty soon, you ought to look into this job,'" Dunlay said. "I only lived five blocks from city hall. It worked out. I got home and worked for my home town."
A forest of poles
The worst storm Dunlay experienced happened only a few years ago in February, a blizzard with 30 below zero temperatures, and 60 below wind chill. Dunlay took a photograph of the Home Trust & Savings Bank clock reading 36 below zero.
"It was a complete whiteout, and it was so cold," he said. "That's so hard on equipment."
His crew not only clear roads, they dig all the graves at the cemetery.
"We had one to dig that day, and it was brutal," Dunlay said. "It doesn't matter how cold it is or how hot it is. When you've got to dig one, you dig it. Up there, you don't get a lot of snow cover because the wind blows right through, and I've seen the frost six feet deep."
Another snowstorm is memorable because of the date, May of 2013. The crew hauled 100 loads of snow off Main Street that day. It was three feet deep. They could not take it to the Mitchell County Fairgrounds because the ground was not frozen, so they piled it on Park Street near their shop. There was nowhere else to haul it.
Three days later, most of it was melted by a southerly wind.
In December of 2007, a storm left a foot of ice and snow on the streets.
"We had to peel it so the intakes would take the water when it melted and get to the storm sewer," Dunlay said. "That ice storm, the water was running and then it froze. Then it just built up, and we had to take a backhoe and the maintainers out and rip it up."
After that, a January thaw freed the rest to flood the town, before freezing again.
A few years later in February, during the Iowa State Wrestling Tournament, an ice storm took down a forest of poles and so many power lines that for weeks around Osage, no one had electricity. It sent northeast Iowa back to the 19th century.
The saving grace was the Municipal Utilities power plant, which lit Osage while others could only sit in the cold and dark.
"Once you got out of town, it was a bad deal," Dunlay said.
Locals were hired to plow snow out of fields so the energy company could fix the broken poles. The forest was replanted.
Fuel
By the middle of October, Osage's road crew is preparing for winter.
"We've had ice in October, snow in November and it doesn't clear up until April," Dunlay said.
So far this season, there has been one accumulative storm, moderate enough to provide the crew with a practice round. The break is saving the city money and allowing Dunlay's men to address other projects.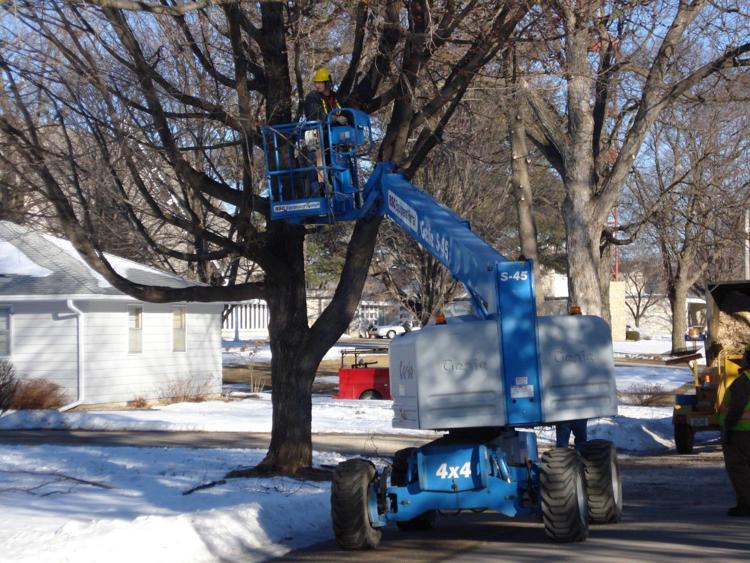 They cleared the future water tower site of trees and other debris.
"How many guys and their crew get to build a water tower?" Dunlay said. "This will be great."
This year, the crew has traded snow for grave markers. They began repairing the cemetery veterans' monument. The stones are at the shop, where the men are chipping off mortar and polishing them.
Snow removal is extremely expensive. Dunlay budgets around $45,000 for labor alone.
"Some years we've had really bad high fuel costs," Dunlay said. "It's nothing to burn up a thousand dollars worth of fuel in one round."
The two maintainers have a route. The truck plows have a route. Two end loaders with push blades clear the parking lots.
The first begin work at 2:30 in the morning, clearing off Main Street and the parking lots so businesses can open shop. The rest of the crew arrive at 4 o'clock for the other streets and alleys.
City crews often get constant criticism, and while they do get paid, there is much sacrifice, much pride taken in their work. In regard to roads and driveways, what benefits one resident often handicaps another.
Weather is unpredictable. The forecast could call for sunny weather and then a foot of snow falls in May. In the middle of a storm, they might have to stop everything to dig a grave.
Plows rumble down streets, and the only place for the snow to go is in windrows through driveways.
"People rip on us for it," Dunlay said. "But what else can we do? You've got to plow snow. But 99 percent of the people are real appreciative of our work. The guys have a mission. We a have a plan, but then we have to drop everything and go fix a water main.
"We've got a good bunch of guys."
Members of Dunlay's crew include Craig Roalfs, Jon Eagen, Jonathan Byrnes, Casey Thurnau, Trinity Benson, Ryan Tolliver, and Jaydon Fangmeier.
Dunlay is not just an observer.
"I've gone out at midnight to unplug storm sanitary sewers, and they've lowered me down 18 feet underground to see what's wrong with the pipe," he said. "If I haven't done something myself, then I wouldn't know what to tell my guys to do."
Another duty for the city crew is clearing the airport.
Dunlay takes advantage of this job. He takes off in his two-seat Grumman AA1B and looks down at the expanse of snow, the sun so bright it is hard to see, the wind gently rocking the plane.
When he is not clearing streets, he is a dot in the sky above the fields outside of Osage.
He began flying 40 years ago after taking classes for $15 an hour. He was making four dollars an hour working construction.
He quit after getting married, and flew again decades later after having grandchildren.
Now, he can glide above the cliffs along the glassy, serpentine Cedar River, over the mirrors of ice-covered ponds and admire his work.
Jason W. Selby is the community editor for the Mitchell Country Press News. He can be reached at 641-421-0578, or by email at jason.selby@globegazette.com.