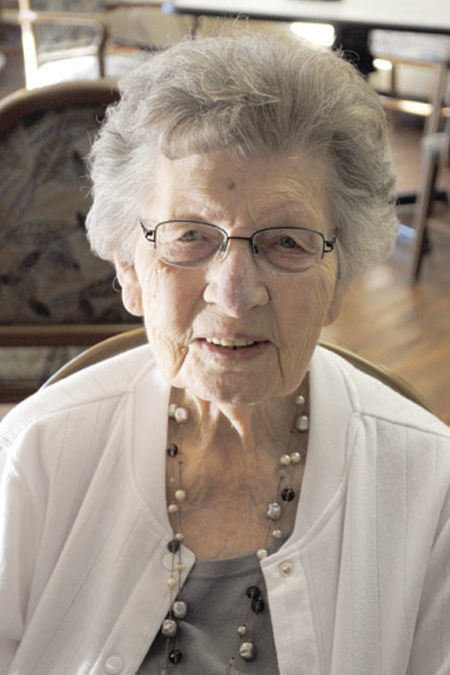 February 15, 1919 - March 5, 2020
Britt, Iowa - Hannah Mae "Mayme" Meyer, 101, of Britt, formerly of Woden, passed away on Thursday, March 5, 2020 at Westview Care Center in Britt.
Hannah Mae, better known as "Mayme," was the daughter of George and Anna Pommer. She was born February 15, 1919, on a farm near Wesley, Iowa. She received her education in the Wesley area schools and graduated from high school in 1938.
On November 11, 1942, she was united in marriage to Elmer Meyer at the Woden Christian Reformed Church. Following their marriage they farmed near Woden, Iowa, where they raised their five children.
She entered the Westview Care Center in 2007.
Mayme was an active member of the Woden church; teaching Sunday school, helping with bible school, playing piano for services, and being an active member of the Ladies Aid.
In her community she enjoyed participating in Senior Citizens' activities and was also a member of the Historical Society in Britt.
She had a great love for music which showed in the many times she and her brother Harold sang for special occasions, and often playing the piano for her own enjoyment at home. When she sat down at the piano she would call her children around to sing or play instruments with her. At Westview she continued this love by playing hymns and tunes from her era for the other residents monthly right up till the time of her death.
Elmer and Mayme loved spending time with family and friends at a lake.
Mayme loved her Lord and saw to it that her children were brought up to love Him as well.
She was preceded in death by her parents, her step-mother (Bertha Pommer), her three siblings (Harold Pommer, Henry Pommer, and Rosa Franzen), and a daughter (Linda Vander Pol).
Survivors include four children, Marj Nibbelink (Archie) of Edgerton, Minnesota, Larry Meyer (Barb) of Seattle, Washington, Jean De Jong (Bob) of Ripon, California, Dale Meyer (Aileen) of Des Moines, Iowa, a son-in-law, Dave Vander Pol of Seattle, Washington, 14 grandchildren, and 28 great grandchildren, and many nieces and nephews.
A celebration of her life will be held at a later date due to the COVID 19 situation.
www.ewingfh.com, Ewing Funeral Chapel, 178 Center Street West, Britt, Iowa 50423, 641-843-3839.
Be the first to know
Get local news delivered to your inbox!