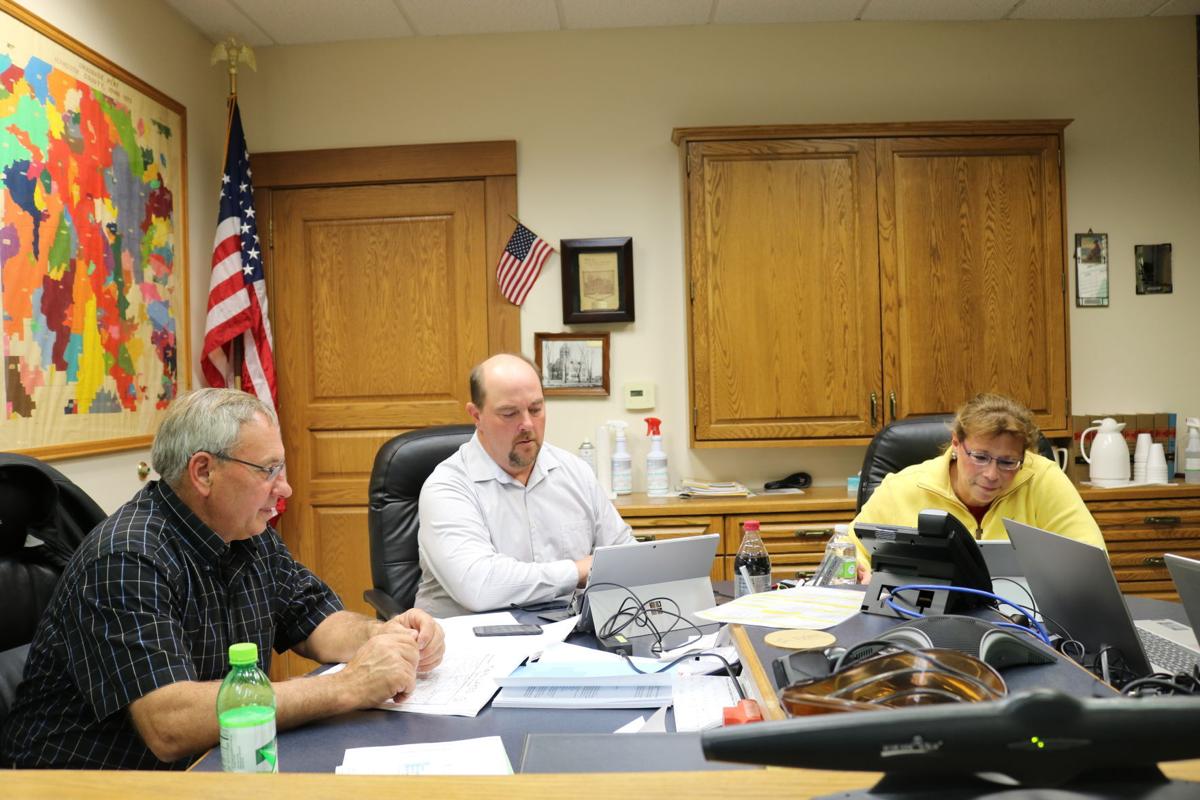 Additional federal income necessitated amendment to Hancock County's current fiscal year budget recently.
Supervisors on June 1 approved the formation of a working group of county officials to review requirements as well as study use and documentation of funds received from the American Rescue Plan Act.
Those estimated funds include just over $1 million for the fiscal year ending June 30 with about an additional $1 million anticipated to be forthcoming to the county coffers next year fiscal year.
County Auditor Michelle Eisenman noted that various other counties have formed similar working groups or committees with a wide range of different officials being included, such as auditors, treasurers, public health officials, and supervisors.
The approved Hancock County working group will include emergency response coordinator/zoning administrator Andy Buffington, county engineer Jeremy Purvis, county attorney Blake Norman, supervisor Jerry Tlach as well as auditor Michelle Eisenman. Supervisor Sis Greiman noted that recommendations from the working group would ultimately come before the full board of supervisors for approvals.
Eisenman said it is important to use funds received according to a long list of requirements/allowances under the Act to maintain the additional federal funds. Tlach noted that it is often easier for municipalities to determine how to spend such funds than counties, so the working group should be beneficial.
The American Rescue Plan Act of 2021, also called the COVID-19 Stimulus Package or American Rescue Plan, is a $1.9 trillion economic stimulus bill passed by the 117th United States Congress. It was signed into law by President Joe Biden on March 11 to speed up the United States' recovery from the economic and health effects of the COVID-19 pandemic and the ongoing recession.
"It's probably going to be allowed as long as you make an effort to put it in justified categories," Buffington said. He noted that public health and secondary roads are both big areas and a key is to break down broad categories to things that serve the public interest, within requirements.
• According to County Engineer Jeremy Purvis and Shaun Hackman, assistant to the county engineer, Nick Davis would start as summer help in their department after supervisors unanimously approved the staffing addition.
• Also, Valley Road and 290th continued to be closed through the week of June 7. Fifty-four-inch pipe there is being lowered about 18 inches, because the culvert is too high and is not draining sufficiently. As of June 1, the culvert had been dug out with crews setting the grade and preparing to pour concrete for culvert re-installation there.
• Supervisors also unanimously approved a policy for private crossings of open drainage ditches in Hancock County. The policy states that a private crossing is the landowner's responsibility and transfers with land sale. Also, the drainage district has no stipulations on material used, only that the culvert is made of good material and does not impact the drainage and flow of water.
Landowners are responsible, at their expense, to hire an engineer or surveyor, as defined by Iowa Code section 542B, to design and determine the size and depth of culvert. Landowners must maintain proof of this and file a copy with the Hancock County Auditor's Office.
Failure to maintain proper depth of a private crossing will result in its removal by the county drainage district. If a crossing fails, it is the landowner's responsibility to remove it or the drainage district will do so and charge the landowner.