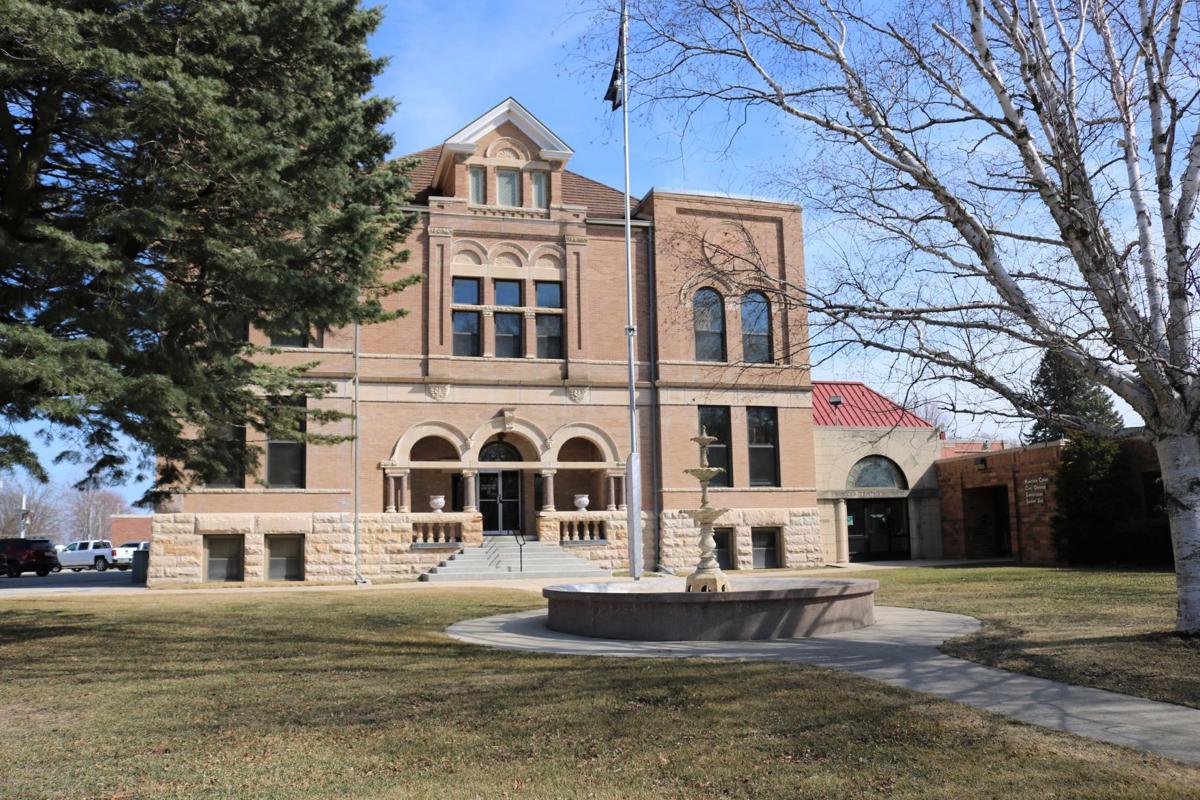 Hancock County Maintenance Supervisor Kevin Hoeft reported a possible delay to county supervisors on May 24. It could push completion of the courthouse water fountain and reflecting pool restoration past Memorial Day weekend.
Midwest Protective Coatings in Mason City is contracted to complete the work, but had a breakdown of its air compressor. Hoeft said it was still possible that sandblasting and repainting of the pool could be competed on schedule, if another compressor was obtained. The exact timeline was up in the air.
Once the pool is finished, the restored fountain could quickly be up and running, and water flowing again.
"If it's not running by Memorial Day weekend, it's not," Hoeft said. "If they are sandblasting, it is going to be a mess."
It could delay some photo opportunities for area residents, but the fountain project should be done correctly relatively soon, Hoeft said.
Hoeft also informed supervisors that no concrete has been poured yet below the basement bathroom floor where sewer repairs were successfully completed. He said restroom stalls and doors cannot be put back in place until the concrete is poured and perfectly level.
County auditor Michelle Eisenman said that the June 7 and June 14 supervisors meetings will be held in the law enforcement center basement due to re-carpeting.
Supervisors approved having Two Men and a Truck of Urbandale assist with moving items sometime between June 11 and June 30 in conjunction with the carpet installations. First Choice Installation will assist the county in taking some furniture apart, so it can be moved.
Eisenman said signs would be posted in the courthouse, starting the week of May 24-28. In-Step Flooring of Kanawha is slated to install the new carpeting. Eisenman reiterated that county officials are requesting the public's understanding through the improvements. 
• The bid letting date for the drainage district number 1 and 2 south main was set for 10 a.m. June 10 with the awarding of a bid contract set for 10:30 a.m. June 14 in the law enforcement center basement.
• County Engineer Jeremy Purvis reported that concrete installation was completed at 290th and Deere Avenue. The portion of 290th Street. Valley Road and 290th will be closed through June 7. Fifty-four-inch pipe there is being lowered about 18 inches, according to Purvis, because the culvert is too high and is not draining sufficiently.
• Purvis reported that the county contractor will be spraying weeds under and around bridges this week and in county ditches in late June into July, depending on weather and other factors.
• Supervisors approved the planned June 22 plans, specifications, and notice to bidders for an estimated $440,000 bridge project on 170th Street, just north of Corwith. Purvis said the bridge sees traffic levels estimated at just 15 vehicles per day and does not qualify for additional bridge funds. So, an extended lead time is planned for the project to help keep costs down.
Construction could occur between April and July of next year with the selected contractor possibly being able to come and prepare for the project before next spring.