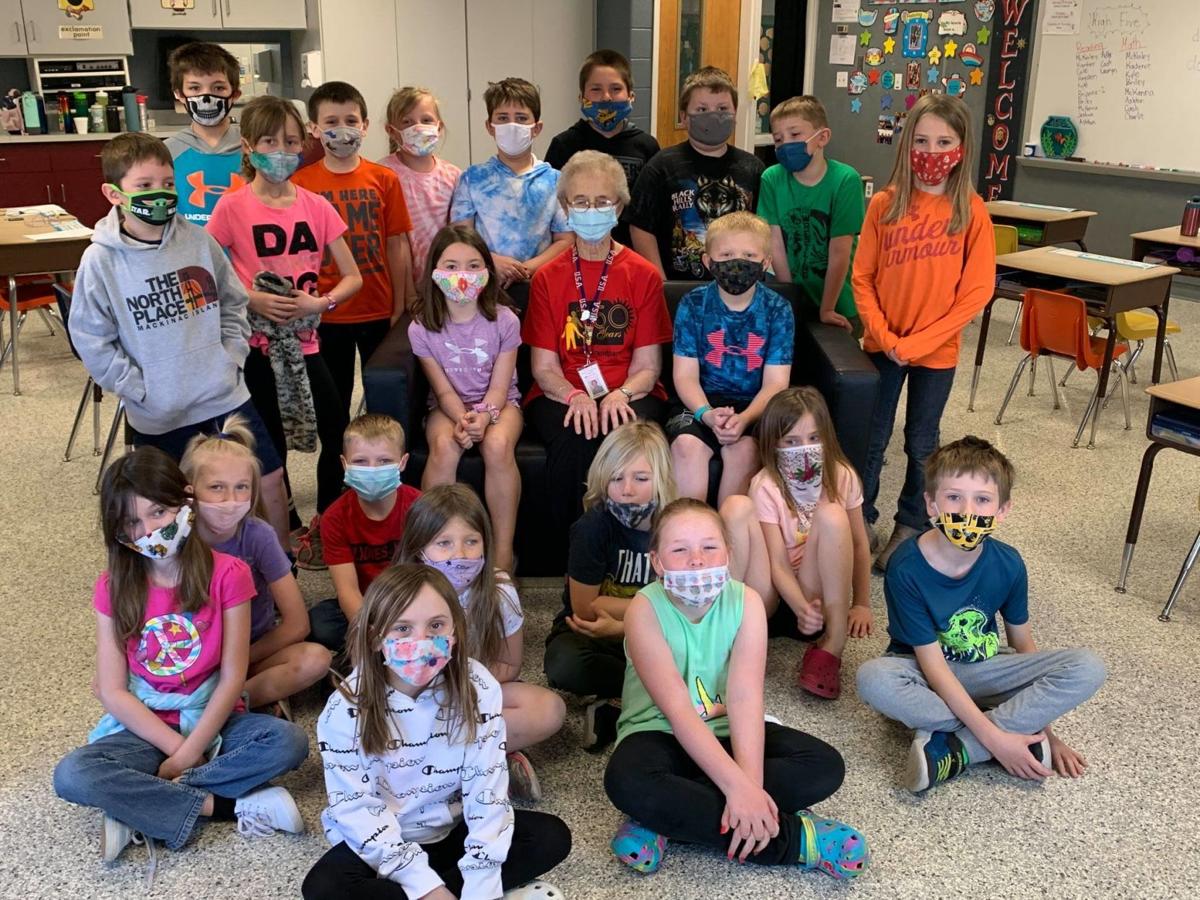 At the young age of 84, Sheral Tumilson is going back to school.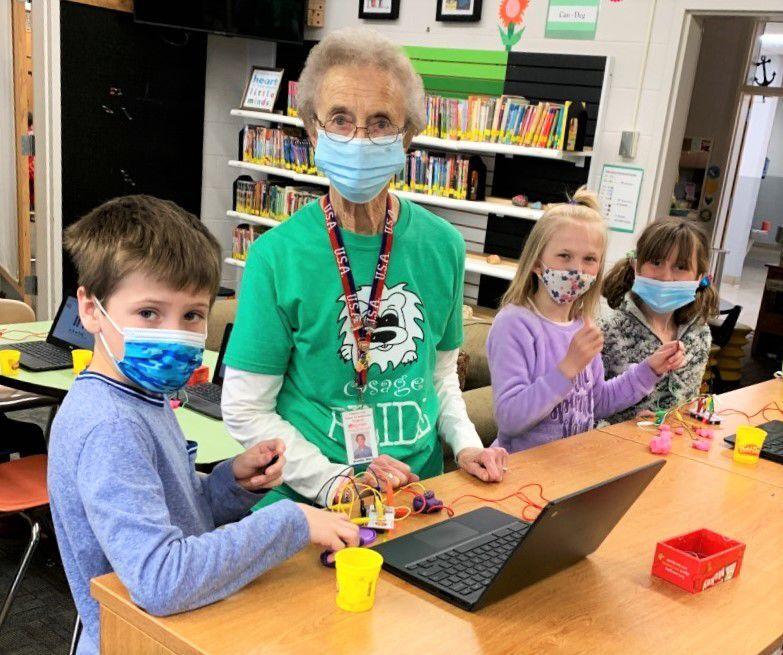 Last March, her career as a grandmother at Lincoln Elementary School in Osage was cut short by COVID-19. It was the longest spring break she can remember.
While regular classes returned in fall, Tumilson could not join her students. She had a preexisting condition – two artificial heart valves. Even leaving her home became a dangerous proposition, let alone entering the elementary building.
"My cardiologist would not agree that I should go to school," Tumilson said.
After a year away, the availability of a vaccine gave her hope. Once she was inoculated, the way was cleared for her return to second grade.
First day
Tumilson is a member of the Foster Grandparents Program. It is her anniversary. For 15 years, she has helped school children do everything from read a book to tie their shoes.
Before becoming a foster grandparent, Tumilson worked in the medical clinic in Rockford for over 30 years. Like many retirees, she did not care for a sedentary lifestyle. She needed a new challenge.
"When I retired, I was bored," she said. "I was used to being around people."
One of her friends suggested she become a foster grandparent. The program is aimed at nurturing children and providing teachers with extra support in an educational world that has become more demanding. She began her new career in Rockford, where she spent eight years helping first graders adjust to their new environment.
When Tumilson and her husband moved closer to a larger medical clinic, Mitchell County Regional Health Center, she continued her career in Osage. While abbreviated by a pandemic, this marks her seventh school year serving second graders at Lincoln Elementary.
By chance, one of her non-student granddaughters is a second grade teacher in Clear Lake, near where Tumilson grew up in Garner. One grandson lives in Osage.
She is a grandparent to around 66 children at Lincoln Elementary School. After seven years, names and faces change, and it is difficult to keep track of everyone. That might be the most difficult part of the job, watching her grandchildren move on, she said. It is not as bad when the child is still in the building, but she feels the loss again when they leave for middle school.
However, every once in a while when she walks into a store, a former student will say, 'Hi, Grandma!'
As well, each year is like moving into a new school. Classmates are different. Tumilson admits she is nervous, and it helps her relate to the change each of her students face.
"I told the kids when I went back on Tuesday that I had butterflies in my stomach," she said. "I felt like I was starting all over again."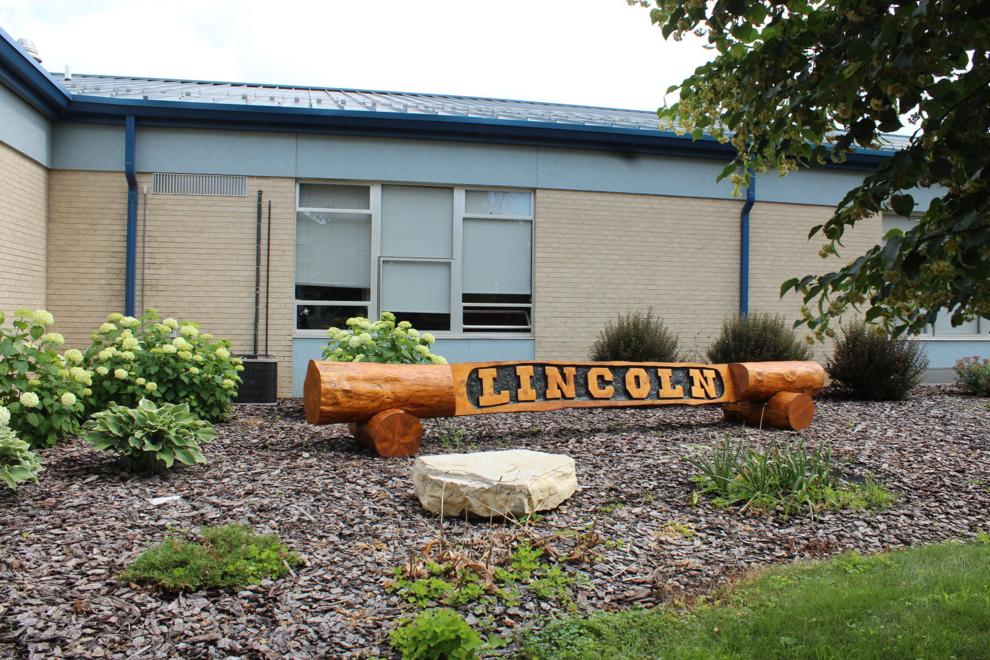 Like other second graders, the three homeroom teachers make a schedule for Tumilson.
"It's whatever the teacher wants me to do," she said.
That day, it was spelling words using a game of Scrabble, and teaching students to tie their shoes in the age of velcro. Then she listened to second graders read. Other mornings, it is crafts.
"The kids want to hug you, they want to sit with you at lunch," she said. "There are so many kids that need extra help and love. It is not only reading or spelling or any other subjects – some just need a hug. A lot of them don't have grandparents. A lot of them are from homes where mom and dad are divorced. It seems like there are more kids that need attention."
As well, teachers are sometimes overbooked. Like their students, they can use another hand.
Life has changed for children from when Tumilson was raising a family. The divorce rate was lower. Society is not the same.
"School is so much different, even from when my grandkids were in school," she said. "There is a different way of life not only in the school, but at home."
Some of the changes are good to Tumilson, such as the freedom children have to move around the room.
"Years ago, you sat in a desk and that was it," she said.
While technology has become a major part of education, Tumilson has not found any adjustment necessary. She owns an iPad and uses it at home. While she is up-to-date, occasionally she must call a grandson for help.
"My friends can't understand why I'm doing this, because I turned 84 in December," she said. However, despite a pandemic, she keeps going back to school.
The program
Northcentral Iowa's chapter is based out of Charles City. Created in 1972, Iowa ranks in the top 10 of states for number of volunteers involved in the program.
Tumilson estimates there were four foster grandparents in her first year at Osage, and in 2020-21 they are down to four. She has become one of the biggest advocates of the program, recruiting others to what she views as a noble cause, emphasizing that grandfathers can help, too.
There are fringe benefits like a tax-free stipend. This helps grandparents on a tight budget. The hours are also good.
The goal is not only to help children, but to help the elderly, to bring young and old together.
"Foster grandparents volunteering in day care centers promote infant and toddler development in the area of trusting relationships with adults," says the program's page on the City of Charles City website. "This enable[s] the child to grow up to believe in themselves and become confident learners."
"It's a great program," Tumilson said. "We need to build it back up."
Those interested may contact the Charles City office at 641-257-6327. More information may be found at the Foster Grandparents Program Facebook page and at https://www.cityofcharlescity.org/.
The only other requirement, besides being over 55 years old and meeting an income guideline, is a love for children.

Jason W. Selby is the community editor for the Mitchell Country Press News. He can be reached at 515-971-6217, or by email at jason.selby@globegazette.com.