As a result of the continued efforts by Thompson Charities and its members, President Adolph Swenson presented a check for $2,000 to the Buffalo Center Ambulance on Jan. 20 in honor of its continued service to the Thompson area.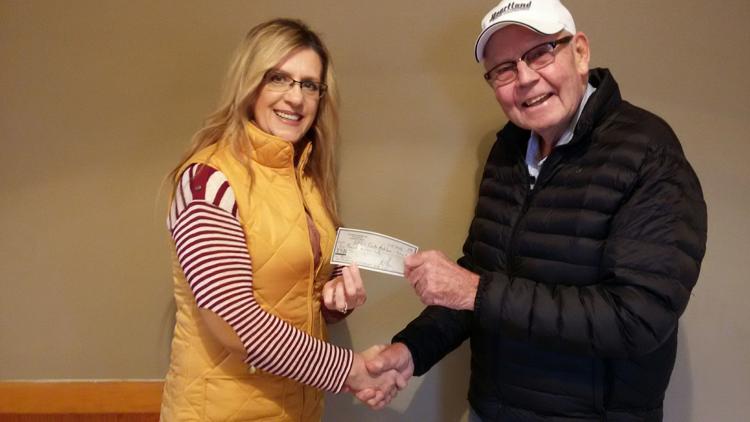 Accepting the check on behalf of the Buffalo Center Ambulance was Janell Martini.
On June 2, 1999, Adolph Swenson, Dr. L. V. Johanson, Lawrence "Red" Lodin, Keith Finer and Dean Farland signed the final documents creating Thompson Charities, Inc. The newly formed organization was declared a nonprofit corporation under Chapter 388 of the Iowa Code of Law and was declared a Federal tax exempt 501c3 entity.
The original board of directors included Swenson, Johanson, Lodin, Finer, Farland, Irven Olsen, Larry Charleson, Mike Tweed, and Gary Larson.
One of the first projects undertaken by the newly formed Thompson Charities was the creation of a disaster shelter in city hall and access to electrical power through a generator located by Heartland Power.
Over the next few years Thompson Charities funded grants to the local ambulance, fire department, Thompson Little League, KidsWorld daycare center, Garden Club, Thompson museum, Thompson library, local Christmas committee, Boy Scouts, Winnebago County 4-H, and support for the creation of Hometown Market (a community owned grocery, convenience store, coffee shop, and fueling station).
Over 50 people and dozens of businesses supported the creation of the Thompson Charities efforts to create Hometown Market.
The mission statement for Thompson Charities is to "Improve the quality of life in Thompson, Iowa."
Current board members include Adolph Swenson, Gary Shropshire, Troy Fleener, Adam Lockore, and Dr. Larry D. Hill.
Be the first to know
Get local news delivered to your inbox!