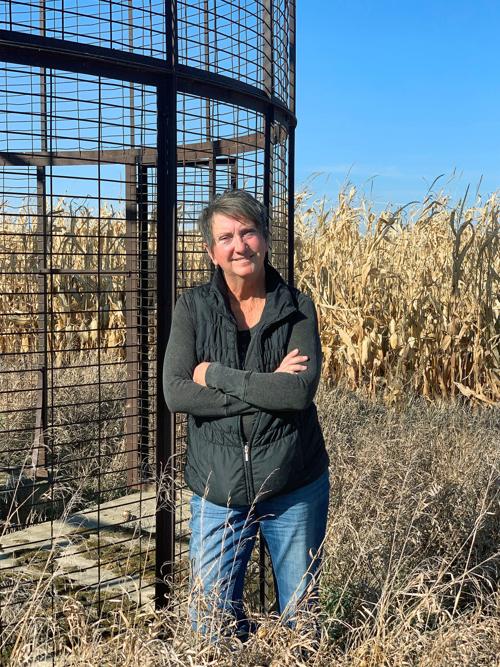 Susan Smith of rural Lake Mills says she considers working with people to resolve concerns as one of her primary strengths that will serve her well in her latest role as newly elected Winnebago County Supervisor.
Smith, a Republican, defeated Democrat candidate Steven Peterson by a 1,065 to 615 vote margin for the District 2 seat last on election night, garnering 52 percent of the vote. She also defeated Dan Kirschbaum and Gary Nelson, who ran as independents following primary defeats.
Smith said it was a very competitive district.
"I ran on approachability and accountability," Smith said. "I feel that I am easy to talk to, anyone can contact me with concerns, and I will be accessible to them. I will know who to talk to and get answers for people."
Smith has been a northern Iowa farmer for more than 40 years, farming with her late husband, Randy, southwest of Lake Mills and more recently with her son, Tyler.
In addition to traditional corn and soybean crops, Smith noted that she has raised snapping turtles for export to China for nearly 15 years. The Buffalo Center native and former Thompson resident has lived in Winnebago County her whole life.
She noted she is proud of starting a family farm "from scratch" as there was no prior history of farming in the family. The farm is how she became aware of rural drainage and other county issues. She began regularly attending Winnebago County Board of Supervisors meetings about five to six years ago. She cited her own efforts to raise communications and transparency between the county and residents.
Smith emphasized that the zoning and siting of wind generation turbines has become an important issue in the district. She noted turbines are located in the far northeast portion of the district. She said that many farmers want the turbines because of the income they provide, but many persons do not want them near their homes due to potential health concerns and aesthetics, among other reasons.
"It is very important to represent all of these people and come up with the best solutions for all who are concerned," said Smith. "I am humbled to have won because you never know what the results of an election will be. I am excited to use my skills to make good, sound decisions for the county."
Smith said she is eager to serve on other county boards and becoming more involved in the county once she takes office.
Born in Buffalo Center, Smith graduated from Thompson High School and lives at Rice Lake in Lake Mills. She attended Kirkwood Community College in Cedar Rapids and has an advanced degree in Horticulture Sciences/Landscape Architecture. She also enjoys doing interior design work from her home.
Be the first to know
Get local news delivered to your inbox!