Sen. Joni Ernst visited the Forest City Family Alliance for Veterans of America on Monday to hear about their struggles and concerns as part of her 99-county tour of Iowa.
Ernst said helping veterans who have had traumatic brain injury, experienced military sexual trauma or are suffering with post-traumatic stress and need support is a priority for Iowa.
"Happy to visit," she said. "It's hard to hear some of the concerns, but that's my job, is to hear hard concerns and figure out ways we can be better supportive, so if we can offer additional flexibility, work on other programs and improve them, we should be doing that."
FAVA is a nonprofit WestCare Iowa project established in 2012, serving 43 counties in North Iowa, to provide assistance to veterans and their families who are struggling with homelessness through different services.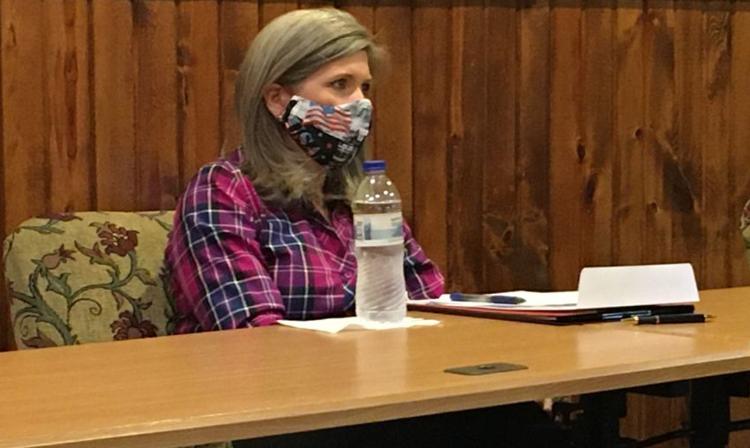 The Supportive Services for Veteran Families is a program that started in 2013 through the United States Department of Veteran Affairs and helps veterans and their families find homes when they are either on the brink of losing their rental home or are already homeless.
SSVF helps veterans search for veterans, pay the security deposit, rent and utilities, provide childcare and repair and maintain their vehicles.
Continuum of Care is another part of FAVA, a permanent supportive housing program funded by the Department of Housing and Urban Development, providing long case management and serving veterans who experience recurring or long-term homelessness.
FAVA support staff Jen Cleveland said she was impressed that Ernst wanted to come and talk to the small staff of FAVA and is optimistic that she will follow through with the visit and do the things they asked.
"I think it went great," Cleveland said. "I always have a lot of things to say, and I'm always opinionated on how we can make things better, and I'm glad that she's taking what we have to say to heart, so that really means a lot that she comes here and wants to help."
During the visit, Cleveland and the other FAVA workers explained the situation they're in, from how they can help veterans to all the walls they've run into while trying to stretch their dollars and use them to help the veterans as much as possible.
One of the big takeaways for Ernst was making sure the dollars FAVA is given are flexible and can be used to help the veterans in the ways they need it.
"One of the most striking examples I have heard before is when a veteran owns a home, those dollars can't be used to help pay for the mortgage, but they can be used on rent, and if a veteran owns a home, they shouldn't be penalized for owning a home when they run into hard times, so that's a big takeaway, flexibility," she said.
Cleveland said they had to return half the CARES grant they received because of the lack of flexibility in how they can spend their money prevented them from using it to get their veterans different household goods or furniture other than just a bed and kitchen supplies.
"We had to return so much money because we could only pay so much rent once a month, we can only pay their utility bills once a month," she said. "And it's like, yeah, we can stretch that out over nine months, 10 months, 11 months, but we have this time period that we have to spend it so we're still kind of limited."
The COVID-19 pandemic has also hit FAVA hard, between trying to still serve the veterans through community action and fundraising.
"COVID-19 completely complicated how we're working with our homeless veterans and how we can support them in group-type settings, whether it's a warming shelter, a meal facility, you have to follow CDC guidelines, and that means it may not be caring for as many veterans as it could be," Ernst said.
Usually, FAVA around this time participates in various parades and fairs, holds an annual chili cook-off and speaks at different schools, speaking events and Kiwanis clubs to fundraise for its programs, but since the pandemic has swept through the country, their "outreach has suffered a lot," Cleveland said.
Though their usual mode of fundraising has been hindered, they've been working on coming up with creative ways to still fundraise, such as a float drive-by and possibly a chili cook-off drive-by, according to FAVA veteran advocate Christine Gardner.
"People are really flexible, and they're willing to try new things," she said.
Ernst said it's been a struggle for some nonprofit organizations to adapt to the new times and get people to donate, though for others some fundraisers, like a drive-by fundraiser, have been quite successful.
"It's a different world right now, and certainly we'll be able to go back to traditional fundraising methods hopefully next year, but in the meantime… people are still being generous, it's just not targeted in the same way it was maybe last year," she said.
The situation at FAVA changes every day, though, so Cleveland said she hopes Ernst will return to hear what else they have to say when the new complications and challenges come up.
Be the first to know
Get local news delivered to your inbox!