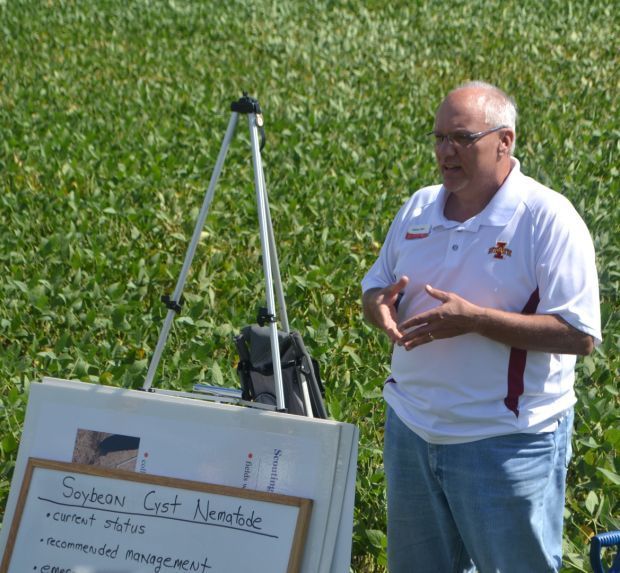 KANAWHA - The discovery of soybean cyst nematode (SCN) in Iowa happened in the immediate area. 
The first confirmed case of the microscopic worms that can wreck havoc on soybeans was documented in a Winnebago County field in 1978.
Greg Tylka of the Iowa State University Department of Plant Pathology and Microbiology said one of the main reasons this happened is because of the area soils.
"North Central Iowa is the sweet spot for SCN," Tylka said at a farm field day in Kanawha. "The reason for that is because nematodes love the high PH in soils." 
If there is SCN in fields, Tylka reassured those in attendance at the field day it is not a death sentence for yields. 
"It is important to catch it while the numbers are still low," he said.
The tricky part, however, is in Iowa due to the high quality soils, it's possible for a field to be infected with soybean cyst nematode and still look healthy.
That's why Tylka recommends checking fields for the worm like one would check their blood pressure.
In order to check for soybean cyst nematode, you have to know what to look for. During the growing season a farmer can dig six to eight inches below the plant and look at the roots. Female cyst nematodes will be white and the size of a period in a newspaper.
Odds are the worm will be found in most fields throughout the area.
Jason Baker, an agronomist at the Farmers Cooperative in Forest City, said it is present in nearly every field in the surrounding area.
Ways to limit the effect of SCN include using soybean varieties that are resistant to SCN or use new seed treatments that are becoming available to fight the pest.
The outlook for SCN depends on weather conditions in upcoming years. Although, 2014 was on the cool and wet side, the overall trend is revealing an uptick with the presence of SCN in area fields.  
"They are on the upswing because of the hot and dry weather in 2011 and 2012," Tylka said. "They do not like the cold, wet weather."
Be the first to know
Get local news delivered to your inbox!