Forest City veterinarians Gene Fjeld and Ceara Mullins are a father and daughter team with passion to treat animals.
Daughter Ceara returning home from vet school to the family practice in the Forest City Veterinary Clinic would, on its own, be news.
But now the big move to a much larger and better-equipped new vet clinic building at 524 Nerem Drive West in Nerem Industrial Park on the south side of Forest City is fast-approaching.
The veterinarians, spanning two generations, are seeing their big plans to relocate and expand the clinic come to fruition quickly. What started as seeking to do a second expansion of the existing clinic at 35058 180th Ave. in Forest City morphed into relocation to the new building nearly double the size.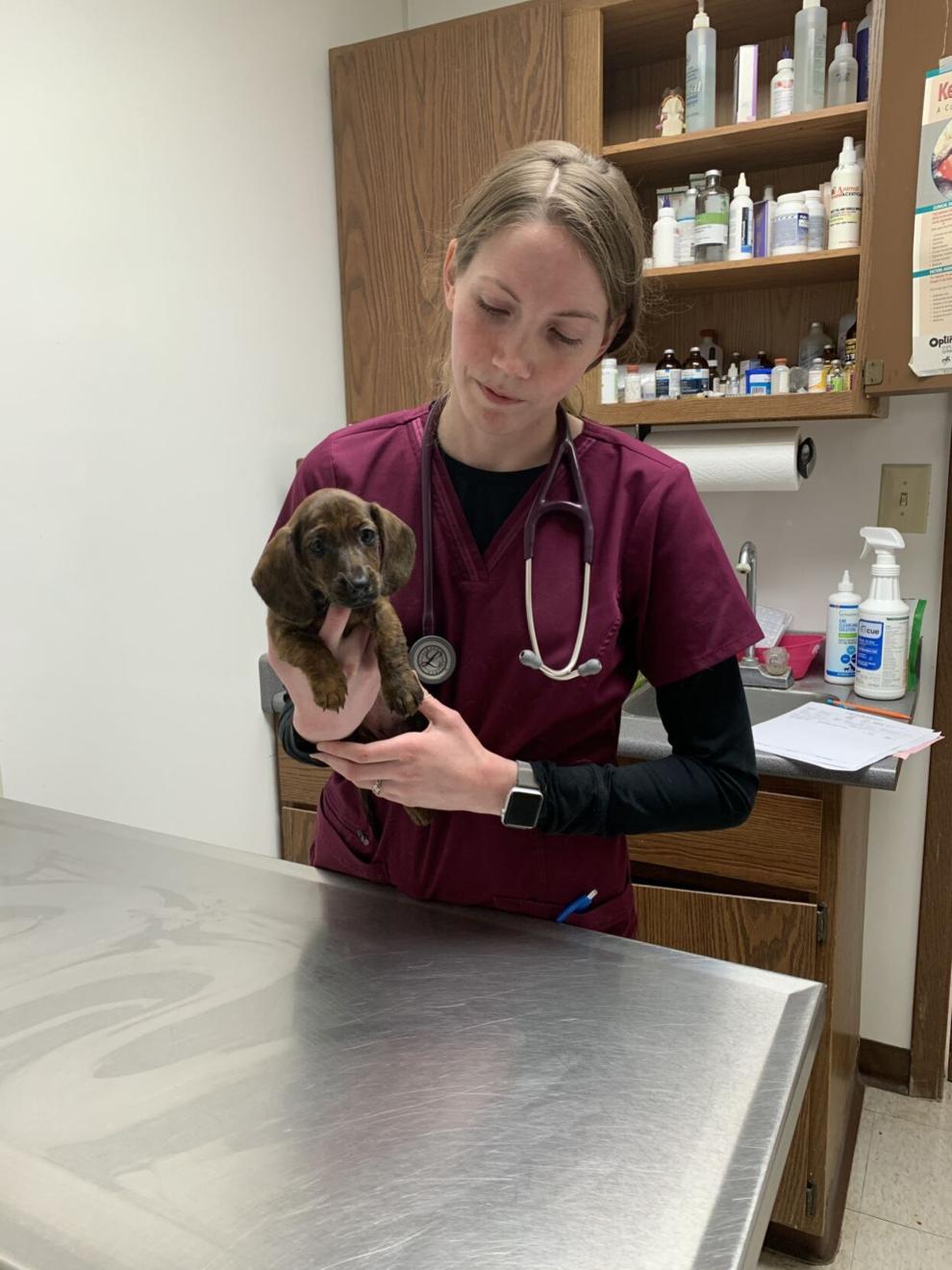 "It's been thought about for at least three years," said Ceara. "We went through so many blueprints and plans. First, we were going to expand at the existing location, but then the layout just didn't feel right."
They even started looking at existing buildings, which also did not happen. Then the City of Forest City heard about the clinic's plans to expand and offered a two-acre plot of land for $1, plus a three-year tax abatement. That was a game-changing offer.
Ceara said that with construction costs rising quickly due to COVID-19, they had to make a decision and working closely with Holland Contracting, which is completing the building construction and is owned by her grandfather, Chuck Holland, they seized the moment to build the new state-of-the-art vet clinic.
About $900,000 is the projected cost for the new structure itself. It will have 6,300 square feet compared to 3,500 where the clinic is now. There will be five spacious exam rooms ranging in size from 8 feet by 10 feet to 10 feet by 14 feet. There will also be a large "comfort room" for terminal animals with a large window and separate exit on the east side of the building to respect the privacy of their families.
A large front lobby and waiting area, with spacious windows for south-side natural daylight, will feature a large front reception desk that measures 17 feet across. Quite a positive change from one small spot for pretty much every customer need now, according to Ceara.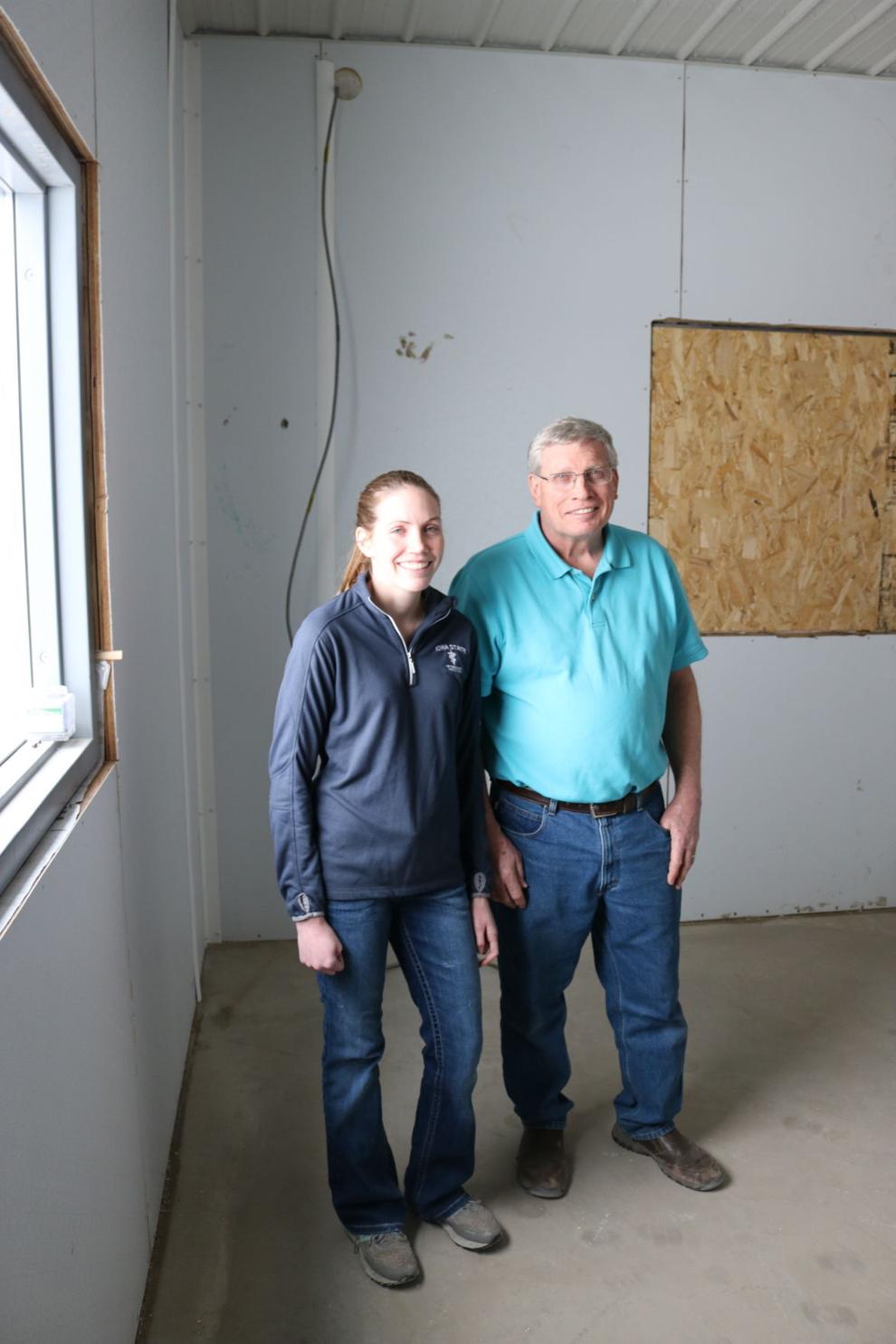 "More space should help as far as people not having to wait," she said. "Right now, there is one area to pay bills, one credit card machine, and two computers. Everyone is competing for use of the phone and computers."
The new building will have nine computers to start with 3-4 people being able to work behind the large front desk and still social distance during COVID-19. There will also be a large 13 by 14-foot office with four workstations and an adjacent employee restroom.
"The flow is going to be so much better getting to and from the exam room and the front," said Ceara. "Right now, everything is too congested and there is really no waiting area. It is so small that we are still providing curbside service due to COVID. There is just no way people can spread out at all."
Gene Fjeld is originally from rural Joice and is a graduate of Lake Mills High School. He graduated from Waldorf College, studied animal science at Iowa State University and completed four years of veterinary school at ISU, earning his Doctor of Veterinary Medicine degree. Ceara followed a similar path at ISU, receiving her undergraduate degree in four years and DVM degree in 2018 after four more years in veterinary school there. She promptly returned home and joined her father in the practice.
"We get along so well," said Gene. "It is a joy to have her here. She could go anywhere she wants to with her degree, but she decided to come back here. She's smart and so good with the animals and the families."
Gene joined Gustafson at the Forest City vet clinic in 1987, partnering with the longtime former area vet for nearly 20 years. Near the turn of the century, they undertook an expansion that doubled the space in the existing location that was built in 1981. Gene and Ceara extensively studied nearly every option to expand at the same location before deciding to build and relocate.
"We plan to hire another full-time veterinarian simultaneously with the move to the new building because we really need it," said Gene. "There is the potential for four doctors to function well here, but we won't do that right away."
Ceara said the clinic offers a full-service pharmacy on-site with animal supplements and prescriptions as well as a full line of shampoos, other medicines, grooming products, and Hill's Science Diet pet and prescription foods.
The new clinic will have state-of-the-art technology and care, including a new ultrasound machine that was purchased in the past year. The additional diagnostic care tool came with two sessions of continuing education that the local vets are still in the process of completing due to the COVID chaos. They are also effectively utilizing laser therapy for inflammatory conditions and most surgeries. This therapy can reduce healing time by up to 50 percent, according to Gene and Ceara.
The father and daughter vet team split 24/7 nights and on-call duties equally with one taking every other night and every other weekend. Gene explained that there is such an increased need for veterinary services in the area. The clinic has been so overwhelmed with customer demand that they have had to turn down some who are not current clients because of a huge overcapacity at the existing location.
The current client rolls are beyond maximum capacity after a longtime Buffalo Center vet retired last summer, they explained. The Forest City clinic has taken on many of those clients after handling referrals from the Buffalo Center area vet previously.
"Probably 80-85 percent of what we do here is companion business," said Gene, noting it is mostly cats and dogs. "It is getting harder to find anyone to do large animals and cattle work, but we do it. There has been a gradual decline in farm animals over the years with the decline in family operations. At the same time, the small animal business has grown and we've really changed to accommodate that."
Ceara noted that there is still a need for cattle and equine (horse) vet services. She said they help with cows and calves, goats, sheep, chickens, and less often more exotic animals such as peacocks monkeys, birds, turtles, and snakes. Also, guinea pigs and hamsters.
"As far as wild animals, we aren't supposed to and don't do a lot," said Ceara. "We will help with conservation efforts if we are asked to do it."
The clinic offers animal vaccinations, diagnostics, blood drawing and testing in-house, X-rays, and orthopedics in addition to the ultrasound and laser therapy. They also provide a variety of specialty orthopedic and soft tissue surgeries.
"We try to do as much as possible at low-cost, but we will send our animal patients to specialists, often to ISU in Ames, when it is in their best interests long-term," said Gene.
There is also a "cat room" for felines only. Also, there will be an animal isolation room, which will be beneficial for infectious disease and Parvovirus cases. Additionally, a large storage and delivery area, with a boot-washer just inside a side door, will be located in the southwest corner of the new building.
Our environment: Winter 2020-2021
From local species, to historic low temperatures, to water quality updates, revisit seasonal coverage of the land we live on: