THOMPSON – The 4-H Clover Kids program can be considered the beginning of a child's journey in 4-H.
The experience provides young children with the opportunity to not only take a project to the fair but to also sit before a judge to answer questions about what they created and what they learned during the process. Each participant is awarded a certificate for entering a project(s). In addition, their creations are displayed in the 4-H Clover Kids' fair booth.
This year's booth was decorated with a space theme designed to denote the limitless future to come for its participants. Clover Kids from across the county painted planets, designed and colored rockets and made stars as part of the decorations for their booth.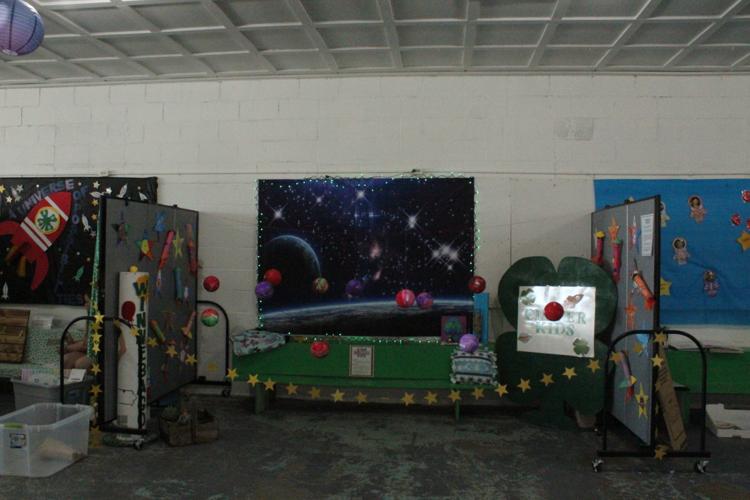 For six-year-old Emma Van Hove, who just finished kindergarten, this was her first time participating in Clover Kids at the fair. Her project, a rather colorful canvas, had crayons glued to the top, with melting wax forming a swirled pattern around the negative space where a sticker was originally placed.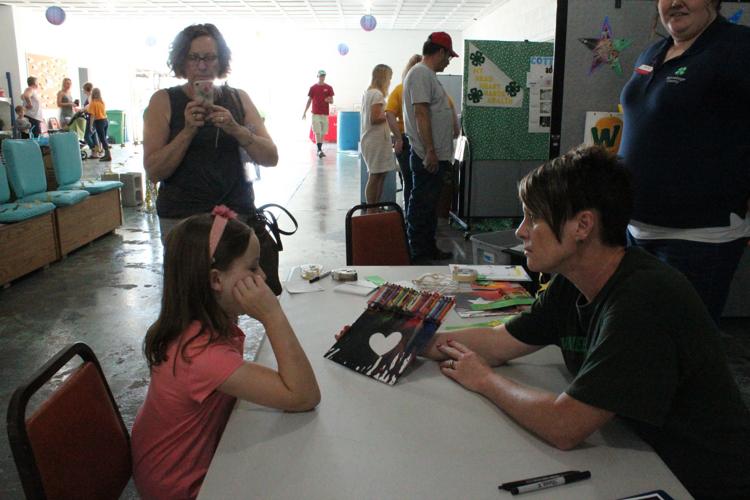 "I chose a heart," Van Hove said. "We put the stickers in the middle so the wax could melt around it and used a hair dryer to melt the crayons. Then I ripped the sticker off. It went Kaboom."
"The black sort of took over," Van Hove said. "I plan to give it to my grandma after the fair. Next year, I want to make an American Flag."
The project, which took place during an after school 4-H meeting, was designed to teach the kids what the process of creation and presentation.
Some children, like 7-year-old Axel Weinkauf, used a variety of mediums in the six projects he presented for his Clover Kids projects. From a semi-truck hauling glitter, depicted through paint and glitter on canvas, to Popsicle sticks and string fashioned into a birdfeeder and even a wooden coin collector, Axel allowed his creativity to shine through.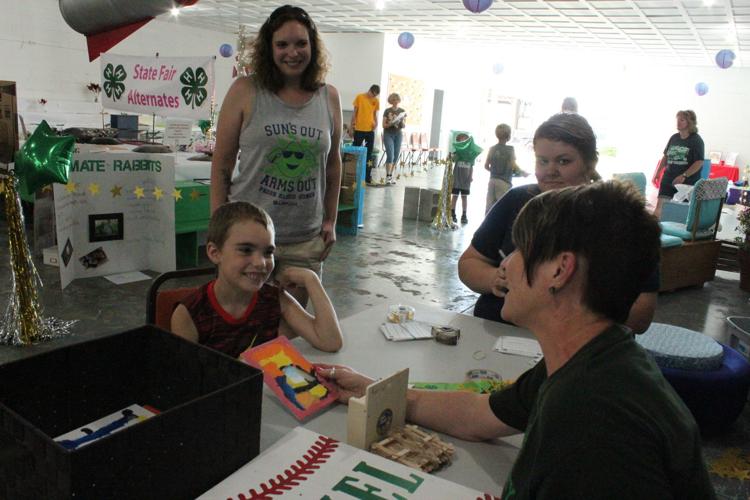 "The baseball was my favorite and the hardest," said Weinkauf of his paint and stickered creation. "For next year, I want to paint my uncle Jed's farm, with dogs and cows and fish. I might do a horse too.
Like Van Hove, Weinkauf made some of his projects during Clover Kids meetings, while others he worked on at home.
With a love for painting, Weinkauf fell in love with the art center at his daycare, taking part in the finger painting projects. It has helped him a great deal, his mother said, who is also a hobby painter. She said she enjoys spending her free time painting at the dining room table with Axel or taking him to a creative shop near their home in Scarville, where he can experiment with paints and negative space.
"She won't let me use the good brushes yet," Weinkauf said. "I have to use the yucky ones for now."