Monday was the first day of school for the students at Forest City High School, and while it went smoothly for some students, it was a bit bumpy for others.
At the high school, students and staff started the school year following the district's traditional hybrid model, a four-day school week with a traditional period schedule on Monday, Tuesday, Thursday and Friday and online learning on Wednesday.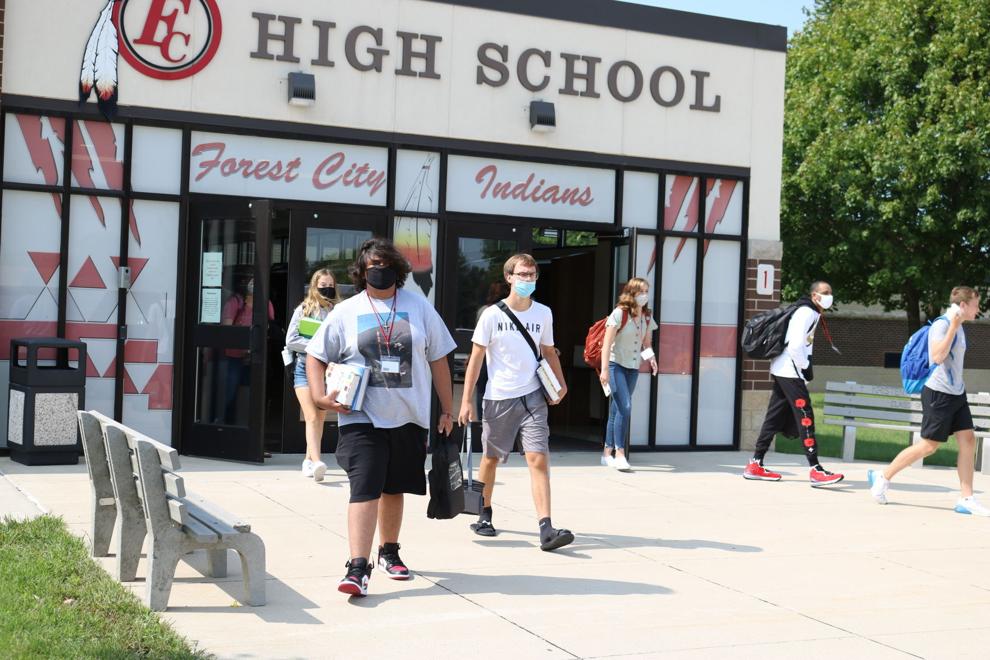 "It was good. It was different, though, from a normal first day," sophomore Neveaha Wicke said. "Definitely new stuff to get used to, but I think this school year will go good."
Wicke said some of the biggest changes for her was having lunch in the classrooms and having more classes in the Instructional Media Center, though everything went smoothly for her.
"I was kind of nervous because I didn't know what to expect or like if they were going to change something on the inside that was last minute that they didn't tell us about or something," she said. "I wasn't really worried that much to start out with and the day just went pretty good after a little bit."
Junior Abby Fiedler, though, said she had a different experience as she took all her classes online and spent much of her first day of classes just figuring out which were being taught live and which lectures were pre-recorded.
"It was a mess online," she said. "We were trying to figure out Google Meets, so only some teachers are doing it on Google Meets as a call, like a live class, and others are pre-recording it, but they don't tell you which. So I'm sitting there, like, I can't tell if my teachers are on a call and it's just messing up or if they're doing pre-recorded classes and it's not loading good."
Freshman Phoebe Polson went to school in person, and said the beginning of class was really confusing and long as the teachers worked to set up for the students taking the class online before they could actually start their classes.
Though Polson said she expected the rest of the year to be just as confusing as the first day was for her, Fiedler said she thinks the rest of the year will go smoother for her, since she now knows what to expect with her online classes.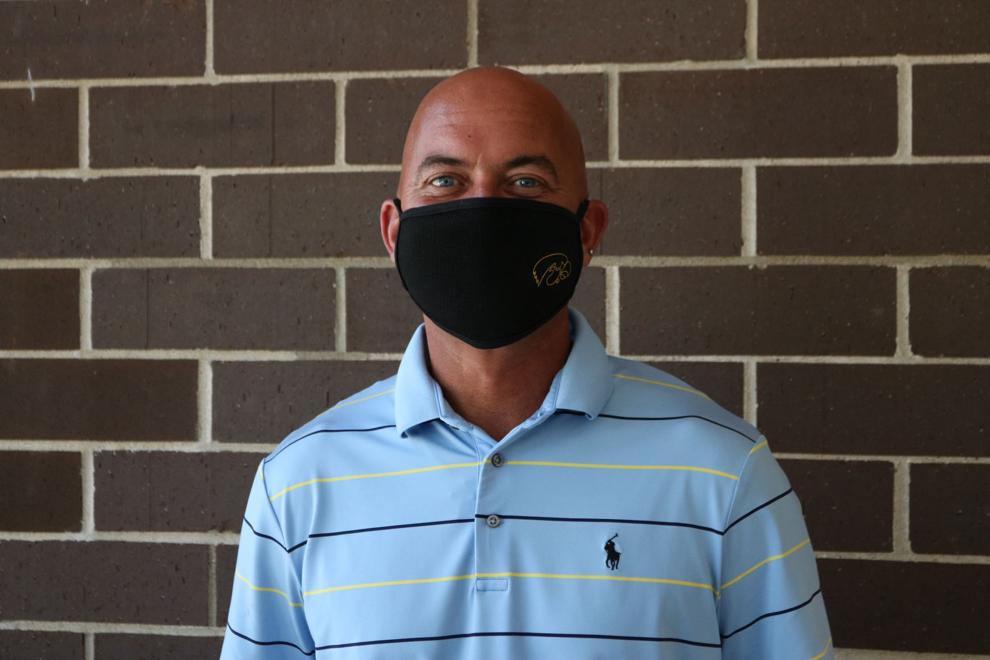 One of the great things about being back in school for the students, though, was meeting their friends, both online and in person, again.
"That's the best thing about it, like you get a chance to actually be around your friends," Polson said. "Even if you can't be right by your friends, you're still by your friends."
Industrial tech and biology teacher Mark Jenkins said he thinks the students are just glad to be back in school and were compliant with wearing masks and the new social distancing rules, such as single file lines and no more than two students wide on either side of the hallways.
"They know the rules, and I think they're going to follow whatever rules are set just so they can be here in the building," he said.
To follow the social distancing guidelines, Jenkins said he had to rearrange his classroom, spacing out all the desks rather than have them in groups of four like he normally would have them.
Jenkins said he had to get rid of seven seats, so he only has room for 25 students in his classroom to follow social distancing.
"It's just one of those things you've got to do," he said. "I'm pretty sure I can speak for every teacher in here where we're willing to do whatever we have to to get these kids back in here."
For lunch, the students did not have enough time to grab their lunch, sit down and eat, just enough to get their meals, leave the cafeteria and eat their meals in their classrooms so they could safely social distance from each other and the other classes, but Jenkins said that'll get addressed soon.
"It's just one of those things where we're all, this is like pioneering uncharted territory, so we got some bugs that we're going to have to worry about, but overall it went very well," Jenkins said.
In his classroom, Jenkins has a couple online students and he holds his online classes live at the same time as his in-person classes.
"It's going to be a little dual duty here, but whatever we've got to do," he said. "In that last year, all we had to do was just Google Meet and now we're in person trying to address these kids and take care of the kids online the same time. Today was Day 1."
In his shop classes, Jenkins said the school had to get each of his students their own pair of anti-fog safety glasses, to wear while wearing masks, and a pair of tight-fitting safety gloves.
Usually, he doesn't let his shop students wear gloves, since they could catch on something, but the safety gloves he got them are almost like a second skin, protective enough but with nothing baggy or hanging, he said.
Jenkins said he hopes the school stays in-person the whole year, as his classes "don't really work online," especially since he "can't send home a table saw with them."
Jenkins said he was nervously anticipating the first day, and it didn't feel like the first day of school in previous years initially, but 10 minutes after the first bell rang it felt like school again.
"A lot of my fears went away, just seeing the kids, seeing the kids interact with the other kids the best they could with the social distancing stuff," he said. "I don't do this job for the money. It's for the atmosphere and for a lot of the job. It didn't take more than 10 minutes in the first period, and then, I'm glad that we're back."