The Iowa High School Athletic Association (IHSAA) released the team assignments for the co-ed state qualifying track and field meets scheduled…
Now that spring is here, NIACC and the Winnebago County Conservation Board encourage everyone to get outdoors and enjoy it.
The Winnebago County Community Foundation's 2020 annual report is now available on the Community Foundation's website at www.winnebagoccf.org.
Winnebago Cooperative Telecom Association will disburse nearly 10,000 dividend checks totaling $2 million in mid to late May, according to a W…
The Winnebago County Farm Bureau Board encourages all Iowans to share the road this crop planting season.
Forest City School Board members unanimously approved the district's fiscal year 2021-22 budget on April 12, which will lower its overall prop…
Hancock County Community Health and Winnebago County Public Health announced Tuesday (April 13) that due to recommendations from the CDC, FDA,…
Lichtsinn RV in Forest City has been named a 2021 Flying W Dealer Excellence winner.
Forest City alumni were happy to be back on their hometown basketball courts last weekend.
Hampton-Dumont-CAL hosted varsity girls track Friday, competing alongside area teams: Osage, Charles City, West Fork, and Northwood-Kensett.
Many area teams were in action on Thursday night.
GOD ANSWERS EVERY PRAYER … but not always in the way or at the time we expect!
Jon West was a good-hearted, fun-loving, avid outdoorsman all of his life.
Each spring, the Winnebago County Conservation Board encourages people to plant trees and shrubs by offering free seedlings.
The Winnebago County Conservation Board reminds people that Thorpe Park, located five miles west of Forest City, is closed to all turkey hunting.
The Dam to Rapids project on the Winnebago River adjacent to Pammel Park took a step closer to becoming reality at the April 5 Forest City cou…
Puzzles have helped Larry Smith through the pandemic.
The Forest City Council forged ahead with its Phase 1D distribution and south substation electric upgrade projects on April 5.
Spring is finally here and the Winnebago County Conservation Board will open its two county campgrounds, at Thorpe Park and Dahle Park, on April 30.
A 49-year-old man from Forest City has died after the all-terrain vehicle he was in rolled.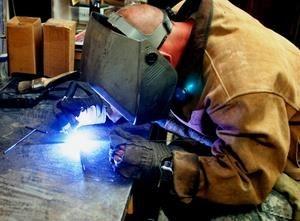 J & J Machining, Welding & Fabricating
A discussion that was supposed to determine whether the Worth County Board of Supervisors should approve a moratorium on commercial wind proje…
The day was sunny, warm, and filled with Easter Egg hunting fun for hundreds of children at Heritage Park of North Iowa on April 3.
I know North Iowa has plenty of sports stories to tell. And I'm excited to keep telling them this spring.
Rene Abels served as a school board member of the West Hancock School District. In less than six months of starting her term, Covid hit Iowa. …
The Winnebago County Sheriff's Office held a deputy sheriffs swearing-in ceremony on March 30.
Transitions from this to that, here to there, around an unknown corner …
Sarah Hildebrand has recently joined Lichtsinn RV in Forest City in the RV Finishing and Quality Control department. Hildebrand is a graduate …