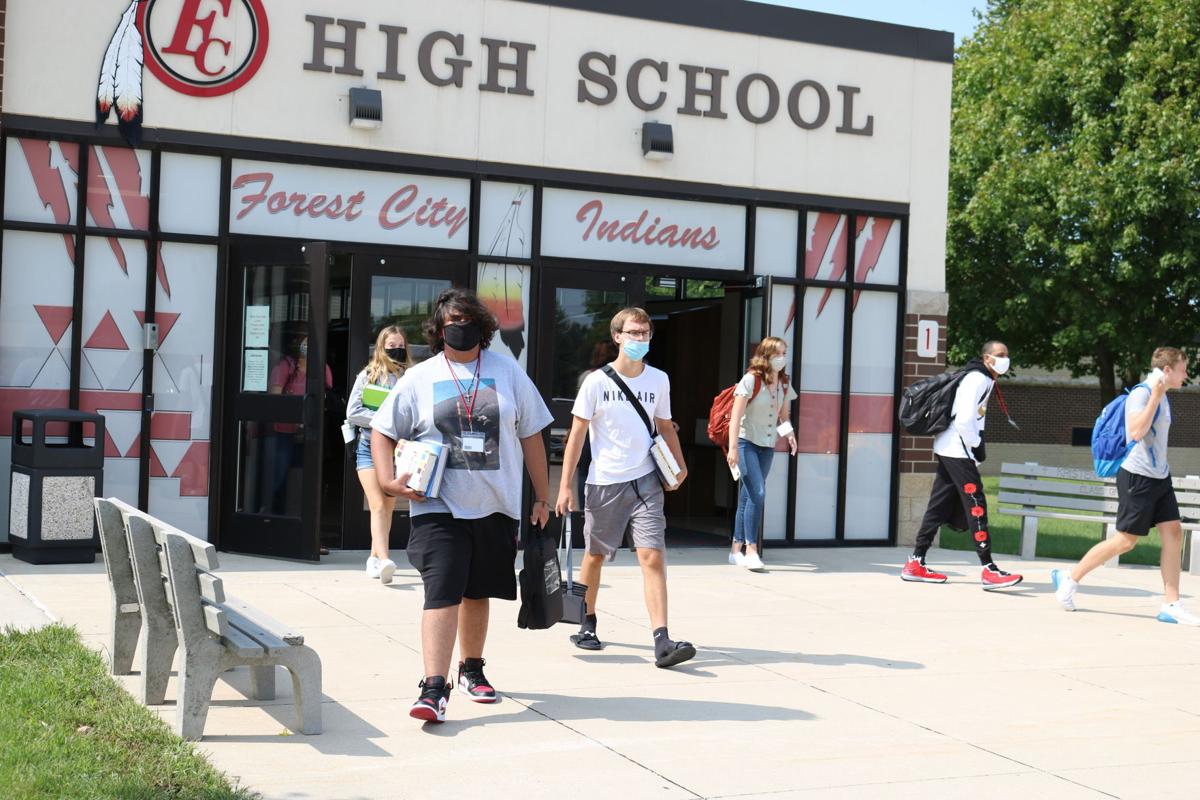 Forest City School Board members unanimously approved the district's fiscal year 2021-22 budget on April 12, which will lower its overall property tax levy by nearly 17 cents per $1,000 taxable valuation.
This levy rate for the upcoming fiscal year is 11.1069, which is down from 11.2764 in the current fiscal year. This would result in a tax bill decline of about $6 on a $200,000 property valuation.
Taxes collected from property levy are anticipated to be approximately $5.2 million in the new budget compared to about $5.1 million in the re-estimated fiscal year 2020-21 budget.
No written or oral comments/objections from the public were received on the new budget.
The balanced fiscal year 2021-22 budget of just over $22.8 million will leave the district with an ending fund balance of nearly $4 million. Both superintendent Darwin Lehmann and business manager Sara Meinders noted that current district policy allows for overestimation of expenditures, which could come in at less than the $22.8 million figure.
• High School principal Ken Baker announced that the school plans to join the Iowa Jobs for America's Graduates (iJAG) program. It is primarily for at risk students and students without clear direction on future vocations and should also help improve graduation rates.
One-third funding for iJAG will come from the state, private companies, and the school district. Baker said the school's cost will be $22,000. He said classroom space will be devoted to the implementation of the program and the district will be getting a full-time staff person to focus on at-risk students.
It will start in grades 10-12 with hopes to expand the program to grades 7 or 8 through 12. School board members approved entering into the iJAG contract as presented by Baker.
• The school board unanimously approved continuing with an Iowa Local Government Risk Pool agreement for the third consecutive school year. The agreement is for hedging natural gas prices. Superintendent Lehmann said it is an important program, citing the extreme late winter cold spell that impacted much of the country and created volatile gas prices.
• School board members also approved continuing the board's longtime membership in the Iowa Association of School Boards.
• Forest City Elementary School's Lori Rollefson applied for and received a STEM scale-up award. As a result, the district will receive a digital math program for grades K-8 for completion of math curriculum. It is called Dream Box Learning.
• Forest City students in grades K-12 will participate in the Iowa Statewide Assessment of Student Progress to be completed in late April or early May.
• Students will have a home connection person available to them to provide guidance through the Forest City Virtual Guidance program. The home connection staffer for grades K-12 will be a go-between resource for students. Edgenuity will be the curriculum platform. This is a Forest City-only program.
• Forest City Hy-Vee recently provided a large donation of personal protective equipment and cleaning supplies to the Forest City Elementary School for use during COVID-19.
• Forest City will continue its existing wrestling sharing agreement with the North Iowa School district.
• The Forest City High School 2021 graduation ceremony will be held in the FCHS gymnasium at 2 p.m. on May 23. A masked event is planned due to continued COVID-19 concerns.