The first-ever Cedar Arts Fest, featuring a variety of artists from Mitchell County, will be held from 1-7 p.m. on Saturday, July 31 and Saturday, Aug. 7, at the Cedar River Complex and Mitchell County Historical Society in Osage.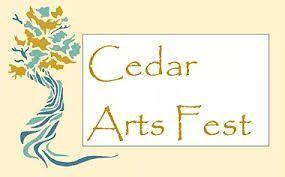 The event on both days will be followed by the Cedar Summerstock Theater production of Regarding Broadway.
The event features creative talents ranging from painting and wood carving, to pottery and linoleum block printmaking.
The event is sponsored by the Fine Arts Council of Mitchell County, in collaboration with Cedar Summerstock Theater, and in partnership with the Cedar River Complex and Mitchell County Historical Society.
FACMC President Pat Mackin said the effort – a first for the council – matches the mission of the group, to support and promote the arts in Mitchell County.
"It is exactly the kind of stuff we want to do," he said, adding the partnership with the CST, historical society and CRC, maximizes the effort.
The idea was first brought to the council by Cedar Summerstock artistic director and founder, Nancy Lee. Lee, who is also a council member, believed such collaboration was a natural – partnering visual art with theater arts provided a unique experience.
The show features about 20 exhibitors; while the show is relatively small, it works well for a first effort, council members noted.
Mackin said council members have been impressed with the quality of the exhibitors, who choose whether or not they want to sell their items. Those who will sell items will be located in the atrium area, while those who do not will be found in the historical society as well as in the atrium.
Mackin urged people to come see the show and hopes the first effort will lead to an annual event. He said some artists who have never shown their work might come and see what the arts fest is all about and sign up for next year.
The show is free of charge.
Those exhibiting their works include (not a full list):
Vendors – Lori Biwer-Stewart, linoleum block printmaking; Meredith Macdonald, basket weaving; Sonne Nielsen, acrylic fluid art on canvas; Karen Carr and Alpha Writers, locally-authored books; Christine Leard, carved and painted gourds.
Exhibitors – Mariah Piippo, textural paintings; Loren Stene, intarsia (wood inlay); Joel Gonerman, wood working; Eloise Kuper, oil painting; Glenda Ross, nature-inspired ceramics, sculptures; Jessica Voight, photo canvas art; Becky Havig, intarsia; Pat Mackin, model railroad craftsman structures; Adam Parks, blacksmith art, Mary Ann Marreel, artistic sketching; Deb Nicklay, photography.