The "Human Etch A Sketch."
That's what Coralville resident Rik Zortman has been dubbed, and for good reason.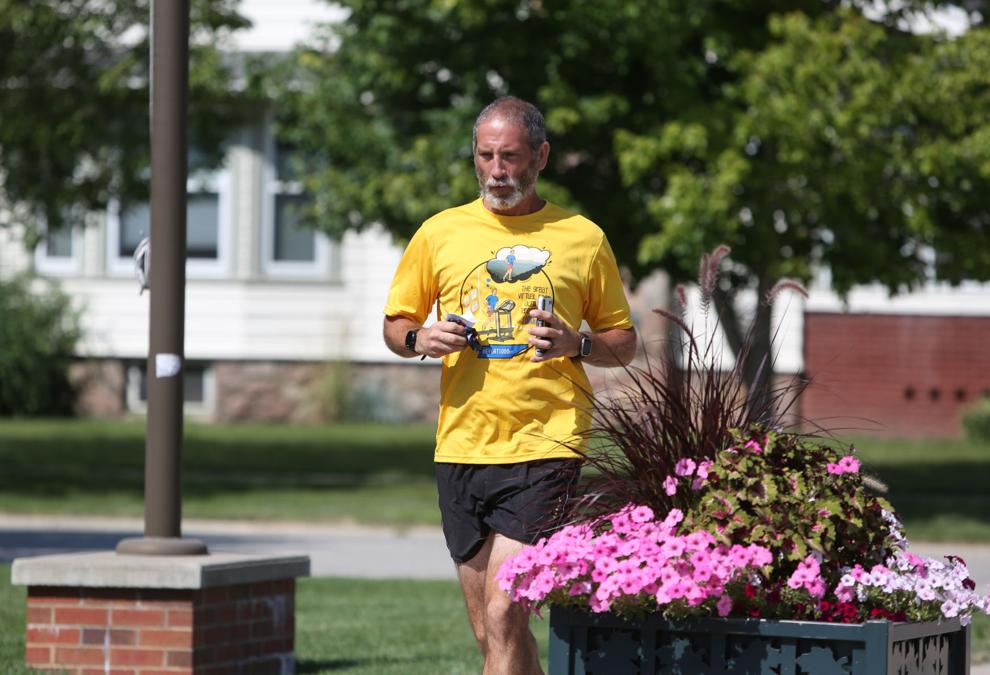 Zortman, 47, an avid runner, began coordinating his route to spell the names of people affected by cancer. On Friday, July 24, he made his way across Osage doing just that.
After losing his 3-year-old son, Armstrong, to cancer in 2009, Zortman began running in his honor. But in 2017, while looking at his live-tracking outdoor app on his phone, he wondered if the red streaks that highlighted the path of his run could be used to spell out a word or phrase.
That year in September, which is Childhood Cancer Awareness Month, Zortman started with the words "Armstrong Spirit," running up and down, and back and forth, along the grid of a map, much like one would when spelling out a word on an Etch A Sketch toy.
But then, he decided to keep going.
"I'm like, 'This is what I'm going to do this month (September 2017). If anybody wants to give me a name, I'll run it, and then we'll see how many names we can do," Zortman said. "I ended up doing 98 names that month."
He always posts a photo of his mapped runs on Facebook for families and friends of the namesakes to keep.
After a while, Zortman and his wife, Lisa, realized he'd covered a third of the counties in Iowa. So, Zortman decided to use his vacation days to visit the remaining counties, writing names of not just cancer patients, but honoring most any request he got.
Mitchell County is number 92 on his list. He expects to have the last seven done by August.
Zortman collects the requests from all over and looks for communities with city grids that would work the best to spell each name out. However, as he passes through a community, he also tries to connect with someone local to take requests.
Osage native Ashlyn Ruehlow suggested the name Green, in honor of her late grandparents Marshal and Helen, who had lived in Mitchell County.
According to Ruehlow, the Green's married in their early twenties, and had five children. Marshal, who was known around town as "Snerd," worked as a carpenter and launched Osage's Habitat for Humanity branch. Helen, who worked at Home Trust and Savings Bank in Osage for 25 years, was active in the community and worked closely with the area's Relay For Life chapter.
Helen was diagnosed with cancer at age 50, and lived with it for 18 years. About 15 years into Helen's illness, Marshal was also given a cancer diagnosis.
Marshal died a year later in 2004, Helen followed in 2006.
The Green name is now among over 1,600 others sketched by Zortman so far. And he has no plans to stop running or connecting with people.
"My story may be something similar to what they're going through," Zortman said. "Every name has a story."
NOTE: This story has been updated to correct the spelling of the name Green. The information provided to the Globe Gazette and Press News, which was subsequently passed along to Rik Zortman, was incorrect. The family notified us of their error after the story had gone to press.